A suburban Atlanta teenager who received national attention two years ago after doctors turned down his request for a heart transplant was killed Tuesday in a high-speed police chase.
Anthony Stokes, 17, of Decatur, Georgia, received a transplant to replace his failing heart in August 2013 — but only after a hospital reversed its decision denying him a spot on the transplant list because of his brushes with the law.
Doctors rebuffed Stokes because he had a "history of noncompliance," and they did not think he would take his medications or show up for follow-up appointments, Stokes' mother said. The hospital changed its mind after his mother accused doctors of punishing her son for a history of run-ins with the law.
Flash forward two years: Stokes on Tuesday afternoon crashed a stolen car while being pursued by police in Roswell, Georgia, department spokeswoman Lisa Holland told NBC News. Firefighters got him out of the car, and he later died at a hospital.
Holland said Stokes is linked to a home break-in that happened before the crash. She said an 81-year-old woman reported that a person had entered her house wearing a mask and fired gunshots at her.
That intruder then sped off in a black car, evading the police who responded to the scene, according to neighbors. Authorities then spotted the car, ran the license plate and found it was stolen. A pursuit ensued. A couple miles into the chase, the car apparently lost control, hit a pedestrian and crashed, Holland said.
The pedestrian was alert while being transported to the hospital, NBC affiliate WXIA reported.
Stokes had a condition called dilated cardiomyopathy, a disease of the heart muscle that is a common cause of heart failure. He went to a local hospital, Children's Healthcare of Atlanta, at age 15, wearing an ankle monitor because he was under house arrest for a fight. Doctors told him a transplant was his only option — but initially refused to put him on the transplant list.
His mother, Melencia Hamilton, told TODAY at the time, "He's a young boy... He's going to make mistakes, but I still think he deserves a second chance."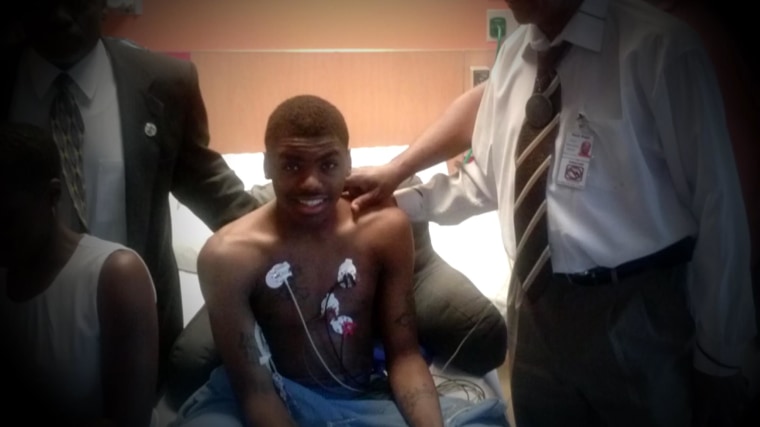 IN-DEPTH
—Elizabeth Chuck