A third inmate was in a transport van when husband-and-wife murder suspects overpowered two guards and escaped in Utah, according to a report published Thursday.
Before they escaped, Susan Barksdale, 59, pretended to have an "intestinal issue," which prompted the guards to pull over near Blanding, Utah, on Monday, the U.S. marshal for Arizona told the Associated Press.
When the rear doors to the van were opened, she and her husband, Blane Barksdale, 56, charged at the guards and used shoelaces to bind them, the marshal, David Gonzales, told the news agency. Neither of the guards was hurt. The pair took a key to free themselves of a waist restraint.
It took the guards two to three hours to break free, eventually kicking out some windows, the news agency reported.
NBC affiliate KVOA of Tucson reported earlier this week that a third inmate was in the van, which was headed to the Pima County jail, but that inmate wanted no part of the escape.
"This other prisoner, he wanted no part of this deal,'" Gonzales told the AP. "He was very forthcoming."
The pair left the guards and the third inmate behind and drove the van to Vernon, Arizona, where they met up with a friend who gave them access to his red GMC pickup, the Associated Press reported.
Gonzales told the news agency that the friend has not been charged but law enforcement continues to question him.
The Barksdales are accused in the April 16 killing of Frank Bligh, 72, in Tucson. They were arrested in upstate New York in May and were being extradited to Arizona when they escaped Monday evening, officials said. They face first-degree murder and other charges.
Bligh's body was never found. Bligh's brother, William Bligh, told KVOA he was surprised authorities let the two suspects travel in the same vehicle.
"I cannot understand why they would ever let the two of them travel together," William Bligh said. "I realize it was strictly to save money, but look at the mess they've got now."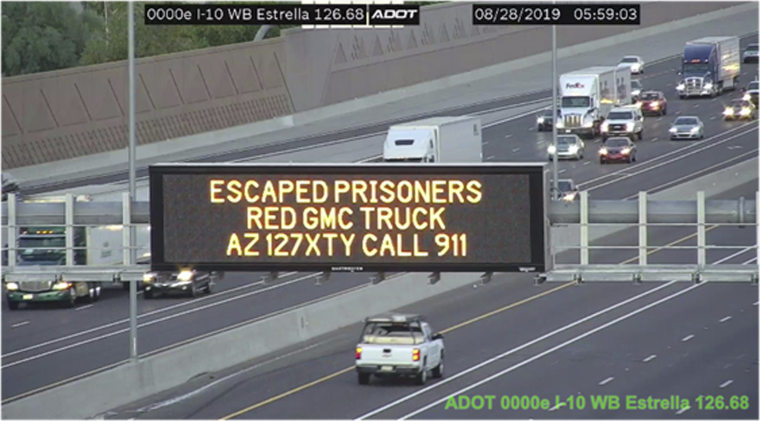 Authorities have offered a $10,000 reward for the capture of each of the two escaped prisoners. A manhunt is continuing for the pair.
The Barskdales are considered armed and dangerous, but Gonzales told the AP that the pair did not take a handgun that was in a locked box inside the van because they were likely unaware the weapon was there.
The Pima County Sheriff's Department said in a statement this week that it has suspended the use of the transport company, STS, pending a review of the escape. The sheriff's department said it is one of eight counties in the state that use a private transport company due to the cost of extradition.