UPDATE: The woman who had been feared missing has been contacted and is safe, officials have said. Read more here.
Authorities are searching for a Tennessee woman who has been missing for weeks after allegedly setting off on a cross-country trip with her boyfriend, who was accused of punching her earlier this month, in a case that chillingly echoes the 2021 disappearance of Gabby Petito.
Nikki Michelle Alcaraz, 33, also known as Nikki Cunningham, was last seen on surveillance footage Saturday while she sold a phone at a cash machine in California, where she allegedly traveled with her boyfriend, Steven Tyler Stratton, according to information provided by the Cheatham County Sheriff's Office and District Attorney General Ray Crouch of Cheatham County, Tennessee.
Alcaraz was captured on footage selling her phone at an EcoATM at a Walmart store in Redding, California, according to images provided by Crouch. She appears to be dressed in a red shirt while a man in a black hat and shirt stands nearby.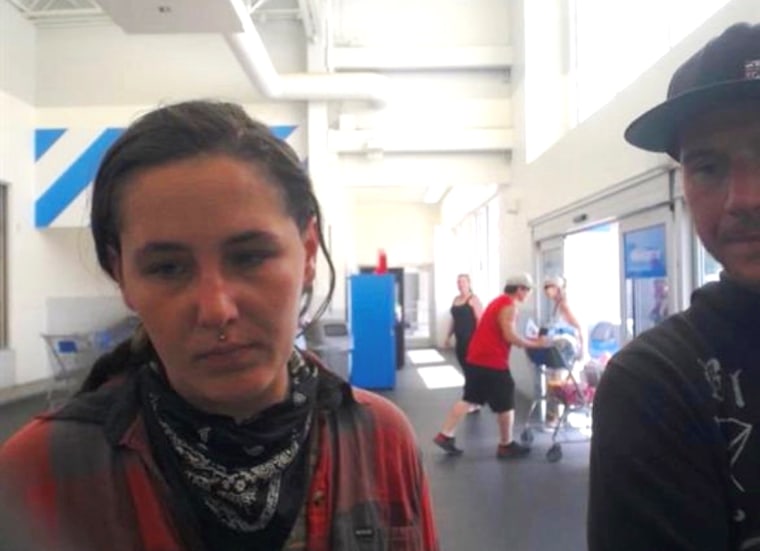 That came a little more than three weeks after a witness told investigators with the Torrance County Sheriff's Office in New Mexico of seeing Stratton punch Alcaraz in the face, according to the incident report obtained by NBC News.
Allegations of mutual physical abuse
Alcarez told police that both she and Stratton were drinking and that he "started to hit her for no reason" while they were driving during the May 4 incident. The investigator — who encountered the pair at a rest stop — said he saw "red marks on her face and fingerprint marks on both arms," and wrote that Alcaraz "also stated that she had a bruise on her chest and her back." The investigator later determined that "the bruise on Ms. Alcaraz's arms came from Mr. Stratton holding her down to avoid being hit."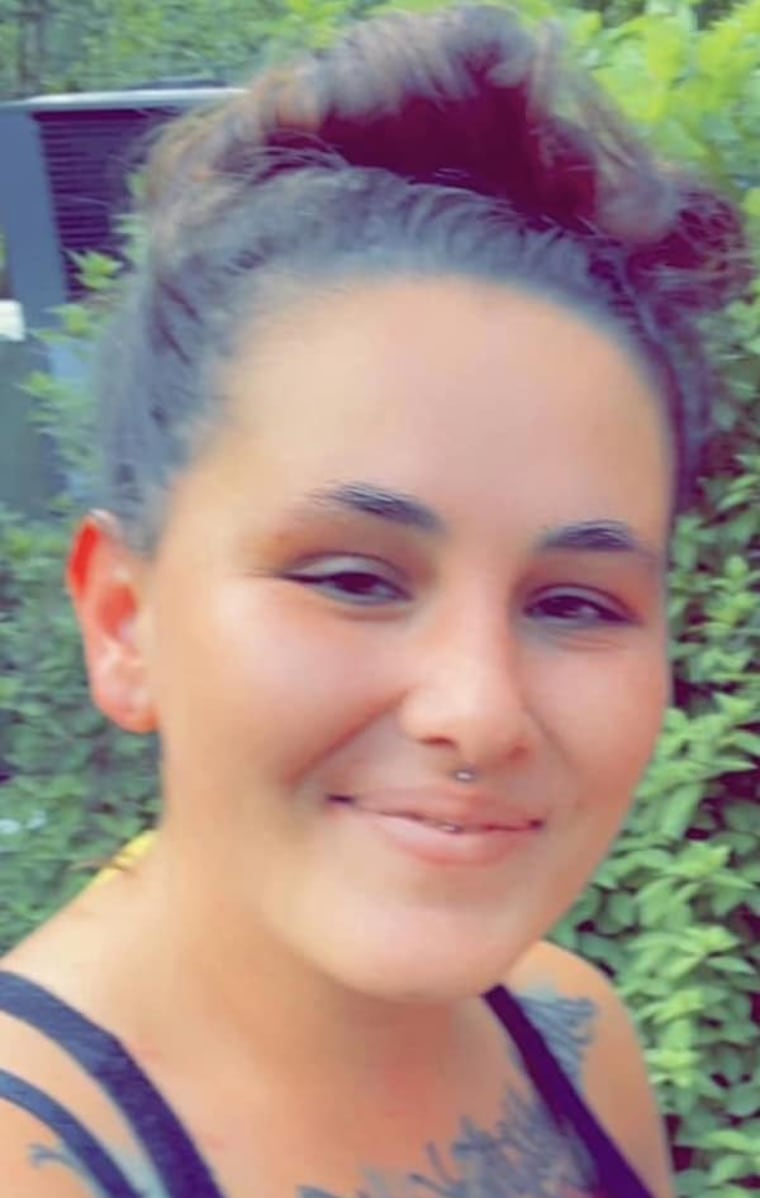 Stratton told police that Alcaraz "hit him in the mouth for no reason" and continued hitting him as they were driving. He told the investigator he did not want her to go to jail, that both had been drinking and that the pair had been traveling to California.
Investigators determined "both parties were mutual combatants while traveling down the interstate." Officials drove Alcaraz and Stratton away from the scene separately.
Both Alcarez and Stratton were drunk and neither would admit to driving the car, according to the incident report.
Alcarez originally told police that she wanted to press charges, but both she and Stratton later said they did not want to press charges.
A photo on the flyer shared by the Cheatham County Sheriff's Office noting Alcaraz's disappearance appears to feature her with a black eye. It is unclear when that image was taken.
The flyer also states that "due to history of domestic assault, we believe she is in danger."
Representatives from the Torrance County Sheriff's Office and the Cheatham County Sheriff's Office could not immediately be reached for additional comment.
After the alleged assault, officials with the sheriff's office dropped Alcaraz off in the town of Moriarty, New Mexico, a town about 40 miles east of Albuquerque, where a family friend was supposed to pick her up, according to ABC affiliate WKRN of Nashville, citing her sister, Toni Alcaraz.
She said her sister called her after she had been dropped off, describing her as "crying and upset."
"Her eye was already turning black and you could tell she was beat up pretty bad," Toni Alcaraz added.
Disturbing echoes of Gabby Petito case
Those details of the case, among others, echo the disappearance of Gabby Petito, 22, whose family reported her missing in 2021 after she left for a cross-country road trip with her fiancé, Brian Laundrie. Petito's remains were found at a Wyoming campground that September, and the manner of death was ruled a homicide, according to the FBI.
Laundrie's body was found in Florida a month after Petito's remains had been discovered. Laundrie, who died of a self-inflicted gunshot wound, left notes saying he was responsible for Petito's death, officials have said.
Less than a month before Petito's family reported her missing, Utah police responded to a physical altercation between her and Laundrie. The officer wrote that Petito slapped Laundrie after an argument and that neither wanted to press charges. But a subsequent independent review determined that police misclassified the incident — which investigators should have ruled domestic violence, with Petito as the perpetrator — and left out details about injuries Petito appeared to have suffered.
Tracing her path
Nikki Alcaraz could not be reached at phone numbers or email addresses listed under her name. Her immediate family members also could not immediately be reached Tuesday.
Stratton also could not be reached at phone numbers or email addresses under his name.
Toni Alcaraz said she last heard from her sister May 8 via text, saying that she was in Arizona and heading to California.
Moriarty Police Chief Adan Urbina said that a license plate reader tracked her car in Flagstaff, Arizona — 360 miles west of Moriarty — on May 8.
The incident report from the Torrance County Sheriff's Office says that Alcaraz showed up earlier this month at Flying "C" Wrecker Service, a towing company in Moriarty, to retrieve the jeep that had been towed after the alleged altercation with Stratton. The person at the shop told the sheriff's office that she arrived in a vehicle from California and with an "unknown male" who left driving the jeep while Alcaraz left driving the man's car. The man left a phone number with the towing company, which nobody answered when a reporter tried to call.
Frank Tavenner, the employee of the shop who said he spoke with the sheriff's office, said that Alcaraz "was wanting to pick up her jeep so she could go to California with her boyfriend."
"She was upset that her vehicle was towed ... that's the normal reaction that we get. Nothing out of the ordinary, happy to get going, the guy put the insurance on her jeep," Tavenner added.
Toni Alcaraz told WKRN that her sister has made the trip she was on — to see family — "hundreds of times."
"I talk to her almost every day, so I am scared something happened to them," she said.
She added that Nikki Alcaraz has two children, according to WKRN.
Stratton is wanted in Tennessee for "failure to appear on a probation violation that stems from a theft charge," WKRN reported.
Crouch said his office became involved in the case at the family's request but that his office doesn't have jurisdiction outside the state.
Alcaraz has long dark hair, brown eyes, stands about 5 foot 4 and weighs about 160 pounds, according to information shared by the sheriff's office. She was reported to be driving a 2013 Black Jeep Wrangler with Tennessee license plates and a bumper sticker that says "Momma Tired."
If you or someone you know is experiencing domestic violence or the threat of domestic violence, call the National Domestic Violence Hotline for help at 1-800-799-SAFE (7233), or go to www.thehotline.org for anonymous, confidential online chats, available in English and Spanish. Individual states often have their own domestic violence hotlines as well.
Advocates at the National Domestic Violence Hotline field calls from both survivors of domestic violence as well as individuals who are concerned that they may be abusive toward their partners.