A Boston-area man has been arrested by federal agents in New York after threatening U.S. immigration agents on Twitter.
Brandon Ziobrowski, 33, of Cambridge, Massachusetts, was arrested Thursday morning after posting on Twitter in July that he would give $500 to anyone who would kill an Immigrations and Customs Enforcement (ICE) agent.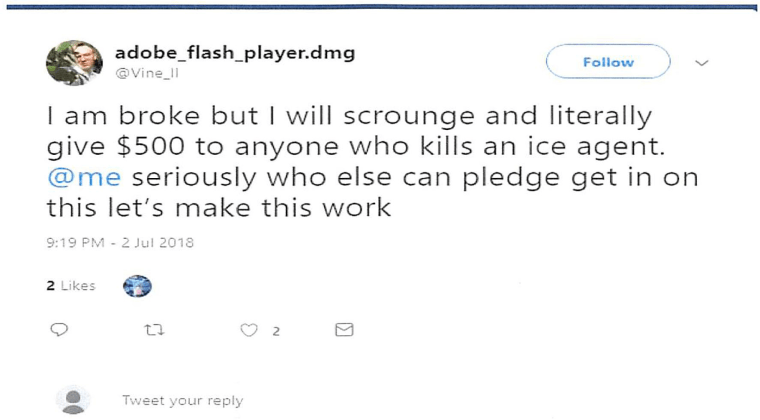 According to the indictment, Ziobrowski had previously tweeted his desire to "slit" Sen. John McCain's throat. Starting in February, he began to post tweets promoting violence against law enforcement.
In March he began tweeting threatening messages about ICE, according to the indictments.
On July 2, he tweeted: "I am broke but I will scrounge and literally give $500 to anyone who kills an ice agent. @me seriously who else can pledge get it on this let's make it work."
His Twitter account was suspended later that month at the request of law enforcement.
The case was developed by the Joint Terrorism Task Force in Boston, and Ziobrowksi was arrested in New York at 7:15 a.m.
"I can promise you that during my tenure this office will aggressively prosecute those who threaten law enforcement officers," said U.S. Attorney Andrew Lelling.
"Enough is enough," said Hank Shaw, special agent in charge of the FBI's Boston field office. "This case presents the violent potential faced by federal law enforcement officers."
He is expected to make his first appearance in federal court in Brooklyn on Thursday and will face a charge of using interstate commerce to transmit a threat to injure another.