The Montana woman who admitted to killing her newlywed husband of eight days by pushing him off a cliff has been sentenced to 30 years in prison.
Jordan Linn Graham, 22, of Kalispell, Mont., addressed the court through tears on Thursday, NBC affiliate KULR reported, apologizing to the mother of her late husband, Cody Johnson. Johnson was killed in Glacier National Park in July.
Graham pleaded guilty in December to federal charges of second-degree murder. But her attorneys tried this week to withdraw the plea after the U.S. attorney's office called for a sentence of 50 years to life.
U.S. District Judge Don Molloy denied the motion for Graham to withdraw her guilty plea on Thursday, and sentenced her to 365 months in federal prison, with no possibility of parole. He said she has shown no remorse for her actions.
"She was a normal person, at least on the surface," Molloy said. "But how does a normal person kill her husband of eight days?"
He forbade her from benefiting in any way, including financially, from revealing more details about the murder, the Missoulian reported.
Graham has admitted to shoving Johnson off a 200-foot cliff on July 7 after an argument.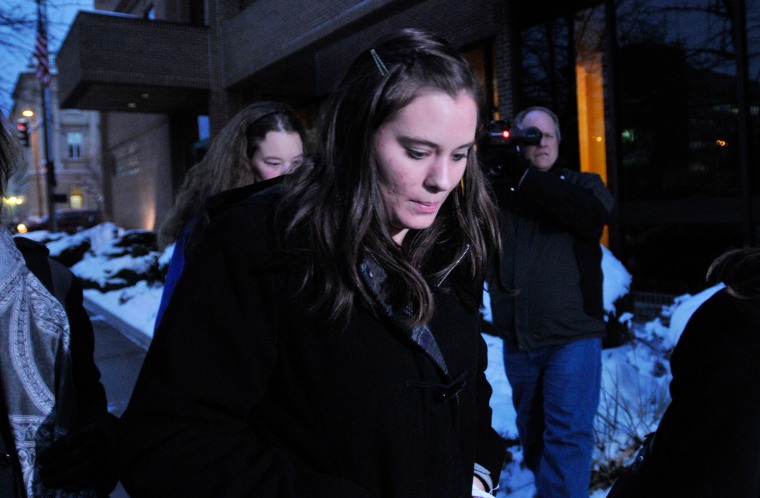 Her attorneys tried to mount a self-defense claim, alleging Johnson had forced Graham to go to the park, lured her to the edge of the cliff, then grabbed her as they argued.
Graham said at her trial that she was having second thoughts about being married so young, and that the couple had gone to the park to discuss it.
But prosecutors said Graham appeared to have planned Johnson's killing. They argued that she was unhappy in her new marriage and had texted a friend that night saying if the friend didn't hear from her again that night, "something happened," indicating she was "planning and considering murder."
In the days after Johnson's death, Graham did not tell anyone what happened: She told friends, family and authorities that Johnson had gone for a joyride with friends. Three days after he was reported missing by a friend and co-worker, his body was found at the bottom of the cliff.
"Jordan Linn Graham didn't have the human capacity to feel the wrongfulness of what she'd done, to seek help or even tell his (her husband's) mother," Molloy said.
No plea agreement was offered during her trial.
— Elizabeth Chuck