ANNAPOLIS, Md. — E.B. "Pat" Furgurson stood just behind the police officer briefing reporters on America's latest mass shooting Thursday evening, a voice recorder in one hand, notebook in the other, press badge around his neck.
He was doing his job, just like the dozens of other journalists who crowded around as the sun set.
But it was different for Furgurson, an award-winning reporter with Annapolis' Capital Gazette, since this story involved his newspaper and his colleagues, five of whom had been shot and killed in their own newsroom hours earlier.
"People in there were just trying to do a job for the public," he said. "Something like this might happen in Afghanistan or Iraq or something like that, but you don't expect it to happen in a little sleepy office across from the local mall."
"But we're still putting out a newspaper," he continued, emotional but defiant. "You'll see it in the morning."
Moments later, he was swallowed by a swarm of news cameras and reporters asking him questions, instead of the other way around.
The shooting turned the world inside out for the small newspaper and the community it serves. In the midst of a tragedy, journalists found themselves at the center of their own story.
A photojournalist who wasn't in the office when the shooting broke out rushed back to the scene. A writer detailed the terror he felt as he listened to the gunman reloading. They shared what information they had, trying to piece together the story like everyone else, making sure they had their facts straight.
"Police saying 117 were evacuated. I reported 170 earlier. Will confirm," reporter Chase Cook tweeted (he was right, the officer later clarified he said "one-seven-zero").
"It's an eye opener that the U.S. is not exempt from this. For a long time we thought we were."
Meanwhile, journalists mourned.
On social media, co-workers shared stories about how a slain editor had pushed them to construct a better sentence. They discussed the impact a writer who was killed had on her community. And they politely asked their peers at other news outlets to hold off on interview requests for now.
The Capital Gazette has been a part of this community so long that its antecedent once bumped news of the Declaration of Independence to the second page so it could save the front for local coverage.
"I've been a spokesperson for police, I've been a spokesperson for politicians, and I can keep it together when I'm talking about tragedies," said Susan O'Brien, the spokesperson for the mayor of Annapolis, choking up. "But when it's someone you know and adore and love and respect, it's really hard."
The paper and the city are "intertwined," she said, even as the outlet suffered through staffing cuts and financial troubles, like so many other local papers across the country.
Lt. Ryan Frashure, the public information officer for the Anne Arundel County Police Department, said this one "hit close to home."
"They have crime reporters that I speak to every day, sometimes more than my family," he said between press briefings.
Journalism has been a dangerous profession abroad, but not here.
Seven journalists were killed in the U.S. while on the job over the past quarter century, according to the Committee to Protect Journalists. But on Thursday, nearly as many were killed in a single day.
"It's an eye-opener that the U.S. is not exempt from this," said Alison Bethel McKenzie, the executive director of the Society of Professional Journalists. "For a long time we thought we were."
The suspected shooter's apparent motive was apparently based on a personal vendetta he had with the newspaper for covering his arrest on harassment charges. The suspect, Jarrod W. Ramos, 38, sued the paper in 2012 and lost. Over the years, he also made multiple threats against it.
But many experts were quick to note the political climate has become extremely hostile to journalists.
"We don't know whether the suspect's actions were triggered by this climate. But we cannot ignore that this climate exists," said Stephanie Bluestein, a journalism professor at California State University, Northridge. "I hope reporters will not let something like this get into their psyche and affect the way they do their jobs."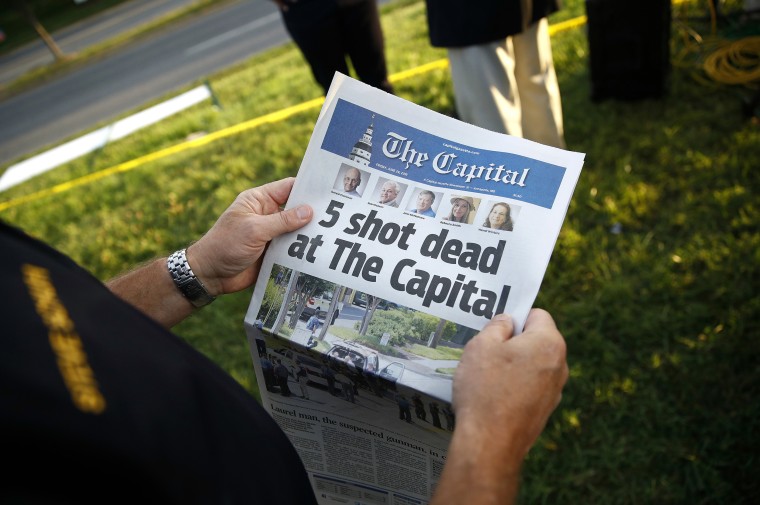 In Annapolis, the paper's staffers were determined to do their job and put out "a damn paper" in the morning, as one tweeted. The paper's official account emphatically retweeted the original.
Journalists elsewhere, who have been under pressure financially and politically like never before, rallied to the cause. Reporters in New York, Washington and Los Angeles offered to make phone calls, send emails and do whatever else it took to help the Capital Gazette meet their deadlines and get the paper out.
Sure enough, a little after midnight, the paper released an image of its chilling frontpage for the next day: "5 shot dead at The Capital."
A largely blank opinion page memorialized those killed: Gerald Fischman, Rob Hiaasen, John McNamara, Rebecca Smith and Wendi Winters.
"Today, we are speechless," it read.