Rachel Williams shook with anger and frustration, her voice aching as she blasted city officials in Chicago for not doing enough to quell the violence that continues to engulf the city.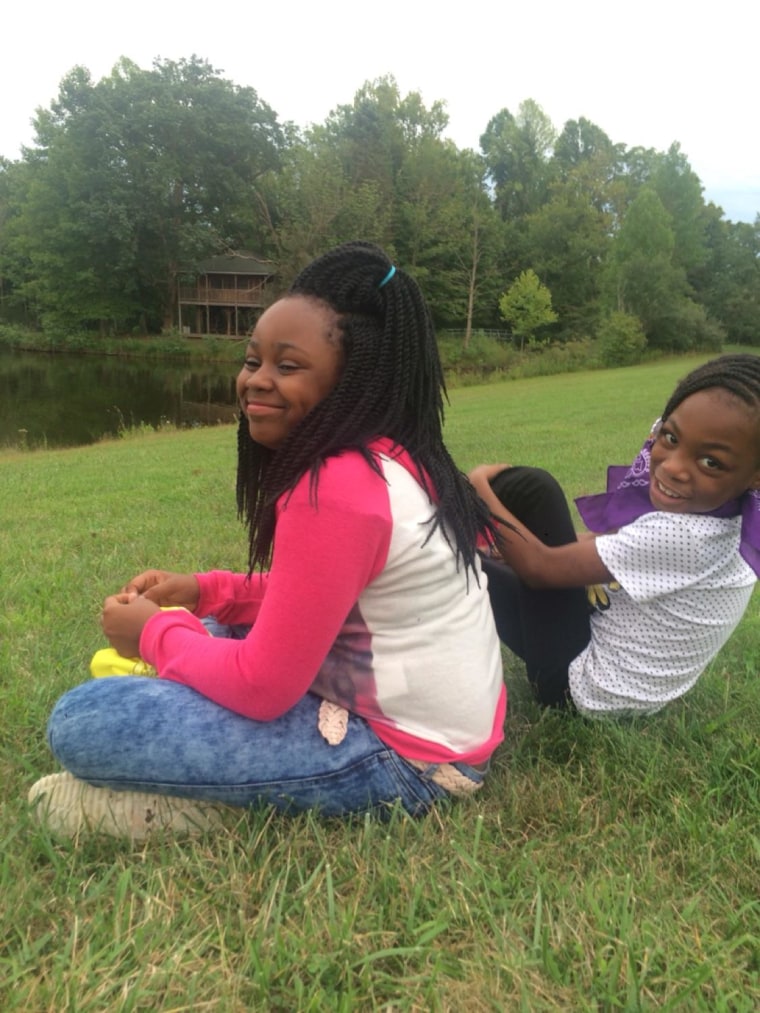 Over the past week alone, she'd lost two friends to shootings.
She rattled off a list of disparities that bedraggle the most dangerous neighborhoods: "You're seeing no jobs, no education, but barely holding on ... divestment in jobs, divestment in education, and wonder why the violence is so high."
"All of those are major components that come into the violence that happens here," Williams, a community activist, said during a town hall hosted by MSNBC on Thursday.
Two days later, her 11-year-old cousin was shot.
On Saturday evening, the little girl, Takiya Holmes, suffered a gunshot wound to the back of the head. The fifth grader survived, but barely, with a bullet lodged by her brain stem.
"Our focus is on just hoping and staying positive, praying that she makes it, because she's the anchor for so many of our lives," Rachel Williams said, just hours after the shooting. "You get accustomed to being there for other families, you get accustom to not trying to show emotions and being strong, but when it's one of yours, it really hurts."
Related: How One Woman in Chicago is Combating Gun Violence
Less than 30 minutes earlier and not very far away from the South Side neighborhood where Takiya was wounded, another little girl, Kanari Gentry-Bowers, 12, was also shot in the head and badly wounded.
As of Monday afternoon, both Takiya and Kanari remained on life support at area hospitals. Both of the girls were struck by stray bullets.
"You're seeing no jobs, no education..."
Kanari was playing basketball on a playground at an elementary school in West Englewood around 7:15 p.m. on Saturday, when witnesses say a car pulled up and someone inside opened fire. The bullet struck her in the neck and shattered her spine.
Gunfire erupted again around 7:40 p.m., as Takiya sat in the backseat of her mother's minivan, alongside an aunt and her 3-year-old brother. They were waiting outside of the dry cleaners where her mother worked.
When those last shots rang out, Takiya's mother yelled for everyone to duck. Moments later she asked if everyone was OK. Takiya was silent. Her little brother stood over her, pleading with her to get up.
The girls were among nearly two dozen people who were shot in Chicago over the weekend, the latest in an unrelenting wave of gun violence that has carried over from 2016 — a year in which the city endured levels of violence not seen since the 1990s.
"I don't know what's going to stop this ..." Kanari's aunt, Rochetta Tyler, told the Chicago Tribune, standing outside Stroger Hospital where the girl was being treated. "Don't nobody know. But we're steady losing our kids, 11 and 12. Oh my God! Whoever did this, they should turn themselves in. ... These babies didn't even live their life. They were in grammar school. Beefin' ain't even that serious."
In the hours after the shootings, Takiya had a stream of visitors pouring into University of Chicago Comers Children's Hospital, including family, friends, classmates and Mayor Rahm Emanuel.
Coming off a very violent year, Emanuel has been blasted by anti-gun violence activists and community groups for not doing enough to quash the uptick in gun violence. He's even been criticized by President Donald Trump, who in a tweet last month threatened to "send in the Feds" if Emanuel doesn't "fix the horrible 'carnage.'"
Related: Chicago's Street Disciple Leads Summer Crusade Against Gun Violence
In response, Emanuel said that federal authorities already play an integral role in combating gun violence in the city, particularly as it relates to the endless flow of illegal weapons flowing in from out of state.
As the political war of words brews between Trump and Emanuel over gun control, people in the communities most impacted by gun fire continue to suffer.
Just three weeks ago a man named David Carroll Jr., 21, was shot and killed across the street from where Takiya Holmes family lives on the South Side. Carroll was a family friend who died on the same block where he grew up.
Days after the killing, Rachel Williams picked up Takiya, who she called "a caring, sensitive girl" from school. The girl was shaken by Carroll's death. It wasn't that she was unaware of the perils so many face in their neighborhood. She was a budding activist herself, a young member of Assata's Daughters, a grassroots collective of black women who advocate for the city's most vulnerable. But Carroll's death hit home in a way she'd never experienced.
"She said 'I'm just afraid of it being me next,'" Williams recalled the girl saying. "I told her that we're always going to make sure you're OK and protect you. But we couldn't."