A Cleveland police officer has been found not guilty of voluntary manslaughter in the killing of two unarmed passengers whose car hood he mounted, sending a barrage of bullets into their windshield.
Michael Brelo, 31, who is white, was charged with killing Timothy Russell and Malissa Williams — both of whom were black — after a car chase in November 2012. Brelo rubbed his face and nodded his head as the judge read the verdict, and then wept.
Shortly after, the Department of Justice announced it would review Brelo's case.
The high-speed pursuit started after Russell's 1979 Chevy Malibu backfired while driving past police headquarters. Officers thought the noise was a gun going off inside the car, and 13 cops responded by firing shots.
Brelo, who joined the Cleveland Police Department in 2007, was the only officer to face criminal charges. Prosecutors say he waited until the car had stopped moving and no longer posed a danger to fire 15 rounds into the windshield, firing a total of 49 rounds into the car.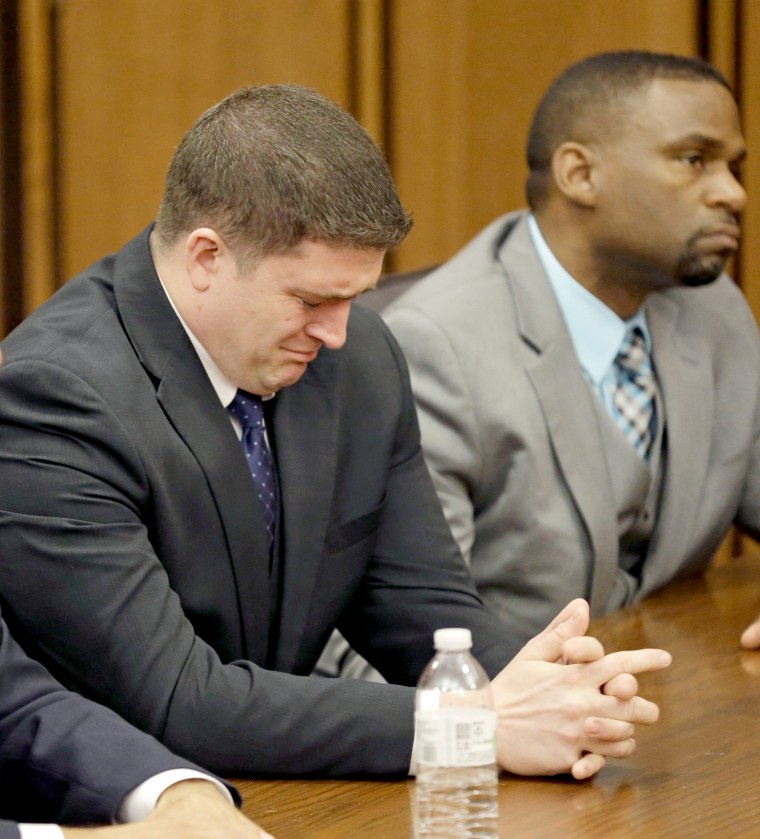 Defense attorneys claimed Brelo was fearful for his life, believing Russell and Williams had a gun. The judge agreed that he acted accordingly.
"Brelo reasonably perceived a threat," said Cuyahoga County Common Pleas Court Judge John O'Donnell.
Altogether, the officers fired 137 shots. Experts testified at the trial that Russell had 23 bullet wounds and Williams had 24, NBC affiliate WKYC reported.
O'Donnell said that while he found beyond a reasonable doubt that Brelo caused at least one fatal wound to Williams' chest, he couldn't determine that the other fatal shots came from his gun.
"One or two other officers inflicted" the others, O'Donnell said, and therefore, he couldn't find Brelo guilty of Williams' death.
Nevertheless, he said, Brelo "ran afoul of the Constitution" when he got on top of the car, taking action that officers are not trained to do. But, he added, Brelo could still face lesser charges.
Brelo's attorneys argued that it wasn't possible to prove who fired the fatal shots, while prosecutors claimed that Russell, 43, and Williams, 30, were still alive until Brelo ambushed them.
The Iraq war Marine veteran faced as many as 22 years in prison. He will remain on unpaid suspension while an administrative review continues of him and the other officers involved, Cleveland Police Chief Calvin Williams said.
A group of about 150 marchers protesting the verdict shut down traffic, Cleveland.com reported.
Brelo's attorney, Pat D'Angelo, said on Saturday he was "elated" with the verdict.
"We didn't do anything illegal. We didn't do anything wrong. And I'll be damned if I'm going to let any bully push us around," he said. "We stood toe-to-toe with an oppressive government trying to put away a law-abiding citizen."
Malissa Williams' brother, Alfredo, slammed D'Angelo, the verdict and the police department.
"Why should I call the police to my house when I know they let police get off with murders?" he told WKYC.
"If he would have never gotten on the hood of the car, they would be living today," he said. "The bullet came from the officer's gun."
Cuyahoga County Prosecutor Timothy McGinty said the case would still have a ripple effect on the Cleveland Police Department and officers around the country, despite the not guilty verdict.
"I am convinced that this prosecution and this case will prevent future deaths of police and civilians," he said. "This case also points out that retraining is needed for returning combat veterans who serve in police departments."
A Department of Justice investigation — opened in part because of Brelo's case — found last December that Cleveland police had engaged in a pattern and practice of excessive force and violating civil rights for years.
Separately, on Saturday afternoon, the Department of Justice announced it would review the testimony and evidence from Brelo's trial.
"We will continue our assessment, review all available legal options and will collaboratively determine what, if any, additional steps are available and appropriate given the requirements and limitations of the applicable laws in the federal judicial system," it said in a statement.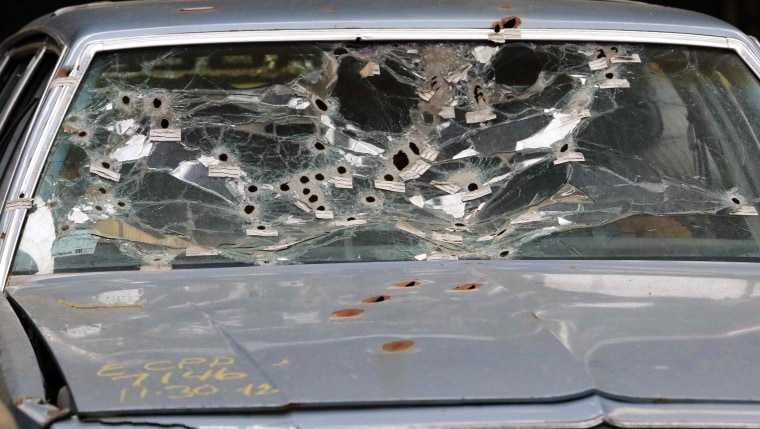 The verdict was read on a Saturday because of the possibility of protests afterwards, WKYC reported. Judge O'Donnell asked for calm across Cleveland, and a crowd gathered peacefully outside the courthouse holding signs and American flags after.
"Hands up, don't shoot," they chanted, the rallying cry that emerged from last year's Ferguson, Missouri, white officer shooting of black teenager Michael Brown. The slogan has been used again and again in officer shootings of black males across the country recently.
Cleveland Mayor Frank Jackson also appealed for peace from residents Saturday.
"This is a moment that will define us as a city and define us as a people," he said. "Actions that cross the line, either by police officers or citizens, cannot and will not be tolerated."
Racial tensions in Cleveland got even more strained after Russell and Williams' death when police shot 12-year-old Tamir Rice, also black, to death last November. Tamir was playing with a pellet gun that police thought was a real weapon. His family has filed a wrongful-death lawsuit against the police department.
O'Donnell acknowledged those strained relations on Saturday.
"Every week, I pass a mountain of stuffed animals left in memory of a 12-year-old that many people believe was murdered by the police," he said.
IN-DEPTH
SOCIAL