A Missouri man accused of turning roadways in Kansas City, Mo., and its suburbs into a shooting gallery faces 18 felony charges in 12 separate incidents since early March, officials said Friday.
Authorities had been tracking suspect Mohammed Whitaker, 27, at his Grandview home, south of Kansas City, for about a week after receiving tips from the public.
"Tonight might be a good night's sleep. It's been few nights [like that] for so many of us," Jackson County Prosecutor Jean Peters Baker said at a news conference after Whitaker was charged.
Of the 18 charges detailed in a criminal complaint, two are for shooting into a motor vehicle and striking someone, seven are for shooting into a motor vehicle and nine are for armed criminal action.
Whitaker was arrested Thursday at his home, just south of the Grandview Triangle — a meeting of highways where most of the shootings occurred. Others happened in nearby suburban communities surrounding Kansas City. Authorities also impounded a green Dodge Neon that they believe was used to carry out the shootings.
During the period when officers had him under surveillance, they said they saw him tailing cars in his vehicle while staying in the other drivers' blind spots, according to court records.
No one was killed, although three victims were hit in either the leg or arm. Their injuries weren't life-threatening, police said.
Police gave little information Friday as to what linked the shootings which began March 8. At least a dozen could be pinned to the shooter, who acted alone, authorities said.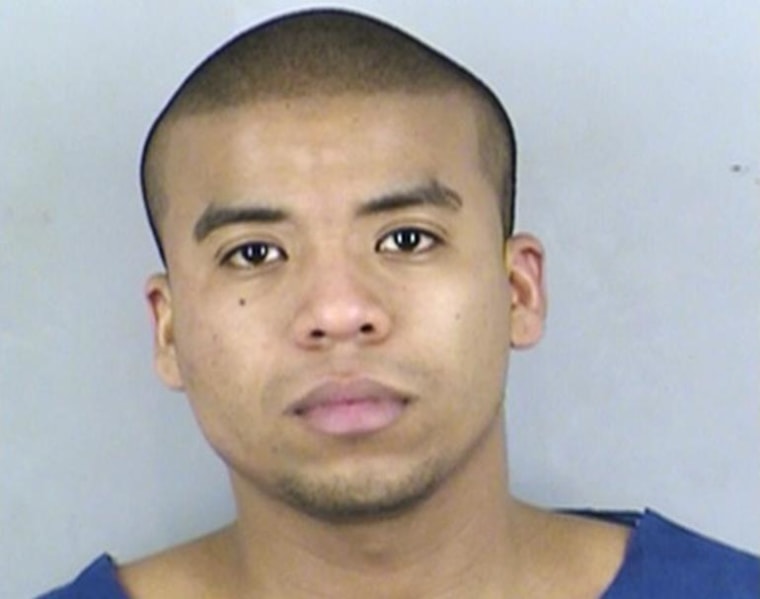 A combination of surveillance, tips, witness statements and ballistics helped to build the case against Whitaker, they said.
"I don't have a motive," said Police Chief Darryl Forte, adding that more charges could be added.
Whitaker remained in jail Friday on a $1 million bond.
Whitaker's father told The Kansas City Star that his son worked in sales at a medical supply company in Overland Park, Kan. He had dropped out of a technical college, he added.
"To my knowledge, he's never fired a gun," the father told the newspaper. "I'm totally shocked by all this."
He told the newspaper he last spoke to his son on April 7, when he called to ask him for money to get him through until his next payday. He said he sent him $50.
Whitaker's mother, Maria Dunn, 55, reached by the Associated Press in Texas late Friday, said didn't believe the charges against her son, who she said has always been "happy" and a "good kid."
"Right now, there's so many things in my head. ... All I know is that I can't believe this is happening to him. I just can't," she said.
Dunn said the family lived for a while in central Missouri, where her son attended high school before he moved to Kansas City to attend DeVry University to study computer science.
"Mohammed is a good son, a good kid, and nothing, nothing that they charged him is the truth," she said. "He's a good kid, and I'm proud of him that he's my son."