Curtis Flowers, a Mississippi man who's been tried six times for a 1996 quadruple murder, was released on bail Monday, court documents show.
The decision in Montgomery County Circuit Court comes six months after the U.S. Supreme Court reversed Flowers' latest conviction, in 2010, in a ruling that found that the prosecutor had discriminated against him by excluding black jurors.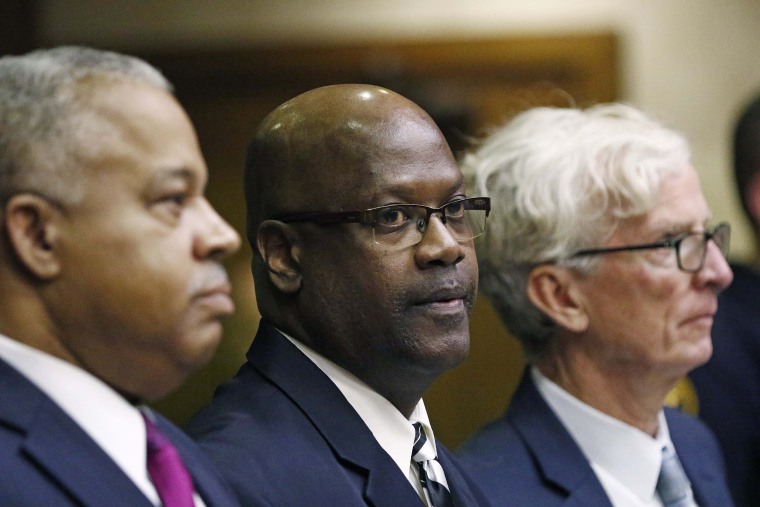 Flowers, 49, was freed on $250,000 bail after having served 23 years in prison in the murder of four people at Tardy Furniture in Winona, Mississippi, on July 16, 1996.
It is unclear whether he will be tried again.
In a statement, Flowers' attorney Rob McDuff said Flowers' legal team would seek to have the charges dismissed next month.
"We are very pleased that he will finally have some measure of freedom and be able to spend time with his wonderful family," McDuff said, adding: "This has been a long and costly process, and there is no need to continue wasting taxpayer money on this misguided prosecution that has been plagued by misconduct and racial discrimination."
Download the NBC News app for breaking news
In the Supreme Court's decision on June 21, Justice Brett Kavanaugh wrote that the prosecutor, 5th Circuit District Attorney Doug Evans, had repeatedly struck black jurors from Flowers' trials because of their race, a move that violated an earlier high court ruling.
Evans couldn't immediately be reached for comment.