LOS ANGELES — David and Louise Turpin, the California couple accused of abusing, shackling and starving 12 of their 13 children, were ordered to stand trial Thursday on 49 counts, including torture and false imprisonment.
Judge Bernard Schwartz of State Superior Court in Riverside found probable cause to try the couple on all but one of the 50 charges against them. They were arrested in January after one of their daughters escaped their home in Perris, 70 miles southeast of Los Angeles, and told police that her 12 brothers and sisters were being held captive by her parents.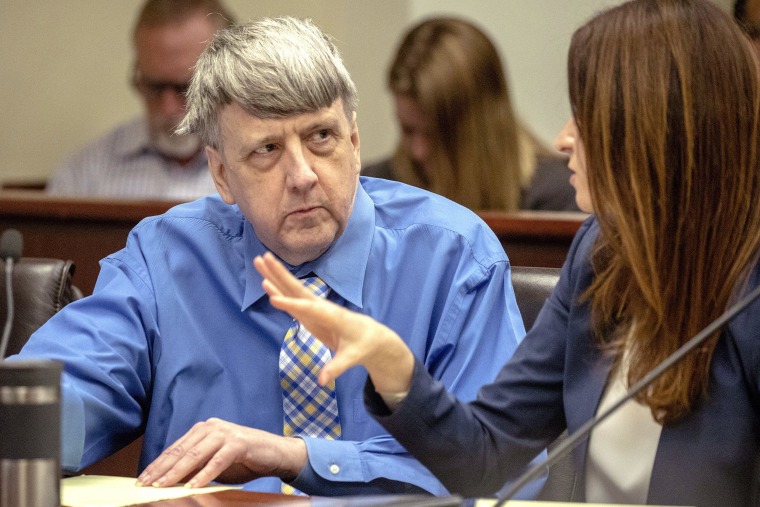 Officers found her 12 brothers and sisters, ages 2 to 29, in "dark and foul-smelling surroundings" at the home, some of them bound, shackled or padlocked to beds, police said. The seven adult children were so malnourished that police initially thought they were minors, they said.
Schwartz set an arraignment for Aug. 3 for both Turpins on 12 counts of torture, 12 counts of false imprisonment, seven counts of abuse of a dependent adult and eight counts of child abuse.
David Turpin, 57, is also charged with one count of a lewd act on a child under the age of 14 by force, fear, or duress, as well as eight counts of perjury, while Louise Turpin, 49, is also charged with a count of assault with force likely to cause great bodily injury.
They have both pleaded not guilty and are being held in lieu of $12 million bail each.
The judge threw out only a single count of domestic violence, saying there was no evidence of physical abuse against the couple's youngest child, who is 2. But he said there was "plenty of evidence" for the 49 other charges, describing some of the Turpins' alleged behavior as "sadistic" and "astounding."
Investigators testified during the two-day preliminary hearing that the children were deprived of food, toys and games and were allowed to do little except to write in journals, which they said could corroborate the stories they told authorities.
Riverside County district attorney's investigator Patrick Morris testified that some of the children suffered from severe malnutrition and muscle wasting. An 11-year-old girl who was shackled to a bed had arms the size of an infant, he said.
Wade Walsvick, a senior investigator for the district attorney's office, testified that the oldest son told authorities that discipline included beatings with the leather or buckle end of a belt and that, years earlier, when the family lived in Texas, the children were sometimes placed in cages.
The hearing took place at the same time that the Turpins' seven adult children were in a separate guardianship hearing. Jack Osborn, a lawyer for the 13 children, said no decision was reached on appointing a long-term conservator.