A young black man who died in the custody of four white Louisiana deputies had "significant traumatic injuries" to his neck consistent with asphyxiation, according to the coroner, who classified the case as a homicide.
The Jefferson Parish Sheriff's Office put the four narcotics agents involved in the confrontation on desk duty and asked Louisiana State Police and the FBI civil rights task force to join his investigation of how drug suspect Keeven Robinson, 22, was killed Thursday.
"I understand this incident will be under a microscope," Sheriff Joseph Lopinto said at a Monday news conference where the preliminary results of this weekend's autopsy were announced.
An attorney for Robinson's family, Hester Hilliard, said the autopsy result compounded their grief.
"They had to find out Keeven lost his life at the hands of another, and that's very, very hard for them," she said. "And now they have to move on to making funeral arrangements for this 22-year-old, who should not have died."
Hours later, Robinson's family led more than 200 neighbors on a march past the spot where her only son died.
"They're killing the children," Robinson's grandmother, Sheryl, told reporters. "Enough is enough."
Robinson, who was the target of an undercover drug operation, fled from police in his car, crashed into two sheriff's vehicles, and then fled on foot — jumping over several backyard fences before he was caught with drugs on him, officials said.
We don't train somebody to hit someone with a brick — but if you're fighting for your your life and the brick's there, you hit somebody with the brick.
Jefferson Parish Sheriff Joseph Lopinto
On Thursday, at the scene, Lopinto said there was "no indication" that deputies had choked Robinson. He noted that the suspect had a history of asthma and that air quality was poor. "It appears to be probably asthma-related," he said then.
But Jefferson Parish Coroner Gerry Cvitanovich said Monday that the post-mortem examination showed Robinson's death was "caused by the actions of another."
The damage to the soft tissues of his neck, he said, left him confident that the cause of death will be "compression asphyxia" when the autopsy process is completed. He said it was consistent with someone choking, grabbing or leaning on Robinson's neck.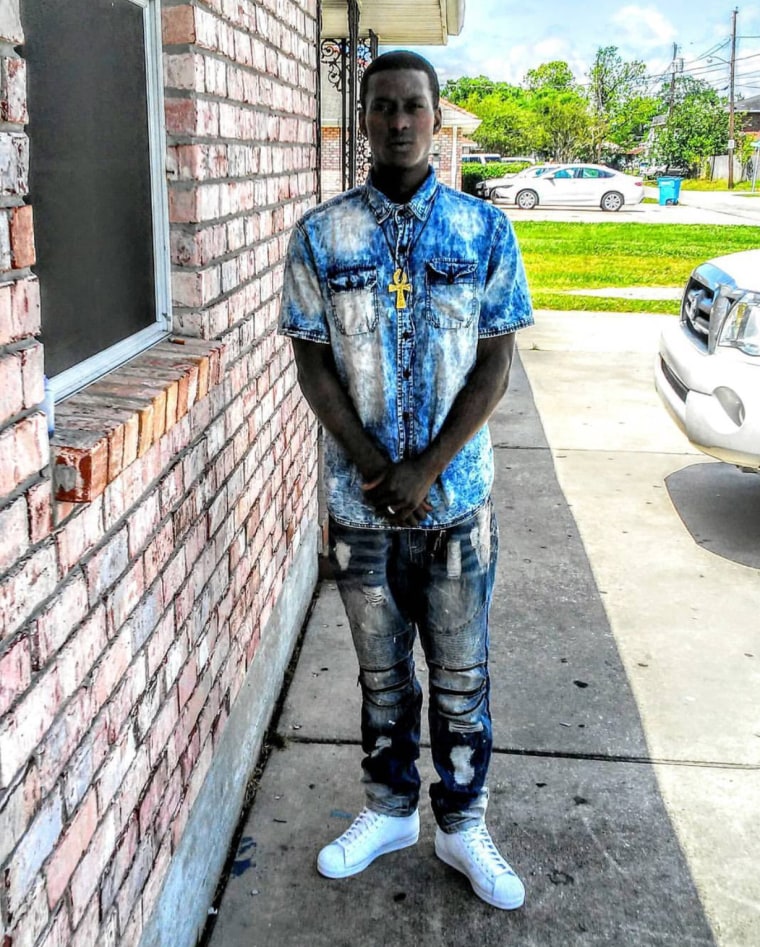 The coroner noted that the forensic finding of homicide is different from the legal definition and that it will be up to police and prosecutors to determine if a crime was committed.
Lopinto said the four deputies were read their rights and gave statements.
"They were in a fight with this gentleman effecting an arrest," the sheriff said. "Our police officers have to use force and are justified to use force on many occasions."
Asked whether the office has a policy on the use of chokeholds, Lopinto said, "From a policy standpoint, we don't train somebody to hit someone with a brick — but if you're fighting for your your life and the brick's there, you hit somebody with the brick."
Lopinto said the investigation would determine if the use of deadly force on Robinson — who did not have a gun on his body but had one in his car — was justified.
The sheriff's office does not use body cameras or dashboard cameras.
The sheriff said he told reporters Thursday that asthma was the likely culprit because that information — supplied by Robinson's family — was the best information he had at the time. He said he asked state police and the FBI to join the probe to ensure there's an independent body involved.
"Never can have too many sets of eyes to make sure we're doing it properly," he said.
Gaylor Spiller, president of the NAACP's Jefferson Parish chapter, praised the sheriff for his response to the autopsy results.
"I find him to be a decent, honorable sheriff," he said. "He has not let me down yet and I don't feel like he will let me down now."
"The NAACP is not behind criminal actions, we do not represent criminals. You do the crime, you do the time," she added. "But one thing we will not stand for is the killing of an individual."