A California dermatologist who is alleged to have repeatedly poisoned her husband by pouring drain cleaner into his tea last year, causing him stomach ulcers, has been indicted by a grand jury, the Orange County District Attorney's Office announced Wednesday.
Dr. Yue Yu, of Irvine, was indicted on three felony counts of poisoning and one felony count of domestic battery with corporal injury. She is accused of having tainted her husband's tea over several weeks with what District Attorney Todd Spitzer called a "Drano-like substance intending to cause him pain and suffering."
Her husband of a decade, whom police have not publicly identified, caught Yu "pouring a substance out of a bottle of liquid drain cleaner into her husband's tea that was left on the counter" on three different dates in July via cameras he set up in the family's kitchen, the district attorney's office alleged in a news release. The husband previously identified the beverage as a "hot lemonade drink."
The husband's lawyer identified him Thursday to NBC News as Dr. Jack Chen, 53, a radiologist.
"We are satisfied that the grand jury saw the evidence and made the decision that we believe is the appropriate decision and this is another step in getting a horrible turn of events resolved," attorney Steven Hittelman said.
The couple's divorce is pending, and Chen and his two children, ages 8 and 9, have an active domestic violence restraining order against Yu, although the children are able to have unsupervised visits with her, Hittelman added.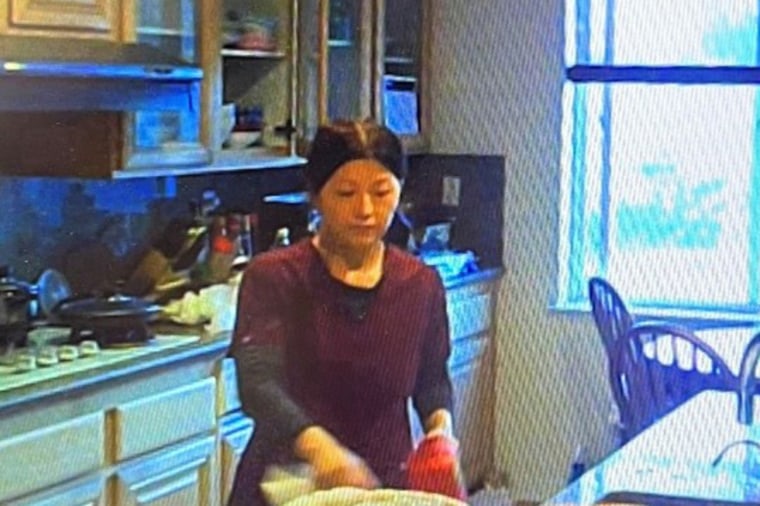 Chen set up the cameras after he "began noticing a strange taste to the tea he drinks every day" in early April 2022, the district attorney's office said. After the cameras caught what he alleged was the poisoning, he gave samples of the tea to the Irvine Police Department, who forwarded them to the FBI, "which confirmed the substance was consistent with liquid drain cleaner," the district attorney's office said.
Yu's former attorney, David Wohl, has said she "vehemently and unequivocally denies ever attempting to poison her husband or anyone else." Wohl said Thursday he is no longer representing Yu.
Her current attorneys could not immediately be reached for comment Thursday morning.
Yu could face up to eight years and eight months in prison if she is convicted on all counts, the district attorney's office said. Her arraignment is set for April 18.
Police arrested Yu, who goes by the first name Emily, in August on suspicion of poisoning; she was released from the Orange County Jail a day later after she posted a $30,000 bond.
NBC Los Angeles reported that Yu and Chen have been involved in a child custody dispute since last year and that she recently filed to have him financially support her, claiming she has been unable to work since the allegations surfaced. In the restraining order filing, Chen said that Yu called him from jail asking him to post bail but that he refused, according to NBC Los Angeles.
He also alleged in the restraining order filing that "both children have suffered physical, verbal and emotional abuse by their mother ... and their maternal grandmother," NBC Los Angeles reported.
The indictment requires Yu, a dermatologist affiliated with Providence Mission Hospital, to "self-report to the Medical Board of California, which will determine whether she will be allowed to continue to practice medicine," the district attorney's office said.
A spokesperson for the hospital has said that Yu is a dermatologist with Mission Heritage Medical Group, which serves communities in South Orange County, and that her office is not in the hospital.
Patricia Aidem, the director of public relations for Providence Southern California, said in a statement Thursday: "As this legal action does not relate to Dr. Yu's work with Providence, and out of respect for the judicial process, we will not comment."