Federal prosecutors have charged a drone pilot with violating airspace regulations in connection with anti-media flyers that were dropped over two Northern California sports stadiums in 2017.
Tracy Michael Mapes, 56, of North Highlands, in Sacramento County, was charged Tuesday with violating temporary flight restrictions in national defense airspace at two National Football League games on Nov. 26, 2017.
According to an affidavit attached to a complaint filed in U.S. District Court in San Jose, Mapes flew a drone that dropped the flyers on spectators at a game between the San Francisco 49ers and the Seattle Seahawks at Levi's Stadium in Santa Clara.
He then drove to Oakland and dropped flyers over Oakland-Alameda County Stadium, where the Oakland Raiders were playing the Denver Broncos, according to the affidavit, which was filed by an investigating officer with the U.S. Transportation Department.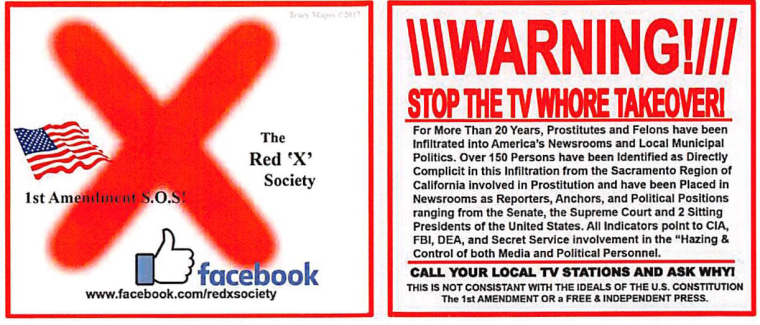 The flyers bore a red X and read "WARNING! STOP THE TV WHORE TAKEOVER!" with additional text alleging government control of the media, according to the affidavit.
Mapes was arrested after Alameda County sheriff's deputies tracked the drone for a half-mile and found Mapes, wearing a retrofitted helmet, piloting the aircraft with an iPad, according to the affidavit, which included still images taken from video recorded by the drone.
Mapes told Santa Clara police investigators that he believed spreading his message "outweighed any repercussions," according to the affidavit. Then he bragged about the stunt on Facebook, it said.
The temporary flight restrictions prohibit all aircraft, including drones, from operating within three nautical miles of any stadium seating 30,000 or more people during major events, like the NFL, college football and Major League Baseball games. The restrictions are in effect from one hour before to one hour after the end of the event.
Mapes is scheduled for an initial court appearance on June 4. Records didn't reflect whether he has an attorney.