His nickname translates to "Shorty," but everything about the federal racketeering trial of Joaquin "El Chapo" Guzman Loera is enormous.
He's accused of trafficking over 440,000 pounds of cocaine — in addition to mountains of other drugs — and maintaining power over his sprawling Sinaloa Cartel through murder, kidnappings and torture. The jury for his case, which is expected to last four months, was whittled down from almost 1,000 prospective panelists. Prosecutors have hundreds of thousands of pages of evidence, and over 100,000 audio recordings. The feds are looking to seize $14 billion in assets from him. And the presence of the renowned escape artist has sparked the largest daily law-enforcement presence the busy federal courthouse in Brooklyn has ever seen.
"What makes it huge is the defendant," said Jodi Avergun, a former federal prosecutor in Brooklyn and former official in the U.S. Drug Enforcement Agency. "He's the most high ranking drug lord ever brought to trial in the United States."
And while his lawyers will battle that allegation during his epic trial — they're expected to contend that he's a mere underling in the Mexican cartel, and the victim of Draconian D.E.A. tactics — prosecutors will look to use their client's own words against him.
"I supply more heroin, methamphetamine, cocaine and marijuana than anybody else in the world. I have a fleet of submarines, airplanes, trucks and boats," he boasted during a 2015 Rolling Stone interview with actor Sean Penn before his arrest in Mexico.
Prosecutors agree. Guzman, 61, is standing trial on a 17-count indictment on drug trafficking, murder conspiracy and money laundering charges that span over 25 years.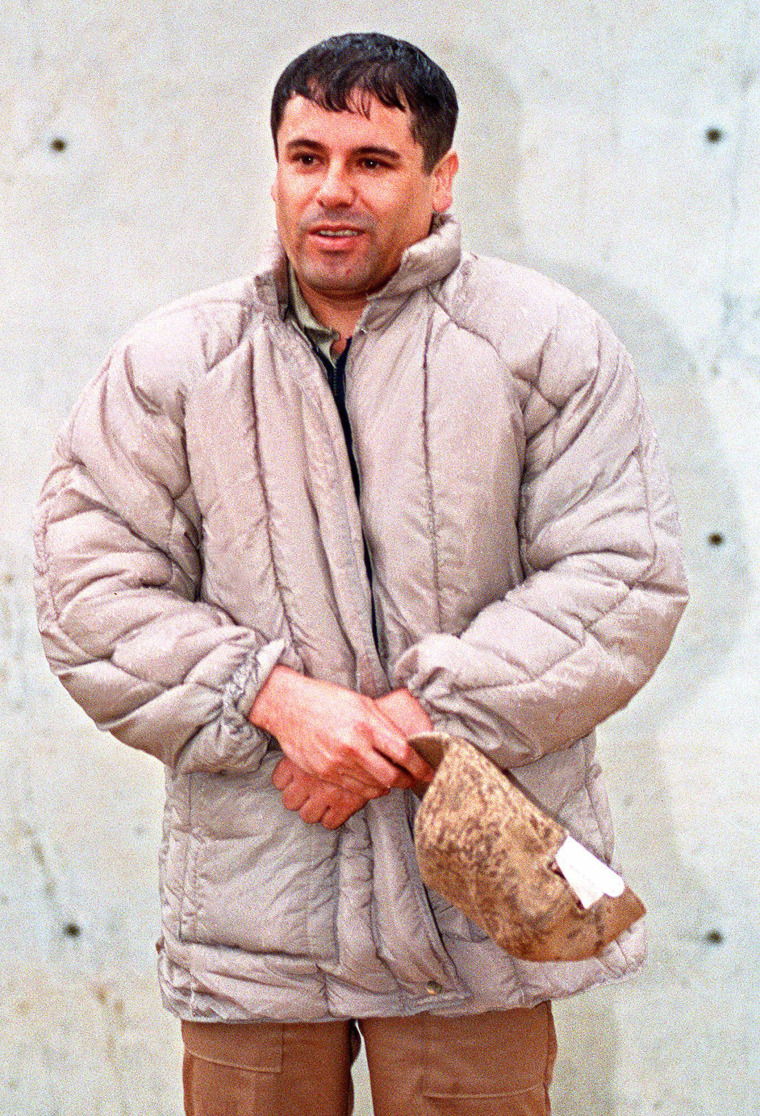 Guzman helped transform the Sinaloa Cartel into "the largest drug trafficking organization in the world," the 28-page indictment says. Its thousands of members "manufactured and imported multi-ton quantities of heroin, methamphetamine and marijuana into the United States," and "generated billions of dollars in profit," much of it thanks to an elaborate transportation system that includes scores of intricate tunnels under the U.S.-Mexico border.
"Smuggling drugs from Mexico to the United States became highly sophisticated under his watch," Avergun said, and he used his ruthlessness and cunning "to consolidate his power and control" over the cartel.
In court filings, prosecutors said Guzman "and other leaders of the Sinaloa Cartel also employed 'sicarios,' or hitmen, who carried out hundreds of acts of violence, including murders, assaults, kidnappings, assassinations and acts of torture at (their) direction" to maintain their power.
Jurors are expected to hear about a specific incident in 2006, where Guzman himself allegedly interrogated two members of a rival cartel. After eating lunch, "he had them beaten and then personally shot them both in the head with a long gun. The defendant then ordered his workers to dig a hole in the ground, light a fire inside the hole, and throw the bodies in the hole to be burned and subsequently buried," court filings say.
Numerous cooperating witnesses will be called by prosecutors but their identities have been kept under wraps in court filings to protect them and their families. Steps are also being taken to protect their identities in court.
"The stakes are larger here, because the defendant is known to target cooperators," said another former federal prosecutor, Andrew Porter, who was involved in putting another indictment against the drug lord in Chicago. "There are certainly additional safeguards that need to be put in place."
Guzman's defense is expected to challenge the witnesses' claims by focusing on their own lawbreaking.
"Unfortunately for many of these kinds of cases the government has to rely on people who committed crimes. You have to make deals with the devil, if you will, to find the people most responsible," Avergun said. She predicted prosecutors while try to corroborate witnesses' testimony with wiretaps and other evidence in a bid "to relieve the jurors of the responsibility of relying only on drug dealers."
"With this kind of case, where the stakes are so high, they're going to pick their witnesses carefully," she said.
Prosecutors, meanwhile, have asked the judge presiding over the case, Brian Cogan, not to allow the defense to refer to a "government official's recent comments" calling cooperating witnesses "'flippers' whose use probably should be illegal." That's a reference to comments President Donald Trump made during an interview with Fox News in August, after it was revealed his former lawyer was cooperating with the special counsel's investigation into alleged Russian collusion.
Some of the evidence at trial will come courtesy of Guzman himself.
Prosecutors plan to show jurors video of Guzman carrying out an interrogation of "a kidnapped and bound member of a rival cartel" who was not killed, court filings say.
They also indicated in court papers they'll use a video Guzman had made to answer questions from "Dead Man Walking" star Penn and actress Kate del Castillo.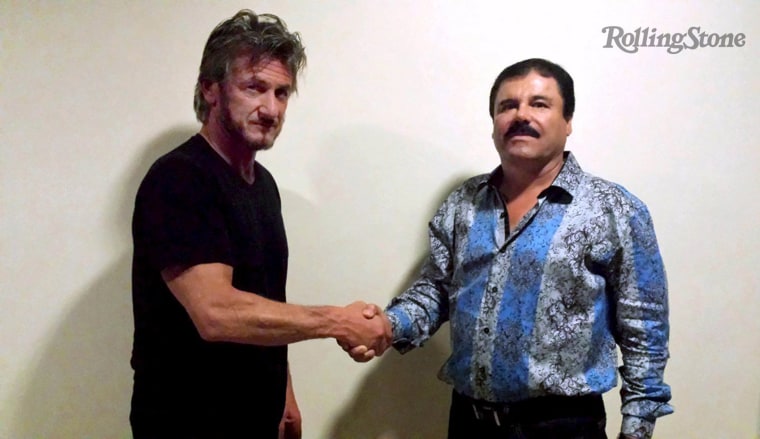 Guzman, who reportedly dropped out of school in third grade, told them, "Well, from the time I was 15 and after, where I come from, which is the municipality of Badiraguato, I was raised in a ranch named La Tuna, in that area, and up until today, there are no job opportunities. The only way to have money to buy food, to survive, is to grow poppy, marijuana, and at that age, I began to grow it, to cultivate it and to sell it."
Prosecutors also plan to use his history of dramatic escapes to counter the defense's contention that he was a low level figure in the cartel.
After he was first captured in 1993 and sentenced to 20 years behind bars in Mexico, he continued to rule the cartel from prison — and was reportedly able to bribe guards into letting him go. He is said to have escaped in 2001 by being smuggled out in a laundry cart.
And his dramatic escape from another high-security prison in Mexico in 2015 came courtesy of a mile long tunnel dug under his prison cell, which is estimated to have cost millions of dollars. He was recaptured after a bloody shootout between cartel members and Mexican Marines in January of 2016 in the town of Los Mochis.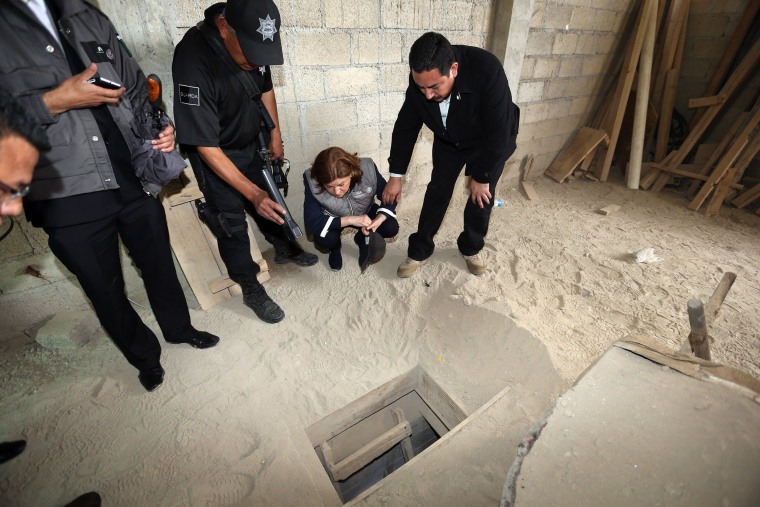 He also "made plans for another possible escape from prison in late 2016 and early 2017, prior to his extradition to the United States," the government said in a Sept. 21 filing.
"The escapes, the witnesses and the other evidence will tell the lurid details of his clear command and control of the Sinaloa state," Porter predicted.
Opening arguments are slated to begin Nov. 13. The jury, which was selected in less than three days after being whittled down with questionnaires to an initial pool of about 1,000, is made up of seven women and five men.
Among those who did not make the cut was a man who'd asked a court officer to help him get Guzman's autograph, and another who was a Michael Jackson impersonator. Prosecutors contended the faux King of Pop's profession would make him too recognizable, since the jury is being kept anonymous for security reasons.
Guzman faces a maximum of life in prison if convicted of all the charges against him. The U.S. agreed not to seek the death penalty in order to get him extradited from Mexico, which has abolished capital punishment.