The celebrity sexual assault scandal rocking Canada reached a frenzy Wednesday when the man in the spotlight — ex-radio host Jian Ghomeshi — was arrested after weeks of public scrutiny. The 47-year-old media personality, while largely unknown in the U.S., had been the golden voice of the Canadian Broadcasting Corp., snagging high-profile interviews with the likes of Larry King and Lena Dunham.
But allegations from women claiming sexual violence has silenced his career — and tarnished the image he held as a well-respected interviewer.
"His program was huge," Mike Gasher, a journalism professor at Concordia University in Montreal, told NBC News. "The CBC needed to attract a younger audience, and here was this guy who was cool, hip and connected. He got all the American stars, all the hip, British bands. He was plugged into everything current."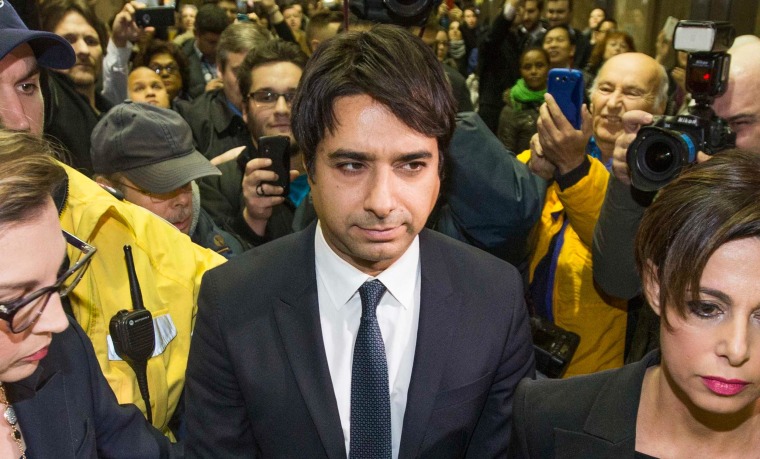 Ghomeshi surrendered to Toronto authorities on Wednesday on four counts of sexual assault and one count of "overcome resistance — choking." His bail was set at $100,000, and he agreed to surrender his passport and live with his mother as conditions of his bond. Marie Henein, Ghomeshi's lawyer, said to a crush of media outside the court room that he will be pleading not guilty and the allegations will be addressed "fully" in court. Ghomeshi said nothing.
When the CBC fired Ghomeshi as host of the radio show "Q" in October, it said the move was prompted by the emergence of "graphic" evidence that he had caused physical injury to a person.
Ghomeshi defended his actions in a 1,500-word statement on Facebook after he was fired, saying women consented to having "rough sex" with him and that he's the victim of a disgruntled ex-girlfriend. After the Toronto Star reported several more allegations days later, Ghomeshi posted that he would confront the allegations "directly," but wouldn't discuss them with the media. He has since deleted his social media accounts.
Police urged in late October for other women to come forward and launched an investigation after nine women contacted various media sources to report incidents of assault and sexual assault involving Ghomeshi.
One of the women, actress Lucy DeCoutere, said she went on a date with him and alleges that when they returned to his home, he pressed her up against a wall, choked her and slapped her across the face several times.
In a statement issued Wednesday, DeCoutere said the Ghomeshi scandal has led to "a major shift" in Canada's conversation about violence against women. "It has been an overwhelming and painful time for many people, including myself, but also very inspiring," she said.
After he was fired, Ghomeshi launched a $55-million lawsuit against the CBC for breach of confidence and defamation. He dropped that lawsuit Tuesday. A union grievance alleging dismissal without proper cause remains.
SOCIAL
— Erik Ortiz, with The Associated Press