Eighteen years after her developer ex-husband was blown up by a car bomb in Arizona, a high-profile former socialite was convicted Tuesday of his murder.
Pamela Phillips, 56, was found guilty in Pima County Superior Court in Tucson of first-degree murder and conspiracy to commit murder in the death of Gary Triano. She faces 25 years to life in prison when she's sentenced May 22.
Prosecutors described Phillips as a gold digger who contracted an ex-boyfriend $400,000 to kill Triano in 1996 to collect on a $2 million life insurance policy as she slid toward poverty after their divorce.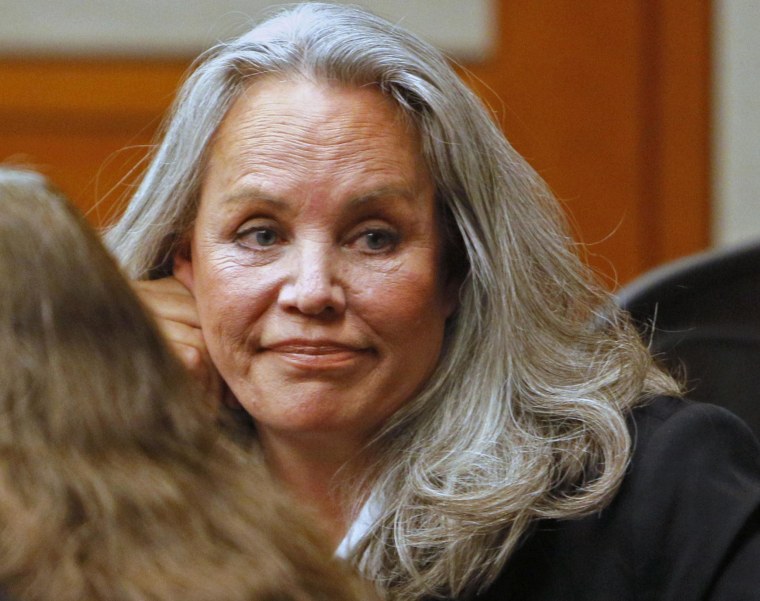 The ex-boyfriend, Ronald Young, was convicted of Triano's murder in 2010, but his conviction was withheld from the jury. Phillips' attorneys argued that she'd started a successful real estate business in Aspen, Colo., after the divorce and had no need for the money.
The killing of Triano, a Tucson businessman with a larger-than-life personality, was featured in a 2009 edition of "Dateline NBC."
Triano hit it big developing Indian slot parlors and bingo halls, but he and his wife divorced in 1993, and he went broke the next year.
Phillips got the $2 million in insurance money and moved out of the country; she wasn't extradited back to the U.S. from Austria until 2009.
After the verdict, Phillips smiled and hugged her attorneys and was led from the courtroom in handcuffs.
— M. Alex Johnson