Dressed in a white T-shirt and maroon shorts, Kevin Harrington beamed as he walked out of the Macomb Correctional Facility in southern Michigan. After a few steps in the fresh air, he let go of the dolly holding his belongings and raised his hands to the sky.
Harrington had spent 17 years behind bars for a murder he had always insisted he didn't commit. On Tuesday, a judge tossed his conviction and threw out his life sentence after prosecutors determined the lead detective coerced a key witness into implicating Harrington and a second man.
A group of friends and relatives was outside the prison waiting for him – several of them cheering his name, his mother shaking a tambourine.
But Harrington couldn't hug them. And he still can't go home.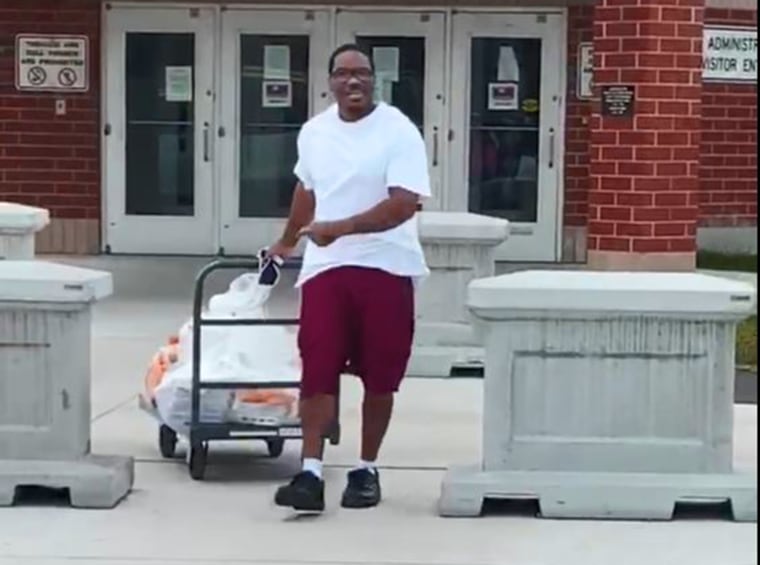 Because of a COVID-19 outbreak at the prison, the 37-year-old former inmate is now holed up at a hotel for a voluntary 14-day quarantine –- a confinement of sorts but one far more pleasant than what he was used to.
"I could eat Grubhub. I could watch Netflix. I get to sleep on a nice comfy bed," Harrington told NBC News by phone from his hotel room.
"It's been beautiful."
Speaking two days after his release, Harrington said he still doesn't have much in his spacious hotel room.
A few pairs of clothes. His Daily Bread devotional pamphlet. And the four bags of legal work and one bag of family photos he lugged out of prison.
"That's all I had in 17 years, six months, two days and 35 minutes of being wrongfully incarcerated," Harrington said. "I really like to call it being kidnapped. Because kidnapping is taking someone somewhere they don't want to be without their consent and or will."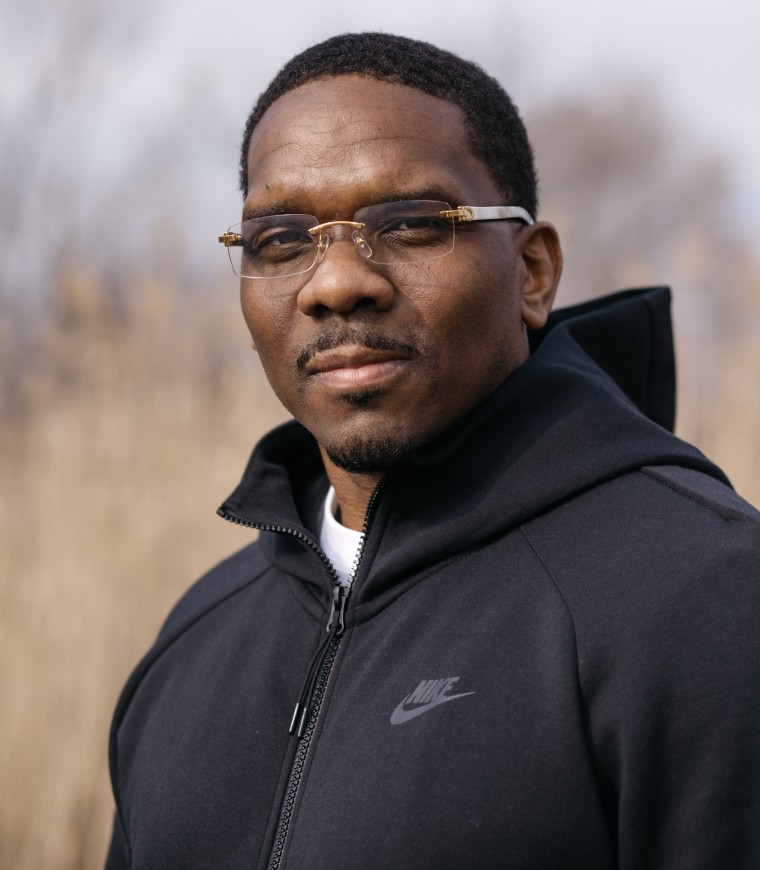 The case began in late September 2002 when the body of a man named Michael Martin was found in a field across the street from his apartment building in the city of Inkster.
Investigators questioned a local woman who gave conflicting accounts of what she observed but told them several times that she had no idea who fatally shot Martin.
"You got up in the middle of the night and you saw something," Inkster police Detective Anthony Abdallah said to her during an interview at police headquarters, according to a transcript.
"No, I didn't," she said.
Later in the interview, Abdallah appeared to threaten the woman. "We don't want to leave you here and somebody take your kids, OK?" he said.
She eventually told investigators that she saw Harrington and a second man, George Clark, assault Martin and drag him into a field –- and then she heard gunshots.
Harrington was 20 years old. He had been taking classes at Wilberforce University in Ohio –- the first in his family to attend college –- but was at that point trying to figure out the next phase of his life.
Clark, who was 31 at the time of his arrest, had been taking care of his ailing mother who was struggling to manage severe diabetes and arthritis.
The two men had grown up in the same housing project in Inkster but they were 11 years apart in age and didn't know each other well.
At their trial, the woman took the stand and denied witnessing the shooting or hearing any shots. But she admitted to having implicated Harrington and Clark at a pretrial hearing, according to an appeals court summary of the trial.
There was no physical evidence linking Harrington or Clark to the murder, but the jury found them guilty.
Harrington's verdict was overturned on appeal, and he went on to have three more trials. The next two ended in hung juries but the fourth resulted in a conviction. He was sentenced to life in prison without the possibility of parole in February 2006.
Clark received a life sentence after his motion for a new trial was denied in 2003.
Behind bars, Harrington said he poured his energy into fighting his conviction.
"I didn't have time to be angry, bitter," he said. "I had to fight. I had to read."
The Michigan Innocence Clinic, which is run by the University of Michigan Law School, began looking into his case in 2009.
By 2015, however, all of Harrington's appeals were exhausted and it seemed his fate was largely sealed. But last fall, the Wayne County Prosecutor's Office Conviction Integrity Unit opened an investigation into the case.
A six-month probe uncovered a "disturbing pattern of behavior from the original lead detective that involved threatening and coercing a number of witnesses," according to a statement from the prosecutor's office.
The unit concluded that Harrington and Clark did not receive fair trials as a result of the detective's conduct. But the prosecutor's office "has not reached any conclusion regarding actual innocence of Mr. Harrington and Mr. Clark," it said in the statement.
Imran Syed, the assistant director of the Michigan Innocence Clinic, praised the prosecutor's office for recommending the convictions be vacated and the charges dismissed.
"Having investigated this case for more than a decade, the Michigan Innocence Clinic firmly believes in Mr. Clark and Mr. Harrington's innocence," said Syed, who was a second-year law student when he began working on the case in 2009.
"All of the evidence indicates that this is a case of police misconduct where two men who had absolutely nothing to do with the murder were charged, convicted and served 17 years in prison, while the true perpetrator remained at large."
Inkster police Chief William Riley said the detectives involved in the case are no longer on the force and he would welcome an outside investigation.
"We have nothing to hide here," Riley said. "I'm like every other citizen that feels if a criminal act occurred in the prosecution of this case, they need to be held accountable."
Abdallah, who served as the lead detective on the case, is now a police officer in the Detroit suburb of Harper Woods.
Reached Friday afternoon, he declined comment. "Man, you can't talk to me about s--- like that," Abdallah said.
Clark was released from the Lakeland Correctional Facility on April 9. His mother never got a chance to see him walk free.
She died in 2004, just two years after Clark's arrest.
"Basically when she found out what they did to me, she gave up," he said. "This is something I have to live with. But even though she's not here in the physical form, I'm sure she's looking down and seeing that justice finally prevailed."
The prison where Clark was held has had 393 prisoners who tested positive for the virus and nine inmate deaths linked to COVID-19, according to the Michigan Department of Corrections.
Clark moved in with family members in Michigan but has been social distancing. "I never gave up hope that one day this would happen," he said.
Due to the coronavirus pandemic, he's hardly left the house since walking out of prison, but that hasn't been a hardship for him. "I'm enjoying every minute of my freedom," Clark said.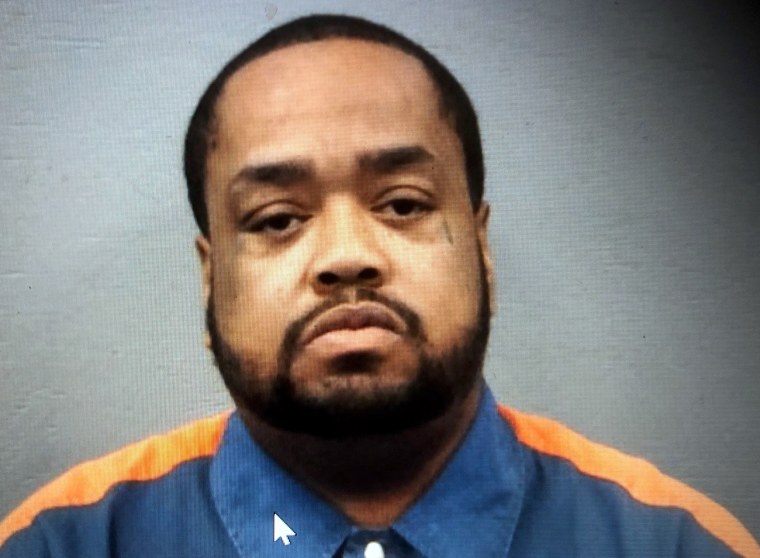 At the Macomb Correctional Facility, where Harrington was held, 84 inmates have tested positive and four have died from the virus.
"It was serious, serious, serious," Harrington said of the conditions behind bars. "Think about a closed-in environment with a rampant virus ravaging through."
"I never experienced any symptoms," he added. "But for the sake of my family, I'm sacrificing another 14 days."
Clark and Harrington are both planning to sue the state seeking $50,000 for each year they were in prison under the state's Wrongful Imprisonment Compensation Act. Their lawyer, Wolfgang Mueller, is also planning to file suit against the city of Inkster and the lead detectives.
"I fully expect to hold the police accountable for what happened here," Mueller said. "They flat out framed these guys."
Harrington's first meal after leaving prison was a cheeseburger with french fries and a slice of cheesecake. His hotel stay is being paid for by the Michigan Innocence Clinic. The program was unable to also cover the cost of his meals, but a call for donations from students was answered so quickly that enough money was raised in two hours, said law student Danielle Bernstein.
The students have also begun a fundraising effort to help him cover housing and transportation costs as he adjusts to his new life.
Harrington has yet to venture off the hotel grounds. He's been spending his days FaceTiming on his new iPhone with his family, watching television and reading his devotional pamphlet, as well as the two-page court document ordering his release from prison.
"I enjoy reading it," he said. "It's so refreshing after what I fought for all these years."
He's having trouble sleeping at night. His room gets pitch black, a stark contrast to his 17 years of sleeping in a cell with a "bright light shining into it."
But Harrington is not at all complaining about his current setup at the hotel.
"There's other people here.They're friendly. It's a cool atmosphere," he said. "If I need more sheets, towels. They got free breakfast - muffins and granola. I can get coffee."
"For free!" he exclaimed. "All the stuff is free!"
Reflecting on his quarantine status, Harrington said he thinks it's actually for the best. It gives him a chance to ease into his new life on the outside.
"I look at it as one chapter closed in my life and this new chapter is so bright and beautiful. It's almost like a transitional period for me," he said by phone from his hotel room. "And being here, I'm not thrust back into the hustle bustle of life after being gone so long."
Before Harrington hung up, his lawyer nudged him to explain one of his final acts behind bars.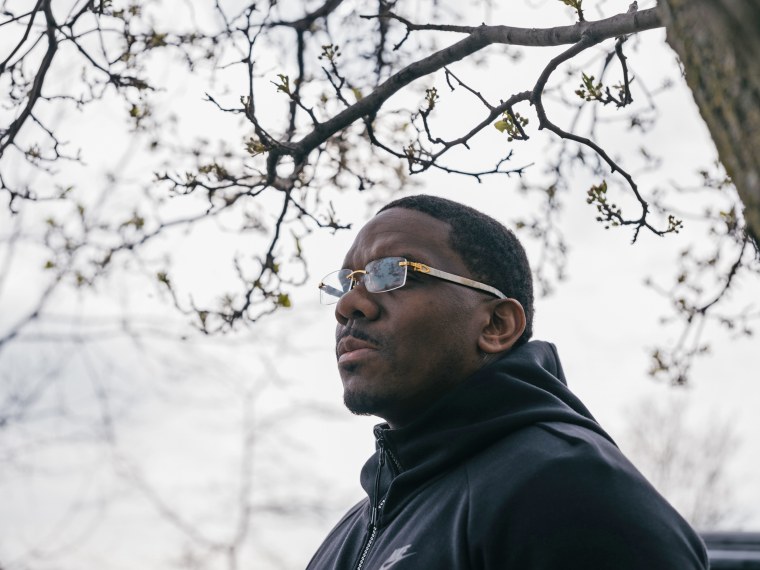 Harrington said he took stock of the possessions he had accumulated after 17 years in captivity and figured there were others who needed them more.
So he walked along a wing of the prison known as the Rock and handed out nearly everything he had: his television, his clothes, his snacks and Ramen noodles.
"I was able to give out 54 items," Harrington said. "I knew the hardships of going through that type of journey. I just wanted to give back one last time."
The only clothes he had left were the white T-shirt and maroon shorts. It was about 35 degrees outside but at that point Harrington had no other options.
He would soon head for the prison gates, where his family was waiting for him and so was the rest of his life.