The Tennessee Board of Parole failed Wednesday to agree on a recommendation for a woman serving a life sentence for killing a client when she was being trafficked as a teenager, giving no clear direction to Gov. Bill Haslam.
The split decision for 30-year-old Cyntoia Brown sends her application for clemency to Haslam. The process could take weeks, his spokeswoman, Jennifer Donnals, said via email. "There is no set timeline for this process," she said.
Haslam, a Republican, has not granted any clemency cases in his tenure. He is in the final year of his term.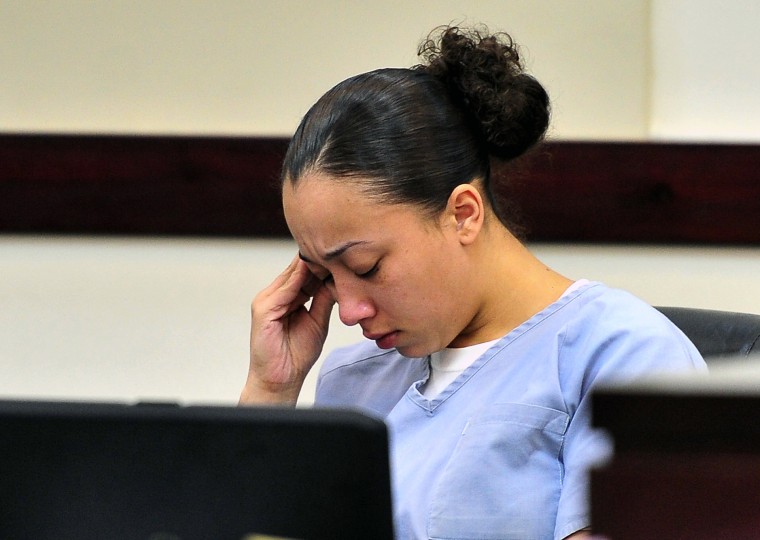 In the vote, two members of the seven-member board endorsed clemency; two voted to reduce her sentence to 25 years in prison, making her eligible for release in 2029; and two voted to require her to serve her complete sentence, board spokeswoman Melissa McDonald said via email. The seventh member was not present. The governor can accept the board's recommendation or reject it.
Brown was 16 when she was sentenced for fatally shooting 43-year-old Johnny Allen. She said she thought he was grabbing a gun when he reached under his bed after he brought the Nashville runaway home for sex in 2004.
On Wednesday, dozens of supporters crowded the Board of Parole hearing at the Tennessee Prison for Women in Nashville. "I know I don't deserve anything, not even this hearing," Brown said, tears streaming down her face. "I'm asking for mercy."
"If you let me out I will never go back to being that person," she said. "I'm completely changed. I won't disappoint you, I won't let you down."
More than a dozen witnesses spoke on her behalf.
"She's a cocoon transformed into a beautiful butterfly," said Connie Seabrooks, who's worked in the prison education system for 42 years. Brown has earned a GED and expects to complete her bachelor's degree next year.
But opponents of clemency pushed back. "I want Johnny's life to matter," said Anna Whaley, Allen's best friend.
Brown's plight — she has said she was violently forced into the world of sex work — has been embraced by Rihanna, Kim Kardashian West, Cara Delevingne, LeBron James and Snoop Dogg. "It's heartbreaking to see a young girl sex trafficked then when she has the courage to fight back is jailed for life!" Kardashian West said on Twitter in November.