A former tribal chairwoman was held on suspicion of murder and attempted murder after she opened fire at the tribe's northern California headquarters, killing four people and critically wounding two others, authorities said Friday.
Cherie Lash Rhoades, 44, was scheduled for a court appearance Tuesday in Modoc County after the carnage Thursday afternoon at the Cedarville Rancheria Tribal Office in the small, remote town of Alturas. Rhoades was initially booked into the Modoc County jail but was later moved to an undisclosed facility for her protection, the Modoc County Record reported.
Modoc County sheriff's officials and Alturas police described Rhoades as a former chairwoman of the Cedarville Rancheria, a tribe of about 35 members of the Northern Paiute Indian nation. State and federal Indian affairs records continue to list Rhoades as the tribe's chairwoman, a discrepancy that wasn't explained Friday.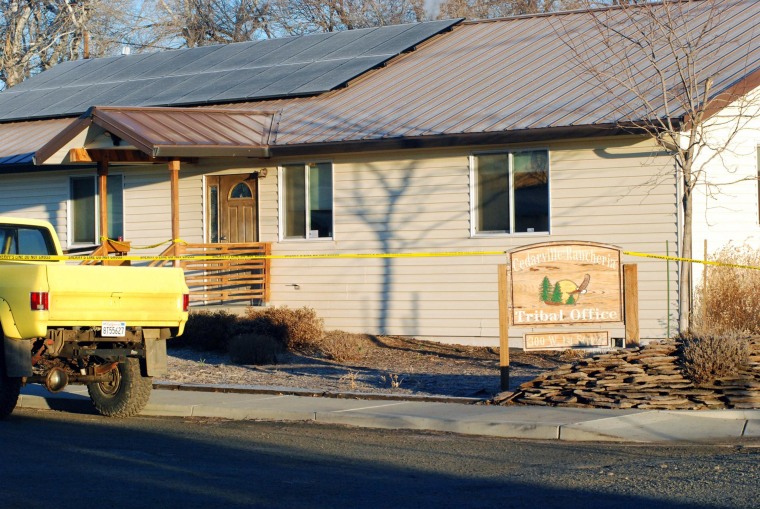 Rhoades systematically opened fire about 3:30 p.m. Thursday during a hearing to evict her and her adult son from their home on tribal property, the sheriff's office said. She is accused of having shot five people and then having stabbed a sixth with a butcher knife when she ran out of ammunition, investigators said.
The sheriff's office identified three of those slain as relatives of Rhoades: Rurik Davis, 50, her brother; Angel Penn, 19, a niece; and Glenn Calonicco, 30, a nephew. The identity of the fourth victim wasn't officially confirmed Friday.
One of the two survivors was alert and talking to investigators, police told NBC station KNVN of Redding. The other remained in critical condition. Neither was identified.