Brody Whisenhunt clutched his mother outside the Dr. Eddie Warrior Correctional Center on Monday, sobbing and declaring it the best day of his life.
His mom, Robin Whisenhunt, was a free woman as she walked out of the minimum-security women's facility in Taft, Oklahoma, southeast of Tulsa, one of 462 nonviolent offenders who were released from prison in what the state said was the biggest one-day mass commutation in U.S. history.
"It means the world," Brody Whisenhunt said. "I miss my mom more than anything, and just to have her back is great."
Like many of the inmates freed Monday, Robin Whisenhunt had been jailed for simple drug possession, which, along with low-level property crimes, was a felony until 2016. That was when voters fed up with Oklahoma's rate of incarceration — the highest in the nation, with as much as 1 percent of the state's population behind bars — voted to reclassify them as misdemeanors.
On Friday, the day the new law took effect, the state Pardon and Parole Board voted unanimously to recommend that Gov. Kevin Stitt commute the sentences of 527 nonviolent offenders. He agreed, and just three days later, he was at the Warrior Correctional Center to greet the 70 or so women who were released there Monday.
"It's such an honor to be with my fellow Oklahomans outside the walls of Eddie Warrior Correctional Center," Stitt, a Republican who was elected last year, said.
"This is the first day of the rest of your life," Stitt said, telling the women: "We're behind you. Oklahomans want to give you a second chance."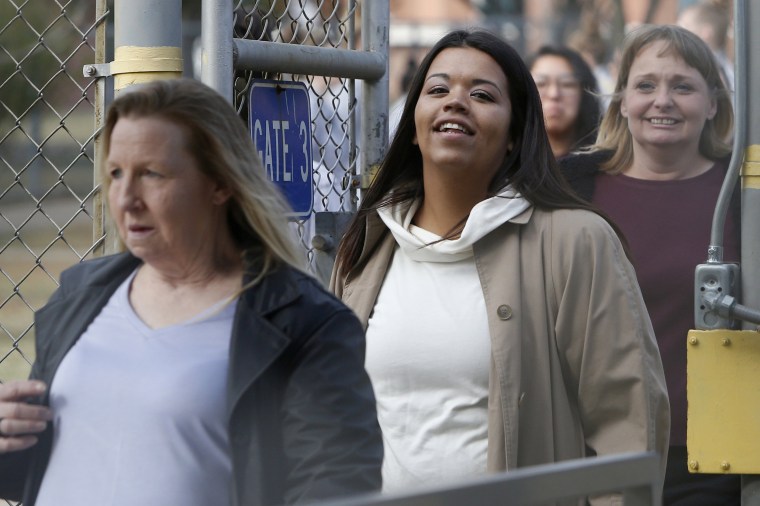 The rest of the 527 inmates, 65 of them, are due to be freed once other holds are cleared up. All were being given driver's licenses or other state-issued identification cards, possessions vital to applying for jobs and seeking housing.
Officials said more commutations are likely in the near future, potentially freeing up as many as 2,000 beds in the crowded prison system and saving the state $12 million.
At facilities across the state Monday, officials shepherded former inmates into the daylight, some of then overcome with emotion.
"This is joy!" one woman shouted at the Taft facility. "This is for Yahweh. Thank you, father. Oh, my God, I'm so happy."
Another woman appeared dazed as she tried to walk out.
"It's OK, darlin'," an aide told her as she guided her in the right direction. "You're doing great."
"I've had a lot of time to think, not being able to see my children," Whisenhunt said. "I'm from out of state — having to be in this state and so far away from my family has really given me some time to think about everything."
"I'm just so glad that Governor Stitt gave us this opportunity to be able to go home to our families," she said.
For Lori Scott, freedom meant the first chance to see Jasper, her 3-month-old grandson.
"I don't want to never put him down," said Scott, who had been less than a year into a 12-year felony sentence for drug possession at the Taft facility.
Download the NBC News app for breaking news
Scott said she had been given new hope that she could set her life straight.
"God's not done yet," she said. "He's given us the chance to be able to do something different with our lives."
At Kate Barnard Correctional Center in Oklahoma City, Lana Lemus clasped her daughter in her arms on her first day of freedom.
"I've been out of her life for three years," said Lemus, who'd also been jailed for felony drug possession.
"She's my hope. She's never given up on me," Lemus said. "So it's a great opportunity for a lot of women out there, and all I have to say is thank you."