The gunman who killed former "The Voice" contestant Christina Grimmie and then fatally shot himself was identified by police Saturday as Kevin James Loibl, a 27-year-old from St. Petersburg, Florida.
Grimmie, 22, died from her injuries from the shooting, which happened Friday around 10:30 p.m. ET at The Plaza Live in Orlando. The singer had opened for the band Before You Exit and was meeting fans and signing autographs a half hour after the concert ended when she was shot.
"The suspect traveled to Orlando apparently to commit this crime and then had plans to travel back to where he came from," Orlando Police Chief John Mina said Saturday. St. Petersburg is more than 100 miles west of Orlando.
Loibl had two handguns, two loaded magazines and a large hunting knife with him when he targeted Grimmie, Mina said. Mina hailed Grimmie's brother, who tackled Loibl, as a hero.
"Almost immediately, her brother Marcus Grimmie tackled the suspect," Mina told reporters earlier Saturday. "Shortly after that, the suspect killed himself."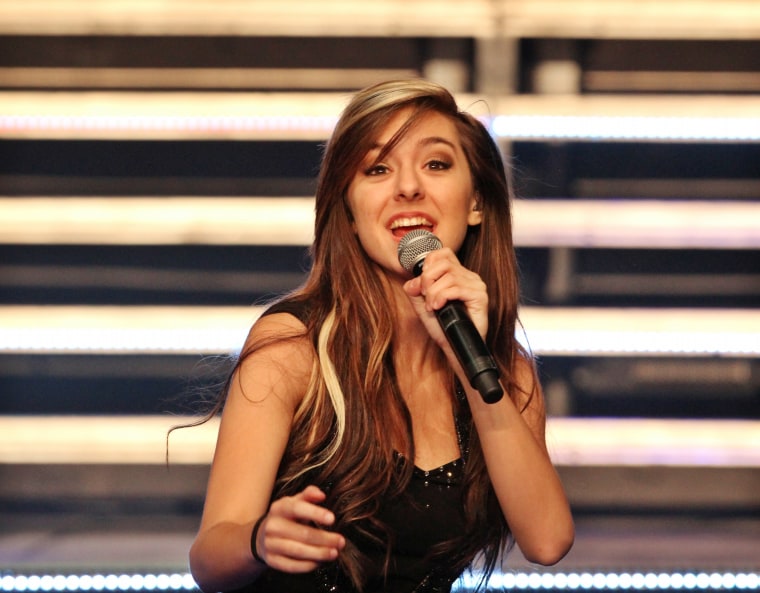 Detectives were scouring his cellphone and computer to find a motive for the killing. Mina said there was "no indication" so far that he knew Grimmie. It wasn't immediately clear whether he had a prior criminal record. Police initially said Grimmie's killer was 21 years old, but later corrected his age.
A handwritten note posted on the door of Loibl's family's home Saturday said: "Deepest sorrow for lost to the family, friends & fans of the very talented, loving Christina Grimmie. No other commets (sic)."
The shooting happened inside the venue as about 120 concertgoers crowded around Grimmie for a chance to meet her and buy merchandise. Fans' purses and backpacks are typically checked when they enter The Plaza Live, but there are no metal detectors there, Mina said.
"This isn't a crowd that you would suspect would be carrying guns into a venue like this," he said of fans of Before You Exit, an Orlando pop/rock band.
There were no other casualties.
The Plaza Live said in a statement that it was "deeply saddened by the tragic events," and would be suspending all events there until further notice, including a Kidz Bop concert that was scheduled for Saturday night.
Sheina Almaguer, 17, who was at the concert said her bag was only checked for food and drinks when she arrived at the venue.
She said after the show, she was waiting by Before You Exit's merchandise table when she heard what sounded like popping balloons and thought it was a prank.
"I was just so confused at what was going on and like a few minutes later a group of people just run out and this one girl comes and she falls to the ground and starts to cry and scream," she said.
It was only when one of the band members told the group to run that Almaguer realized shots had been fired, she said. "I'm like completely overwhelmed and traumatized by what was happening because I heard the gunshots and I didn't think it would be ending like that," she said.
"Christina is a very, very special girl. She only does what she loves when she's singing and performing and she didn't deserve any of what happened to her," Almaguer said.
Almaguer added that she felt "honored" to see Grimmie's last performance. "She sang her heart out last night," she said.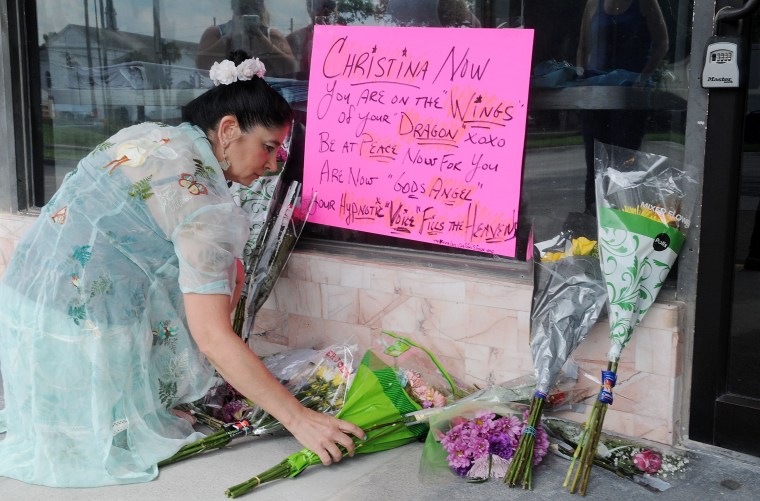 Grimmie, who's from Marlton, New Jersey, shot to fame in 2014, when she came in third place on NBC's singing competition "The Voice."
But before that, she had already earned a notable share of success. Two years after she posted her first video to YouTube, singing "Don't Wanna Be Torn" by Miley Cyrus' alter ego Hannah Montana, Entertainment Weekly declared her "the veritable queen of YouTube musicians."
She had nearly 1 million subscribers, an EP of original songs (titled "Find Me"), a single ("Advice") that was getting airplay on Radio Disney, and a gig opening for Selena Gomez.
In the same year, she told the entertainment site GlobalGrind that she didn't feel she was famous.
"I hate when people have big egos. My friend Lauren encouraged me to go on [YouTube] and I did and I really honestly wasn't expecting anything out of it," she said. "I have God, Jesus Christ, I'm Christian. I try to stay as grounded as I possibly can."
For "The Voice," Grimmie auditioned with a cover of Miley Cyrus' "Wrecking Ball" and chose Maroon 5 frontman Adam Levine as her voice coach.
"Christina was a natural, a gifted talent that comes along so rarely," Levine said in a statement Saturday. "This is yet another senseless act of extreme violence. I am left stunned and confused how these things can conceivably continue to happen in our world."
Before You Exit called the singer "such a loving, caring, beautiful person with the biggest heart" in a statement posted to Twitter.
NBC's Carson Daly, host of "The Voice," wrote on Twitter that he was in shock. "She was special. Had IT. Talented. Kind. Funny. Loving. Courageous," he said.
TODAY: Carson Daly remembers 'The Voice' alum Christina Grimmie
In February, Grimmie released an EP, titled "Side A."
Her longtime manager, Selena Gomez's stepfather Brian Teefey, said Grimmie "was like a second daughter to me."
"All I wanted to do was assist her in achieving her musical dreams while protecting her from the pitfalls associated with the business. I never could have imagined this horrific event being one of the pitfalls needing to be avoided," he wrote.
Grimmie's brother, who goes by Mark, frequently appeared on Grimmie's YouTube videos, playing guitar while Grimmie sings and plays piano.
"Christina was more than my sister. She was a partner in life. A superstar. A goofball. Introverted. And a friend to everyone. Genuinely," Mark Grimmie wrote in a statement Saturday. "But above all...she was my baby sister." He thanked supporters for an outpouring of kind words and asked them to post pictures or memories of his sister on social media.