A teenage Ohio girl was convicted of murder Monday, accused of intentionally killing her boyfriend and his friend by crashing her car into a brick building going 100 mph last year.
Mackenzie Shirilla, 19, was found guilty in a bench trial on 12 counts: four of murder, four of felonious assault, two of aggravated vehicular homicide, one of drug possession and one of possessing criminal tools. 
Shirilla broke down in tears as Cuyahoga County Common Pleas Judge Nancy Margaret Russo said at the verdict reading Monday: "This was not reckless driving. This was murder."
The crash happened around 5:30 a.m. July 31, 2022, when Shirilla accelerated her Toyota Camry into the Plidco Building, a large brick building at the intersection of Progress and Alameda drives in the Cleveland suburb of Strongsville, police and prosecutors said.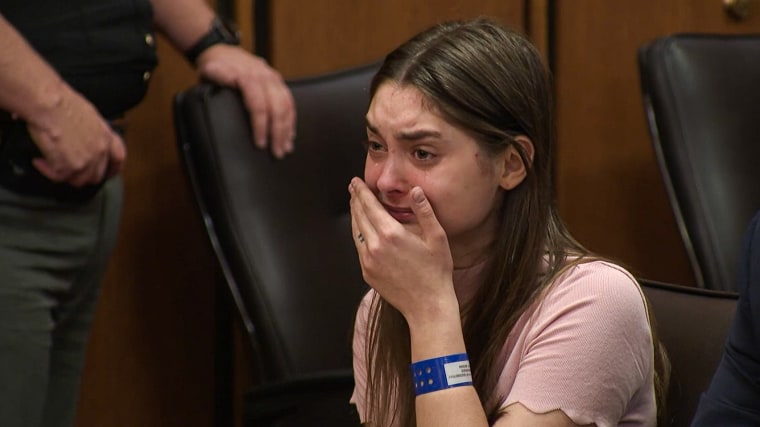 When police arrived at the scene, around 45 minutes later, they found the car with "severe damage and full airbag deployments" and Shirilla, then 17, inside with her boyfriend, Dominic Russo, 20, and his friend Davion Flanagan, 19.
They were unconscious, not breathing and trapped in the vehicle, police said at the time. Shirilla was taken to a local hospital, but Russo and Flanagan were pronounced dead at the scene. 
Shirilla was 18 when she was arrested Nov. 4.
Prosecutors argued that Shirilla had a toxic relationship with Russo and had threatened him before. 
Two weeks before the crash, she allegedly threatened to crash her vehicle when she was driving with Russo because she was upset over a disagreement they had. Russo called his mother and asked to be picked up, and a friend ended up retrieving him. In a phone call with Russo, the friend allegedly overheard Shirilla say, "I will crash this car right now," prosecutors said in court documents. 
The month of the crash, Shirilla allegedly "made multiple threats" toward Russo. Videos recovered from his phone reveal an altercation in which she was heard "repeatedly degrading Dominic, threatening him, and damaging his property," prosecutors said in court documents. She allegedly threatened to key his car and to break the handle off a door after he refused to let her into his home, the filings said. 
Russo, the judge, delivered a scalding description of the case before she read out the verdict, saying Shirilla had a "mission" she executed with "precision" that fateful day — and "the mission was death."
"The [crash] video clearly shows the purpose and intent of the defendant. She chose a course of death and destruction that day," Russo said.  
"She morphs from a responsible driver to literal hell on wheels as she makes her way down the street," Russo said, saying Shirilla made a calculated decision to drive that morning, when not many people would be around, on an obscure route she did not routinely take.
Prosecutor Michael O'Malley told NBC affiliate WKYC of Cleveland that the crash video was damning, saying, "The intent was obvious upon seeing that video that there was only one goal."
Flanagan's mother, Jaime Flanagan, told the station after the verdict: "There's not a day that goes by that we don't miss our son, and justice was served for him today. But honestly there's no winners here. There's no winners here today."
Shirilla's attorney, James McDonnell, declined to comment Wednesday.
She is due back in court for sentencing Monday.