Authorities in Kentucky are working to capture an inmate convicted of double murder who escaped an Ohio prison with another inmate who police captured early Wednesday, officials said.
Officials are searching the Camaro Drive area of Henderson, Kentucky, for Bradley Gillespie, 50, who escaped the Allen-Oakwood Correctional Institution in Lima, a city about about 350 miles northeast of Henderson, according to the Henderson Police Department and the Allen County Sheriff's Office.
Gillespie has been incarcerated for double murder since November 2016, according to Ohio Department of Rehabilitation and Correction records. His charges also include breaking and entering, theft, assault, possession of drugs, escape, forgery, receiving stolen property, weapons offenses and burglary, according to the Henderson Police Department.
The sheriff's office described Gillespie as being bald with blue eyes and weighing about 200 pounds. The Henderson Police Department said early Wednesday that Gillespie was last seen wearing dark clothes and appeared to still be bald.
The Henderson Police Department urged local residents Wednesday morning to "continue to stay vigilant, lock your doors, and contact 911 if you see anyone matching the description or have unlocked buildings that Gillespie could be hiding."
Lieutenant Stuart O'Nan of the Henderson Police Department told NBC News in an email shortly before 11 a.m. local time that Gillespie "should be considered armed and dangerous based on his history. We are also considering him to be a danger to the public due to his past."
He added that authorities are "using officers, K9's, drones, and helicopters" to try to find Gillespie.
"We are utilizing every resource we have to protect our community and locate Bradley Gillespie," O'Nan added.
Authorities said Gillespie escaped the prison with James Lee, 47, who authorities captured early Wednesday in Henderson, according to the Ohio State Highway Patrol and the Allen County Sheriff's Office.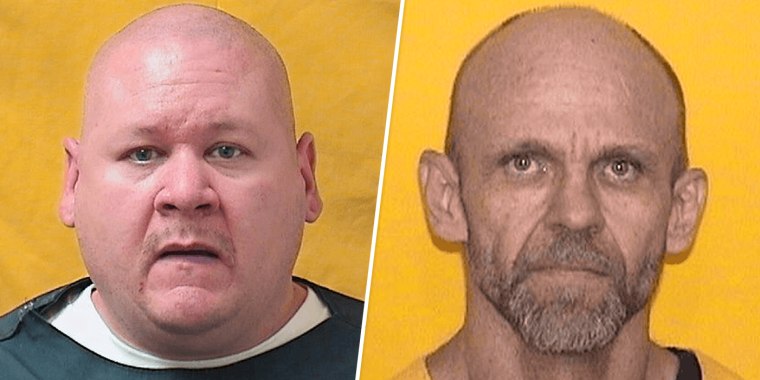 Henderson police attempted to conduct a traffic stop shortly after 3:15 a.m. Wednesday on a stolen car they believe Gillespie and Lee were in when the car tried to flee, the police department said in a Facebook post. Officers pursued the vehicle until it crashed on Camaro Drive, where Lee and Gillespie fled on foot, police said. Officers arrested Lee but Gillespie evaded capture.
Lee has been serving time since March 2021 for burglary and other charges, state records show.
Allen County Sheriff Matthew Treglia told NBC affiliate WLIO of Lima early Wednesday morning that authorities "have a tight perimeter set up on Gillespie" and that he believes authorities will have him in custody shortly. Treglia added that officials believe the men traveled together but did not elaborate.
Victoria Gonzalez, public information office for the Allen County Sheriff's Office, told NBC News Wednesday morning there were no new updates on Gillespie's current location.
A representative for the Henderson Police Department could not immediately be reached Wednesday morning.
Lee was discovered missing during a prisoner count at 11 a.m. on Tuesday, prompting the warden to authorize an emergency prisoner count, which revealed Gillespie was also missing, according to a news release from the Ohio Department of Rehabilitation and Corrections and the Ohio State Highway Patrol. Officials then determined the men were last seen on surveillance video inside the facility just after 8:40 a.m. on Monday, according to the news release.
It was not immediately clear when or how the men escaped the prison. O'Nan said authorities could not answer questions on how the men escaped.
The U.S. Marshal Service, the Ohio State Highway Patrol and the Allen County Sheriff's Office said in a news release before Lee was captured they were offering up to $21,000 for information that led to the capture of both men, and that the Ohio corrections department was also conducting an internal investigation.