Dennis Rader, the prolific serial killer known as "BTK," has been named the "prime suspect" in two unsolved killings in Oklahoma and Missouri, authorities announced Wednesday.
Investigators searched the former property of Rader, who was convicted of killing 10 people in Kansas in a bloody spree from the 1970s to the '90s, as the search for connections to unsolved cases continued.
Deputies from Osage County, Oklahoma, were in Park City, Kansas, on Tuesday searching a property Rader once owned. He remains incarcerated in Kansas following his 2005 sentence to 10 consecutive life terms.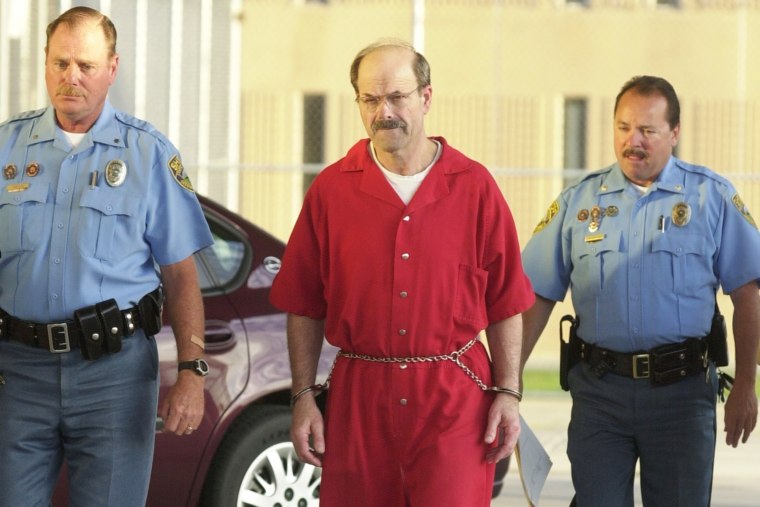 "Our investigation has led to additional unsolved murders and missing persons that are possibly connected to BTK," Osage County Undersheriff Gary Upton said Wednesday.
In a news release, the Osage County Sheriff's Office said the search was "closely tied" to the disappearance of Cynthia Kinney, who was reported missing from Oklahoma in 1976. 
Rader had lived in Park City for years, and two of the murders he admitted to committing were in the area.
The site is now an empty field. Two concrete blocks were moved to allow investigators to dig, The Wichita Eagle reported. Investigators from the Osage County Sheriff's Office, along with Park City police, were at the site. 
"This ongoing investigation has uncovered potential connections to other missing persons cases and unsolved murders in the Kansas and Missouri areas, which are possibly linked to Dennis Rader," the sheriff's office said.
"At this stage, Dennis Rader is considered a prime suspect in these unsolved cases, including the Cynthia Dawn Kinney case," the sheriff's office said in its news release.
Upton said Rader was also the prime suspect in the death of 22-year-old Shawna Beth Garber, whose body was found in McDonald County, Missouri, in December 1990, The Associated Press reported.
Rader, who called himself BTK, standing for, "bind, torture and kill," was arrested in February 2005. He pleaded guilty in June 2005 to 10 murders from 1974 to 1991 in Wichita and Park City.
At his trial, Rader recounted how he led a double life: Before the public, he was a church congregation president and Boy Scout leader, while behind the curtain he wrote down violent rape fantasies, had "hit kits" — bags with rubber gloves, rope, tape, handcuffs and bandannas — and taunted police by describing his killings before he was caught.
Kerri Rawson, Rader's daughter, was 26 and living in Michigan when her father was arrested. 
"We went from being best friends to him walking me down the aisle, camping, hiking, moving me all over and taking care of me, teaching everything you'd want to know about the outdoors. We went from that to my 26-year-old self losing my father," she said on NBC's "Dateline" this year. "Having everything I knew about my father being told that it's a lie."
She said in a Wednesday statement on X, formerly known as Twitter, that she has been helping with the re-opened investigations into Kinney and Garber's murders.
She said that on Tuesday she learned investigators were at the Park City site where "my childhood home originally stood."
She said she became aware in January about the Kinney case and in June about the unsolved murder of Garber. That month, she contacted the McDonald County Sheriff's Office in Missouri to offer her assistance on the latter case. From there she was connected to Osage County authorities and has been assisting on both cases. 
"I've returned since to the Osage County SO to work in a volunteer capacity as an active agent of LE, assisting on these two cases," she tweeted. "Including visiting my father twice at the El Dorado Correctional Facility."
Rawson told NBC News that she hadn't seen her father for more than 18 years, but in her work as an agent, interviewed him to try to help find closure for the families of unsolved cases.
"I could have gone in there sad, or could have gone in there, you know, shell-shocked," Rawson said in that interview. "But I went in there very focused on trying to get answers for Cynthia Kinney's family and Shawna Garber's family."
She's also helped point investigators to locations that were significant to Rader's life and may hold additional clues.
Rawson said she hopes that a cold case BTK task force can be formed to fund and power the investigations into other potential victims.
"I will continue to partner closely and heartily support all LE agencies and offer my volunteer assistance," Rawson said. "Together, daily, we can make a difference. Let's keep working together to solve these cases for these families. They deserve all that we can give them."
Upton, the Osage County undersheriff, said that the new evidence links the serial killer to two additional victims. Asked if the number of victims could be even higher, he said it's possible.
"It's not out of the realm of possibility," Upton said. "You have to remember that Dennis Rader was a very active serial killer for what, going on 30 years? That's a long time."
CORRECTION (Aug. 24, 2023, 8:40 a.m. ET): A previous version of this article misspelled the last name of the Osage County undersheriff. He is Gary Upton, not Upston.