TULSA, Okla. — Last year, veteran public defender Robin Steinberg launched The Bail Project, a nationwide charitable fund for pretrial defendants who can't afford to pay bail. Since the launch, NBC News has had an exclusive, frontline view of how Steinberg's vision is playing out, gaining access to the Tulsa County Jail, and following a group of her "bail disruptors" and the inmates they're helping.
On any given day in the U.S. more than 600,000 people are locked up in local jails. Many are there simply because they can't afford to pay bail.
"Tonight, a half million mothers and fathers and sisters and brothers are going to sleep in jail because they can't go to an ATM and take out $500 or $1,000 to buy their freedom," said Steinberg. "But somebody who does have that ability gets to go home and kiss their kids good night? That's just not fair, that's just not just, and it's unconscionable."
The Bail Project has a simple premise. So-called "bail disruptors" pay bail for defendants who can't afford it, then help them make their court dates.
So far, disruptors have bailed out 1,500 people across the country, according to the nonprofit. The Bail Project doesn't yet have statistics to measure success, but in the New York program from which it grew, more than nine out of 10 bail recipients have made all their court dates, and more than half have had their cases dismissed. Over the next five years, Steinberg hopes to expand The Bail Project to 40 sites and bail out 100,000 more people.
They include women like Rikki Lee Motes, one of the women NBC News met inside the Tulsa lock-up.
Driving a borrowed car, Motes had been pulled over and arrested for charges that included possession of methamphetamine and driving with a revoked license. Crying as the cuffs clicked into place, she worried about losing her job.
"Is there any way I can get out tonight?" she asked the deputy.
"Sure," the deputy said. "You can bond out."
But Motes, who earned minimum wage and had piles of unpaid court fines and fees, knew she was as likely to make bail as to win the lottery. She resigned herself to the idea that she'd be fighting her case from behind bars.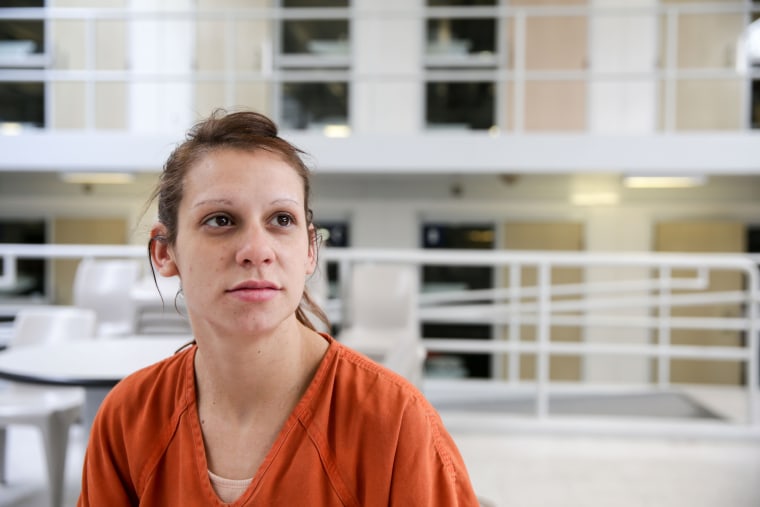 About a week after her arrest, when NBC News first met her, she was still in the jail's Pod 18. She and her roommate were marking the days on a calendar taped above the bottom bunk.
Behind some two dozen steel doors in the Tulsa County Jail are hundreds of men and women, many of them pretrial defendants, passing the time with e-cigarettes, the Bible, romance novels, anything.
For 25 years, Oklahoma has maintained the highest rate of female incarceration in the U.S., locking up women at a rate twice the national average. Scholars who have tried to find out why point to a tattered social safety net, tough drug laws, and the influence of Bible Belt conservatism on the state's criminal justice system, among other reasons.
In 1970, the Tulsa County Jail hosted an average of eight women per day, according to a report by The Vera Institute, released last year. By 2016, that number rose to an average of 280 women per day. The report found that the expanded use of pretrial detention was the primary cause of such growth, and that women in Tulsa are most frequently charged with low-level charges, such as drug possession and court costs.
Pretrial detention costs taxpayers roughly $14 billion a year. A recent report by the Prison Policy Initiative found that pretrial detention is responsible for ballooning jail populations.
Tulsa County Sheriff Vic Regalado, a Republican, feels this problem acutely. It costs about $69 a day to keep someone in his jail, he said, and an overwhelming number of those who cycle through are charged with crimes associated with chronic mental illness, drug addiction and poverty.
"I think it's time that we find compromises and see what works," Regalado said. "Because what we've been doing so far hasn't."
NBC News spent several days inside the jail talking to the female residents, including some who later made it out. The stories they told show how poverty, addiction and the high cost of bail make the pressure to plead guilty hard to resist.
Last March, Kami Jo Barrett, 29, was charged with misdemeanor drug possession, after an officer pulled her and her husband over and discovered marijuana and methamphetamine in the car. She spent more than 20 days in jail because she couldn't afford a $1,000 bond.
Barrett said she considered pleading guilty. If she did, she knew she'd be stuck with a criminal record. She also knew that, if she did scrounge up the money to bond out, there was a high chance the court could decide she was not technically indigent, and therefore did not qualify for a public defender.
What she most wanted was to find a treatment program and see her children. But without money or health insurance, Barrett said, she was looking at a "dead-end road."
"I want to stay clean for my kids," she said. "I can't find a place to get into because I don't have insurance to pay for it. And I've went to numerous places, I've went to churches, and I can't find anywhere that'll help me get in somewhere to help me stay clean."
On her 21st day in jail, Barrett ended up pleading guilty.
Jennifer Harper, a soft-spoken, 36-year-old mother, felt hopeless, too.
Last January, The Bail Project posted her $2,500 bond. Months earlier, her troubled relationship with her ex came to a head during a court hearing, when Harper learned she had lost custody of her youngest child. She owed more than $13,000 in back child support, accrued over the years as she struggled to find and keep a job. Blinded by anger, Harper punched a hole in a wall at the courthouse. She was charged with misdemeanor destruction of property and, despite having a valid prescription, felony possession of a controlled drug, after deputies found a Prozac pill in her purse.
When she found out The Bail Project would help her, she said, "I started bawling my eyes out. Within hours, they were picking me up to take me home to my mom."
For once, Harper was hopeful. She even had a lead on a job.
But early one morning, just two weeks later, deputies arrested her again. The same day she left jail, Harper had missed a critical hearing on the unpaid support. Months earlier, she had been found in contempt of court for the unpaid support, but received a suspended six-month sentence. When she missed the hearing, a judge revoked the suspended sentence and a warrant was issued for her arrest.
To get out of jail this time, Harper would have to pay $1,000 in fines and fees, or else spend six months behind bars.
That's what she did. Every week, she wrote a letter to her mother from jail. Every day, she prayed.
Harper walked out of jail one August morning as the sun rose over Tulsa.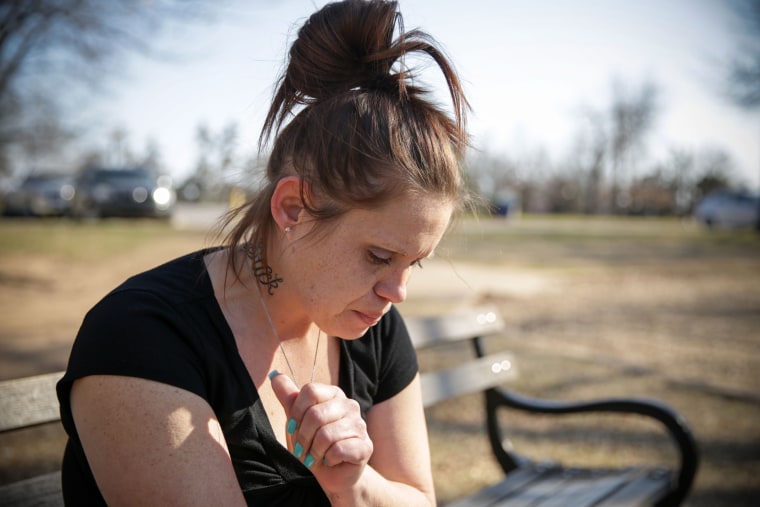 The drug charge against her had been dismissed. She pleaded guilty to destruction of property. This week, a judge reduced her child support bill to about $8,000. But with a criminal record and without a license, money or prospects, Harper feels anxious.
"It always comes down to money," Harper said.
Being incarcerated, she said, "made me feel like I'm a bad person. Is this what I have to look forward to, because I can't find a job? Is just living in jail?"
Emphrais McClendon, awaiting trial in Pod 18 on a variety of drug-related charges, described the pressure on the women around her.
"They know a lot of us women are tired of being here, month after month after month," she said. "So that's when we break and we give up and we be like, 'Well, just give us whatever you're going to give us, so we can get home.'"
The women sitting near her, accused of crimes ranging from drug possession to murder, nodded.
"I have two kids," McClendon said, as she began to cry. "I have a home. I'm trying — I got to get everything together. And it's just like, no help. There's just no help."
"We started posting bail. ... And the results were even more dramatic than we anticipated."
To Steinberg, it's a familiar refrain. In her 30-odd years as a public defender, she said, she watched the consequences of bail play out in ways that rendered the concept of "innocent until proven guilty" meaningless.
The idea of a bail fund occurred to her more than a decade ago, over beer and Chinese food with her colleague, now husband, David Feige.
"I was in arraignments one night and was arguing a case," said Feige, who was working in the Bronx. "Judge set $250 bail. I was beside myself. I thought about posting the bail, just personally digging into my pocket, which you're not allowed to do under the ethical rules. I said, 'This is bulls---.' You know what? We should start a charity.'"
Steinberg immediately got to work, raising funds and sketching out the model. The concept of a bail fund was not revolutionary — communities of color, in particular, have run their own funds for decades. But the fund, a permanent, revolving fund supported by charitable dollars, would be the first of its kind in New York. By 2007, it had a name: The Bronx Freedom Fund.
"We started posting bail," Feige said. "And the results were even more dramatic than we anticipated."
According to the Bronx Freedom Fund, after 10 years and roughly 2,000 bailouts, 96 percent of its clients made each and every court appearance. Over half the cases wound up being dismissed. It was clear, Feige said, that paying bail gave low-income defendants a fighting chance.
"Bail is probably the single biggest determinant of a criminal justice outcome," Feige said. "Once you're out, you're not going to take a plea that just puts you back in jail. You're going to fight the case, by and large."
Research shows that defendants incarcerated before trial have much less favorable outcomes, with higher rates of guilty pleas and convictions. They are also more likely to be sentenced to jail, for longer periods of time.
For Steinberg and Feige, the only question remaining was, why not go national?
The time was ripe, but by 2017 the growing movement to reform bail wasn't without criticism. Reformers raised concerns about whether some alternatives to bail, such as algorithms meant to determine a defendant's risk, would lead to a racially disparate reliance on incarceration. One of the loudest, however, proffered both by the bail bond industry and law enforcement, was that getting rid of bail could put dangerous criminals back out on the street. It's a criticism that Steinberg faced herself when, last spring, a Bronx man bailed out by the Freedom Fund went on to allegedly rape and rob a teacher.
"When something this horrible happens, the first thing people do is look to blame somebody," Steinberg said. "Should the judge have set more than $1,000 bail on the misdemeanor? Should [we] have provided bail assistance?"
"One of the fundamental questions we're really struggling with here….is that somebody with money in their bank account could have paid the thousand dollars bail," Steinberg said. "So a bail fund providing bail assistance is really just a way to make sure that money or race are not determining who stays in a jail cell before they've been convicted of anything, and who does not."
On the first day NBC News visited the Tulsa County Jail, disruptors Shawna Baldwin-Harrell and Richard Baxter sat in front of video teleconference terminals in a room upstairs and gave their unsuspecting clients the good news.
"You do qualify for our program and you will go home today," Baldwin-Harrell told Tana Dunson, who had been charged with misdemeanor drug possession.
Baldwin-Harrell watched as Dunson, who has struggled with addiction and chronic homelessness for years, fought back tears.
"Thank you so much," Dunson said. "I was just getting my mind set that I was going to be here awhile."
Baldwin-Harrell hung up and wiped tears from her eyes. Both she and Baxter had been incarcerated before.
"I know what that feels like," Harrell said later, as she reflected on the day. "To be there and have no one."
'I don't give anybody a bottle or a pacifier'
As she prepared to leave the Tulsa County Jail, Rikki Lee Motes made herself a promise.
"I'm looking around at all these women and I said, 'Man, I don't want this life,'" Motes said. "'I refuse to be an Oklahoma statistic.'"
After more than a week in jail, The Bail Project had paid her $1,500 bond. To her, it felt like a miracle, in a place where miracles are in short supply. But her time in jail had snapped her already tenuous link to a steady paycheck. When she showed up to work after her release, she found out she no longer had a job.
Just a short drive away from the jail, Baldwin-Harrell held Motes' hand as she cried in The Bail Project's office. She felt like giving up. Baldwin-Harrell urged her not to.
"I don't give anybody a bottle or a pacifier," Baldwin-Harrell said. "I give them stepping stones to help them rebuild their life. Because they are strong. They just don't know it."
With Baldwin-Harrell's help, Motes made it to all her court dates.
"These people took a chance on me," she said. "Why would I ever do anything to disappoint them?"
Motes pleaded guilty to two traffic offenses and drug possession. She managed to avoid jail time with a deferred sentence and, she said, the court is working with her to pay off more than $1,100 in fines and fees.
Motes said she feels cautiously optimistic.
"I still have my struggles with everyday life and addiction," Motes said. "The fact that complete strangers did something and cared for me, just for being a person, without expecting anything in return, gave me the hope to continue that I had lost."
"I told Shawna, 'You changed my life,'" she added. "'You made me feel like I mattered.'"