YPSILANTI, Michigan — Thirteen years in prison haven't dimmed Nancy Seaman's memory of the morning she killed her husband.
Now 65, Seaman has spent more than a decade in a cell at the Huron Valley Correctional Facility, Michigan's women's prison, ruminating on the crime that put her behind bars. In 2004, she killed her husband Bob with a hatchet in the couple's garage.
"I have always accepted full responsibility for the fact that my actions caused the death of my husband," Seaman told NBC News. "The horror that I'm responsible is more than most people could even fathom."
Time also hasn't erased the pain felt by Bob Seaman's brother.
"What she did to this family is unthinkable," said Dennis Seaman. "He didn't deserve the death he got."
The crime shocked the town of Farmington Hills, a middle-class Detroit suburb. How could Seaman, a tiny grade-school teacher with no criminal history, kill her husband of 31 years in cold blood?
Former Oakland County Circuit Judge Jack McDonald, who sentenced Seaman and is now one of her staunchest, and most unlikely, advocates, said that beneath the surface of Seaman's marriage lurked a dark truth: her husband had subjected her to physical and emotional abuse for years.
"I've probably had 20 murder cases at least," said McDonald, now retired. "I [had] no pangs of conscience at all. This was the case that bothered me."
Those pangs spurred McDonald to join advocates in pushing outgoing Gov. Rick Snyder, a Republican, to commute Seaman's sentence. As some have argued in the cases of battered women convicted of murdering their partners, they say that Seaman received a harsher sentence than she deserved.
"I don't think she should have been convicted of first-degree murder," McDonald said. "I don't think I can live with myself if I just wash my hands and say, 'Oh, too bad. That's the way it goes.'"
'The jury just didn't get the whole story'
It's rare that a judge would petition a governor to release a convicted killer. It's also rare for a judge to override a jury's verdict in a murder case.
But eight months after jurors found her guilty of first-degree murder, a charge that carries a mandatory sentence of life without parole, McDonald reduced Seaman's conviction to second-degree murder, making her eligible for parole after 10 years.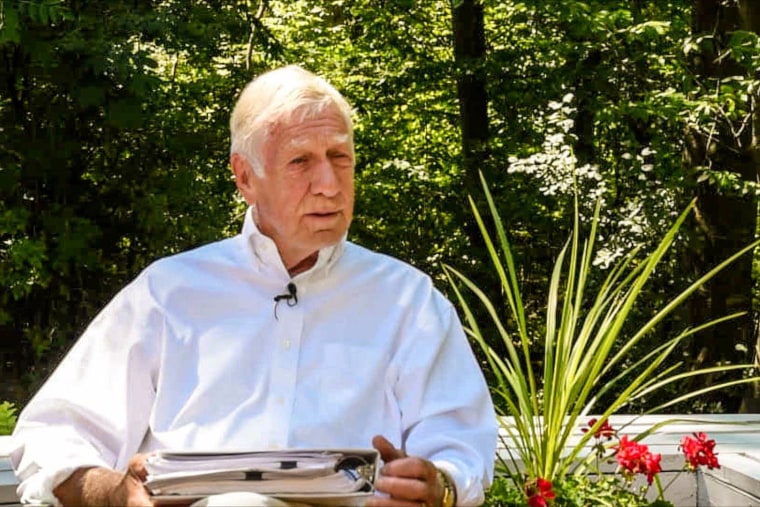 The move shocked prosecutors and Bob Seaman's family, but McDonald said he didn't make it lightly.
"I'm not God," he said. "I can't second-guess the jury. But the more I thought about it, the more it just gnawed at me. ...In the back of my mind I thought, 'There's something wrong here.'"
At trial, Seaman's co-workers testified they had seen her with a black eye and other physical injuries. One of her sons testified he witnessed her being abused by his father. Seaman, a stay-at-home mom for most of her marriage, told jurors she was emotionally and physically abused throughout the decades they spent together. She went to the police twice, but never filed a report. The abuse worsened as she earned her teaching degree and her husband lost his job, and escalated when he discovered she planned to leave him, she said.
"It never took much" to trigger the abuse, Seaman said. "It could be the tone of my voice, the look on my face, some thought he imagined I was having. It became my routine to repair kicked-in doors, damaged drywall, broken furniture, smashed glassware."
"It was a way of denying the violence, covering up the evidence of it, and going about life as if nothing had ever happened," she added.
The court also heard how, before the murder, Seaman put a down payment on a condo and told one of her sons she had decided to leave.
"Why would a woman kill her husband when she was getting out of the marriage?" McDonald said. "There was no motive. She was out of there. She was going to be free."
Yet the crime was grisly, and testimony conflicting.
Seaman hit her husband with a hatchet and stabbed him with a knife more than 20 times. Her other son testified for the defense, and said his parents had increasingly argued with one another, but he had never seen Bob abuse Nancy. Prosecutors said her suspicious behavior before and after the killing was evidence of premeditation.
The evening before the murder, on May 9, 2004, Seaman purchased a hatchet at Home Depot. She testified she planned to use it for yard work.
The next morning, May 10, she said her husband confronted her in the kitchen. It was the "grand finale of all fights," she said.
He had found out about the condo and accused her of stealing money from him, she said. He threatened her with a kitchen knife. She panicked and ran into the garage. He shoved her. She fell. When her husband came at her again, she said, she grabbed the first thing her hand found: the hatchet.
She swung the hatchet and hit him on the head. Struck unconscious, he fell on top of her. She reached for the knife, which she testified was on the garage floor.
"You're reacting impulsively, or reflexively, out of fear," Seaman said. "It's almost a primal instinct to protect yourself. You're not making a rational choice at that point…That feeling of being overpowered, the heaviness of the body on top of me, I perceived that as a continuing attack when in reality, he was already dead."
Seaman said she doesn't remember stabbing her husband with a knife, or how she managed to get to work after she killed him.
"It's like pieces of a broken mirror," she said. "The pieces are all there, but I can't see it in any kind of order. ... I can see myself in my classroom looking down at my hand that is bleeding. I have a recollection of going back home at lunchtime, in a panic. ... The mind finds ways to protect itself from the reality it just can't face."
But when she went back home, she had to face it: her husband's body, lifeless on the garage floor.
"When I saw him lying there, I lost my mind," she added. "I couldn't face the fact that I was responsible. I just couldn't."
Seaman rolled the body in a tarp and put it in her car. She purchased cleaning supplies. Prosecutors showed the jury surveillance video of her at Home Depot after the murder, shoplifting a second hatchet and then returning it with the receipt from the first — a ploy, prosecutors said, to cover her tracks.
Two days later, police discovered the body in her trunk and she confessed.
"It was premeditated," Dennis Seaman said. "She can claim what she wants about being abused. There's no doubt about it. She planned on murdering him."
Ultimately, jurors didn't believe her self-defense argument.
Perhaps they would have been less skeptical, McDonald said, if they had been allowed to hear a domestic violence expert explain Seaman's behavior.
But they didn't. State law limited critical testimony by Dr. Lenore Walker, the clinical forensic psychologist and expert on domestic violence who coined the now well-known phrase "battered woman syndrome."
"The jury just didn't get the whole story," McDonald said.
'She had suffered'
At trial, Dr. Walker testified for the defense on the psychological and physical condition of victims of prolonged abuse. Battered woman syndrome is often used to aid the criminal defense of women accused of killing intimate partners who say they were victims of domestic abuse.
Dr. Walker was not allowed, however, to connect battered woman syndrome to Seaman's behavior or state of mind.
"I was not permitted to testify about any of the clinical findings of Ms. Seaman," Dr. Walker said. "All I was allowed to do was testify about my research, the fact that there is such a thing as battered women's syndrome, and that it does interfere sometimes at the time people commit a crime."
"There was no question in my mind that she was a battered woman, that she had suffered, and that she didn't plan to kill him," she added.
Dr. Walker said it is difficult for jurors to understand the cycles of domestic violence, or the counterintuitive behavior of abuse victims and those subjected to traumatic experiences, including seeking contact with the perpetrator, or remaining within an abusive relationship.
"Battered women do things that you wouldn't expect them to do," Dr. Walker said. "Courts and legislators think that jurors can put all this together. But it's complicated."
Dr. Walker concluded that Seaman was likely triggered by the "physically abusive" confrontation in the kitchen. "I think at that point, her fear and terror kicked in, and I don't think she realized what happened afterward," she said.
There are no national statistics for how many women convicted of crimes against their partners were also victims of domestic violence. But research has found that incarcerated women report significantly higher rates of domestic and sexual abuse than women who aren't incarcerated.
"[Dr. Walker] couldn't explain that Mrs. Seaman was a battered woman," McDonald said. "And here's why she's a battered woman. And here's why she did what she did."
"Maybe they wouldn't have believed it," he added. "But they never got the opportunity to hear it."
'A fawn in the headlights'
Seaman has exhausted her legal options.
In 2010, after the state's Court of Appeals reinstated her first-degree murder conviction, federal Judge Bernard Friedman ordered a new trial or her release.
"When the scales are so closely balanced, it would take little to tip them one way or another," Friedman wrote. "Defense counsel's failure to argue for the admission of the full range of expert testimony admissible under Michigan law...combined with the lack of overwhelming evidence establishing that [Seaman] acted with premeditation and deliberation, creates a reasonable probability that at least one juror would have struck a different balance had that additional testimony been presented."
Friedman has also written a letter supporting Seaman's commutation.
A federal appeals court then denied Seaman's motion for a new trial, saying that the syndrome is not a defense under state law.
Today, her best chance for freedom lies in Gov. Snyder's hands.
"All I'm asking is that the parole board and the governor look at the totality of my life, at the totality of the circumstances," Seaman said. "I'm almost afraid to hope, and to plan."
Throughout the years, Judge McDonald has written letters on her behalf. He sent his latest letter this year, to support Seaman's most recent application for commutation.
Other advocates have joined McDonald, including Nels Thompson, a psychologist who worked for the state Department of Corrections and treated Seaman.
"She did not understand any of the dynamics that she had been through," said Dr. Thompson of his first therapy sessions with Seaman. "She was like a fawn in the headlights."
"There are women who have been abused, who are in prison, and who are criminals," Dr. Thompson said. "Nancy is not a criminal. Nancy is an innocent woman who was attacked."
Commutation is rare, but more likely at the end of a politician's term.
Before Gov. Jennifer Granholm, a Democrat, left office on Jan. 1, 2011, she commuted the life sentences of at least three women who were accused of killing, or conspiring to kill, the men they say abused them. Seaman applied for commutation under Granholm twice and was denied both times. A spokesperson for Granholm said she did not remember the case.
Gov. Snyder has not granted any commutations since his first term in office. According to a spokesperson, he denied Seaman's 2013 application based on a parole board recommendation. His office is currently reviewing Seaman's application.
Despite the odds against her, Seaman said she does think about what she'd do on the outside — reunite with her family, meet her grandchildren.
But nothing, she said, will erase what she did.
"To know that you're responsible for the death of someone you spent a lifetime with, that you had children with, it's almost an unbearable pain," said Seaman.
"Commutation is an act of mercy," she added. "It doesn't absolve someone of guilt."