Three people, including the suspected shooter, are dead after an attack Sunday night at a grocery store in central Oregon, police said.
Officers were called to the Safeway at the Forum Shopping Center shortly after 7 p.m. on reports of shots fired, the Bend Police Department said in a statement.
The gunman was thought to have begun the attack with an AR-15-style rifle in the store's parking lot before he moved inside, police said.
A customer, Glenn Edward Bennett, 84, was shot inside the entrance, police said Monday. Medics took him to a hospital, but he was declared dead, police said.
An employee, Donald Ray Surrett Jr., 66, was fatally wounded as he tried to disarm the shooter in the produce section, police said Monday.
"Surrett engaged with the shooter, attempted to disarm him and may very well have prevented further deaths," police spokeswoman Sheila Miller said Monday. "Mr. Surrett acted heroically during this terrible incident."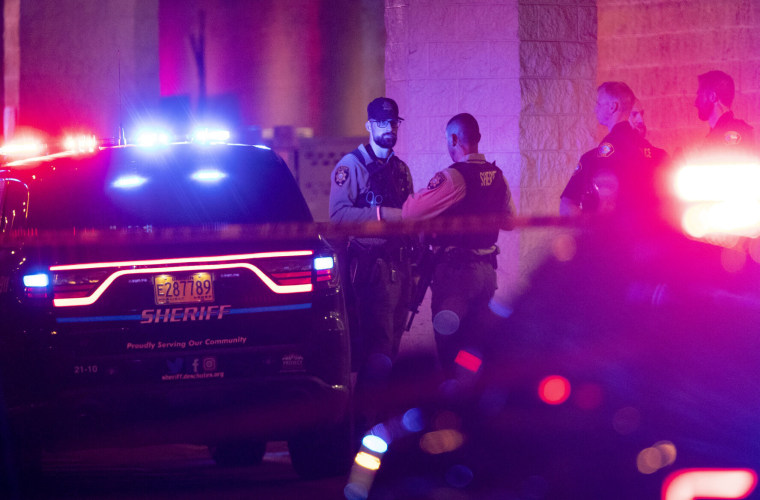 Police identified the shooter Monday as Ethan Blair Miller, 20, who lived at a nearby apartment complex. He died from a self-inflicted gunshot wound, leaving an AR-15-style rifle and a shotgun near his body, police said.
Police also found a sawed-off shotgun and three Molotov cocktails in his vehicle, along with additional ammunition and "digital devices."
"When our officers arrived, they could hear gunshots in the Safeway, and they entered the store to confront the shooter while shots were still being fired," said Miller, the police representative, who is not related to the shooter.
Bend police did not fire any shots, she added.
Dexter Chamberlin said he was checking out at the Safeway when he heard gunfire.
"We started running out the back emergency exit telling other people to do the same," he said. "We ran to a nearby apartment complex and hid behind some building with about a dozen other people."
Sen. Jeff Merkley, D-Ore., offered his condolences to the families of the victims in a tweet late Sunday as he called on people to "come together" to bring an end to gun violence in the U.S.
"My heart breaks for the families of the victims and the many people whose routine Sunday evening shopping turned into a terrifying run for their lives in Bend," Merkley said.
"This doesn't have to happen. It's not normal in any other country," he said. "High-powered assault rifles with high-capacity magazines, combined with personal grievances and often a culture of hate, create a toxic stew that leaves good people, innocent people dead, maimed, and traumatized.
"We need to come together — Democrats and Republicans, urban and rural, Black and white and brown and Asian American and Native American, and including the many responsible gun owners — and put an end to this madness," Merkley said.