On June 23, 1993, a Virginia manicurist named Lorena Bobbitt cut off her husband's penis with a 12-inch knife. The incident inspired a national media circus: tabloid headlines, late-night gags, "Saturday Night Live" sketches, T-shirts saying "Love Hurts," a made-for-TV musical, the third verse of a "Weird Al" Yankovic parody track, and a ballad to the tune of the theme from "The Beverly Hillbillies."
But there was much more to the story — and now, 25 years later, it's being revisited.
A new book on cultural history and an upcoming documentary series take a closer look at the case, rejecting sensationalism and reframing Bobbitt's ordeal in the era of #MeToo.
Bobbitt, who was charged with "malicious wounding" and put on trial, claimed that her husband at the time, John Wayne Bobbitt, had subjected her to years of physical, sexual and emotional abuse, forcing her into sex on his demand. In the early morning hours before the attack, she alleged, he came home drunk and raped her.
Lorena Bobbitt's acquittal in January 1994, as The New York Times wrote at the time, "highlighted the plight and rights of abused women." In the popular imagination, however, she would remain a punchline, the main character in a grotesque, half-remembered American sideshow. The larger context — domestic violence, sexual assault — faded from view, only barely making its way into the national conversation.
The journalist Allison Yarrow profiles Bobbitt in "90s Bitch: Media, Culture and the Failed Promise of Gender Equality." Jordan Peele, the Oscar-winning writer and director of "Get Out," is co-producing a four-part Amazon Prime project called "Lorena," the streaming giant announced earlier this year.
"On the 25th anniversary of this incident, and as awareness continues to increase surrounding violence against women, I look forward to the opportunity to tell aspects of my story that haven't yet been told, and that I hope will give some measure of support to other victims of this horrible epidemic," Bobbitt, who remarried and now goes by Lorena Gallo, said in a news release about the docuseries.
Yarrow's book appears to be a similar effort to show the case from a different vantage point.
"Lorena Bobbitt was part of a group of women — everyone from Hillary Clinton and Monica Lewinsky to Tonya Harding — who were shamed in the 1990s, women who were what I call 'bitchified' — undermined, objectified, and thwarted by a sexist media narrative," Yarrow told NBC News this week.
"The abuse of Lorena Bobbitt was ignored in favor of a narrative that celebrated male sexuality and shamed her for being a vengeful perpetrator, instead of shining a light on domestic violence and abuse," Yarrow added.
The pop culture detritus from the era suggests Yarrow is on to something. The supermarket tabloids and magazine covers seized on the sheer tawdriness of the case. Jay Leno regularly mocked Bobbitt on "The Tonight Show," riffing in one monologue: "It was so cold in Virginia … that the snowman in Lorena Bobbitt's backyard had its carrot snapped right off."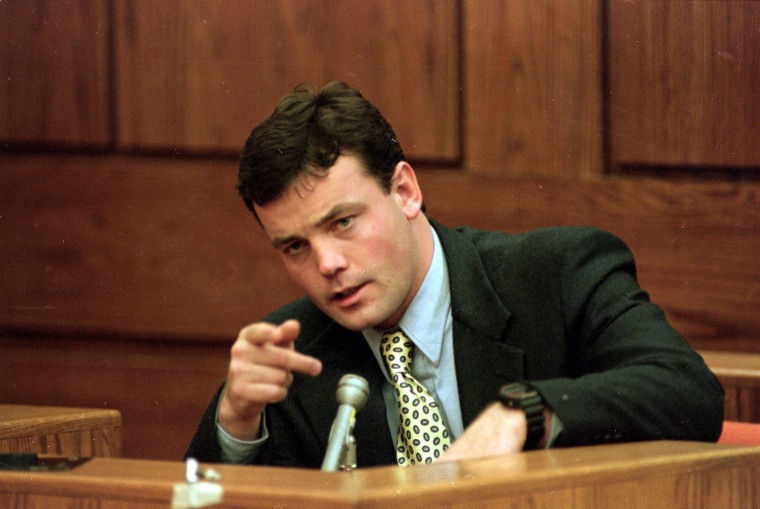 Her ex-husband, John Wayne Bobbitt, seemed to capitalize on his strange fame. He became a regular guest on "The Howard Stern Show" — the shock jock reportedly attempted to raise funds for his guest's medical and legal fees — and played himself in a pornographic film titled "John Wayne Bobbitt: Uncut."
"Of course, [the case] isn't very hard to make funny. It was late-night fodder, it was all jokes," said Phyllis D. Barkhurst, the co-director of the Center for the Prevention of Abuse and Neglect in Oregon. "But that was my issue — it was all jokes."
The more humane reaction from parts of the news media and the entertainment industry would have been to try to "put yourself in her shoes" and try to understand the context, according to Barkhurst. "What drove somebody to that level of desperation? This was a woman who was determined never to be raped again," Barkhurst said.
Heather Schuster, the head of unscripted programming at Amazon Originals, told NBC News that the goal of the docuseries is to "peel away all of that joke fodder, to tell the real story of an abused woman who felt trapped in her life and her marriage."
John Wayne Bobbitt, an ex-Marine, has denied raping his former wife. He was acquitted of marital sexual assault in a separate legal proceeding in November 1993. They were divorced in the mid-1990s.
Lorena Gallo, 47, did not immediately respond to an interview request. She now runs Lorena's Red Wagon, a foundation that raises money for victims of domestic abuse and their children.
"I took my life back and I [gave] myself a second chance," Gallo told NBC News affiliate WRC-TV in 2014.
Blair D. Howard, 78, one of Lorena Gallo's three attorneys, said this week that the flurry of late-night jokes and water cooler snickering in the 1990s certainly missed the point.
But he believes the grave reality of domestic violence was not lost on the jurors who found his client not guilty by reason of temporary insanity.
"I remember saying to the jury: You have to understand that this woman has endured so much, and you have an opportunity to restore some dignity to her when she leaves this courthouse."