The five men who viciously slashed a New York teenager to death with knives and a machete in a case of mistaken identity last June were found guilty of murder on Friday.
Jonaiki Martinez Estrella, Antonio Rodriguez Hernandez Santiago, Elvin Garcia, Jose Muniz and Manuel Rivera were all convicted of first-degree murder, second-degree murder, second-degree conspiracy and second-degree gang assault. They face a sentence of up to a life in prison.
A 12-person jury reached the verdict after going into deliberations on Thursday, according to NBC New York.
The five, all members of the Trinitarios gang, killed 15-year-old Lesandro "Junior" Guzman-Feliz on June 20, 2018, believing he was someone else, authorities said.
Video surveillance showed Guzman-Feliz, who wanted to be a police officer, being dragged out of a Bronx bodega on his back by a group of men and then repeatedly punched and slashed by long knives and a machete. He died from a gash to the neck after running three blocks to a hospital.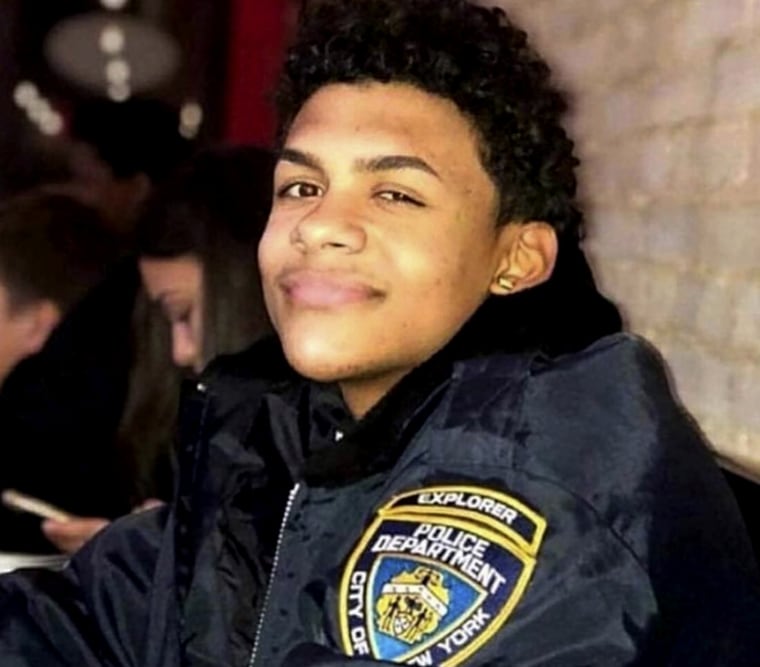 After the verdict, as one of the men, Muniz, left the courtroom, he shouted, "Popote, hasta la muerte!" slang for Trinitarios "until death," The New York Times reported.
During a news conference after the verdicts were announced, Guzman-Feliz's mother, Leandra Feliz, said her son had always been a "really good kid."
"He was doing the best in the school, at the time when the tragedy happened," she said.
The teen's brother, Manny Ortiz, said he believes "justice was served," and he wants the convicted killers to get life in prison without parole. A sentencing is scheduled for July 16.
At the time of his death, Guzman-Feliz was a member of the NYPD Explorers, a program geared towards people who are interested in a career in law enforcement or the criminal justice system.
The New York Police Department, through the Police Foundation, created a $10,000 scholarship fund in the teen's name to award two Explorers with $5,000 each to be used for tuition or school expenses. The recipients of the award will be announced in August.
Bronx Borough President Ruben Diaz Jr. said the verdicts bring a "measure of justice" to the senseless killing.
"Today's verdicts will not bring Junior back. Nothing can. But these verdicts will send a message to those who would commit acts of senseless violence, and help us move forward and bring closure to this awful chapter in our borough's history," Diaz said in a statement.
Nine other suspects arrested in connection to Guzman-Feliz's murder are awaiting trial.