/ Source: Associated Press
NEW YORK — A man accused of building homemade bombs to wage holy war in New York City pleaded guilty Wednesday to a terrorism charge less than a week before his scheduled trial in a rare state-level terrorism case.
Jose Pimentel softly answered questions and shook his head at times as he acknowledged that he had tried to craft a pipe bomb in 2011, with the idea of using it to make a violent impact on U.S. foreign policy.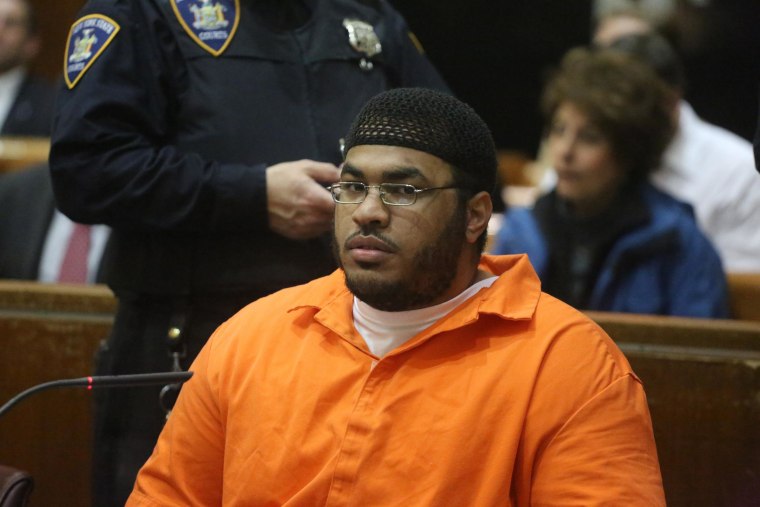 He sought, according to a statement a judge read on his behalf, to "try to undermine public support for the wars in Iraq and Afghanistan."
Pimentel pleaded guilty to attempted criminal possession of a weapon as a crime of terrorism. Authorities have called the case a dramatic example of the threat of homegrown, one-person terrorism plots, but his lawyers have portrayed it as an example of overzealous policing in the years since Sept. 11.
With the plea, Pimentel, 29, was promised a sentence of 16 years in prison. He could have faced a minimum of 15 years to life if convicted.
"Today's guilty plea further supports the fact that, increasingly, the threat of terrorism comes from radicalized local actors living in our community," Manhattan District Attorney Cyrus R. Vance Jr. said at a news conference.
Pimentel, also known as Muhammad Yusuf, is a Dominican immigrant who was raised in the U.S. and converted to Islam around 2004.
He maintained a website with articles praising Osama bin Laden, describing Sept. 11 victims as legitimate targets and listing reasons to "nuke the USA," prosecutors said in court papers.
In 2011, he was recorded talking about assassinating a judge, killing returning soldiers and bombing a police station or the George Washington Bridge, officials said. He was arrested that November as he assembled bombs from clocks, Christmas tree lights, match-head scrapings and other items, prosecutors said.
— The Associated Press