A 19-year-old Minnesota man is accused of waterboarding and brutally physically and sexually assaulting a woman for three days in her dorm room last weekend.
St. Paul police arrested Keanu Avery Labatte, 19, at St. Catherine University, a women's college, shortly after noon Sunday, alleging he forcibly held the woman he had been dating in her dorm room for three days while repeatedly assaulting her and threatening to kill her and her family, according to Ramsey County sheriff's records and the criminal complaint, which NBC News obtained.
The woman told police that she and Labatte had been dating for two months and that he arrived on the campus from his home in Granite Falls — about 135 miles west of the university — on Thursday night for a weekend visit. She said Labatte "discovered text messages, pictures and social media information which infuriated him" on her phone, became enraged and took her phone before he started the string of alleged assaults.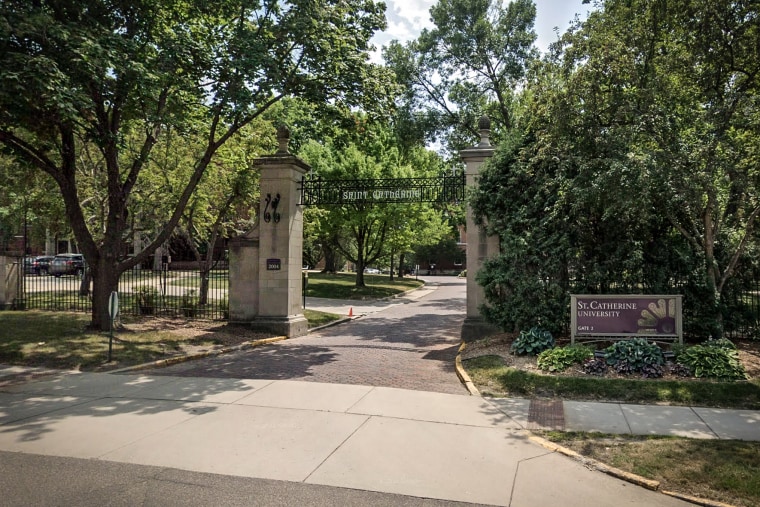 Labatte allegedly raped the woman, threatened to kill her and strangled her, leading her to believe she was going to die, according to the complaint.
He also allegedly threatened to kill her family "and reminded her that she knew what he had done to a prior girlfriend, which was to hold a knife to her throat," it says.
At the time of the alleged assault, Labatte was on probation for violating a harassment/restraining order, according to the criminal complaint, which does not provide more information.
The victim told police that Saturday brought the "worst of it," alleging that Labatte waterboarded her by forcing her to lie down in the bathtub, covering her mouth with a wet washcloth and pouring water on her face; later that day, he allegedly took a knife and threatened to cut her veins so she would die.
The victim managed to escape from her dorm room Sunday morning, when she persuaded Labatte to allow her to go to the cafeteria, leading him to allow her to take her cellphone so he could try to keep track of her, the complaint says.
After the woman escaped, she went to the university security office "distraught and visibly upset," reporting she had been physically and sexually abused since Thursday, the complaint says, adding that a school security official immediately notified police.
The woman's phone showed that Labatte had tried to call her five times in a little more than 20 minutes that morning after she left the room and that at one point, he had texted her "asking why there were cops outside," the complaint says.
The woman underwent a sexual assault examination at the hospital, it says. When police found Labatte in the woman's dorm room and arrested him on charges of first-degree criminal sexual conduct, domestic assault by strangulation and threats of violence, he told them, "I plead the 5th," and authorities did not question him further at the scene, according to the complaint.
Labatte is being detained in lieu of $100,000 bail, the criminal complaint shows. It was not immediately clear whether he has an attorney who could speak on his behalf, and a spokesperson for the Ramsey County Public Defender's Office could not immediately be reached for comment Thursday afternoon.
Labatte is next due in court Oct. 9, said a spokesperson for the Ramsey County Attorney's Office.
A spokesperson for the university said in a statement that it is school policy "not to issue any comment that would affect student confidentiality or potentially re-traumatize individuals" and that officials did not want to jeopardize the investigation.
The spokesperson added that the school's public safety department audits its responses after incidents "to determine if any changes should be recommended."
The university has on-campus resources, including licensed mental health counselors, social workers and physicians, available to assist students who need help after the incident, the spokesperson said.
Intimate partner violence affects nearly half of people in the U.S., with about 1 in 2 women reporting having experienced sexual or physical violence or stalking by an intimate partner at some point in their lives, according to the most recent report on intimate partner and sexual violence from the Centers for Disease Control and Prevention. About 44% of men report the same, according to the CDC.
Data from U.S. crime reports suggests that about 1 in 5 homicide victims are killed by intimate partners and that more than half of female homicide victims are killed by current or former male intimate partners, according to the CDC.
Research has shown that strangulation is a strong predictor of intimate partner homicide, with one study showing it was associated with a more than 70% risk of subsequent homicide.
If you or someone you know has been sexually assaulted, call the National Sexual Assault Telephone Hotline at 1-800-656-4673. The hotline, run by the Rape, Abuse & Incest National Network (RAINN), can put you in contact with your local rape crisis center. You can also access RAINN's online chat service at https://www.rainn.org/get-help. Confidential chats are available in English and in Spanish.
If you or someone you know is experiencing domestic violence or the threat of domestic violence, call the National Domestic Violence Hotline for help at 1-800-799-SAFE (7233), or go to www.thehotline.org for anonymous, confidential online chats, available in English and Spanish. Individual states often have their own domestic violence hotlines as well.
Advocates at the National Domestic Violence Hotline field calls from both survivors of domestic violence as well as individuals who are concerned that they may be abusive toward their partners.