LOS ANGELES — The mother of a 10-year-old boy who died last week after suffering years of physical, sexual and emotional abuse has been charged with murder, Los Angeles County prosecutors said Friday.
Heather Maxine Barron, 28, is charged with one count each of murder and torture in the death of Anthony Avalos, who was taken unresponsive to a hospital on June 20 and died the next day, the Los Angeles County District Attorney's Office said. Her boyfriend, Kareem Ernesto Leiva, 32, was arrested on Wednesday and faces the same charges.
Barron and Leiva are each being held in lieu of $2 million bond, according to jail records.
Prosecutors said in a statement that both are accused of torturing the boy in the days leading up to his death. At a court hearing Friday, Barron was seen in video posted online by NBC Los Angeles shaking her head and appearing to be on the verge of tears. It was not clear from online court or jail records whether Barron or Leiva had retained attorneys.
Eight children ranging in age from 11 months to 12 years old have been removed from the home of Barron and Leiva "pending further investigation," the county Department of Children and Family Services said this week. They are now in the department's custody.
Los Angeles County Sheriff's Lt. Derrick Alfred said Friday at a news conference that the department is awaiting a final autopsy report, but investigators believe that Anthony suffered a traumatic brain injury that resulted in a bleed that led to organ failure.
Barron called 911 from her home in Lancaster on June 20 to report that the boy had been injured in a fall, according to the Sheriff's Department.
Alfred would not comment on specific actions taken by Leiva or Barron. If convicted, Barron faces up to 22 years to life in prison and Leiva faces up to 32 years to life, according to the district attorney's office.
Anthony recently came out as gay, according to reports citing a Department of Children and Family Services official, and the boy's uncle told NBC News that Leiva had a history of homophobia. Those reports have led some to speculate that homophobia played a role in his abuse and death.
Los Angeles County Sheriff Jim McDonnell said this week that homophobia "has not come up in our investigation as a motivation at this time," and that it was too early to discuss a motive. A spokesperson for the district attorney's office said Friday that the office has not confirmed homophobia as a motive.
The head of the Department of Children and Family Services has said that when Anthony was taken to the hospital on June 20, the boy showed signs of being severely beaten as well as malnourished.
The Los Angeles Times reported that years ago, caseworkers who visited the home had documented that Leiva was a member of the criminal gang MS-13.
Alfred said Friday that investigators are checking into those reports and whether he was in the United States without authorization or on an expired visa. But even if confirmed, neither detail would have any bearing on the criminal case, Alfred said.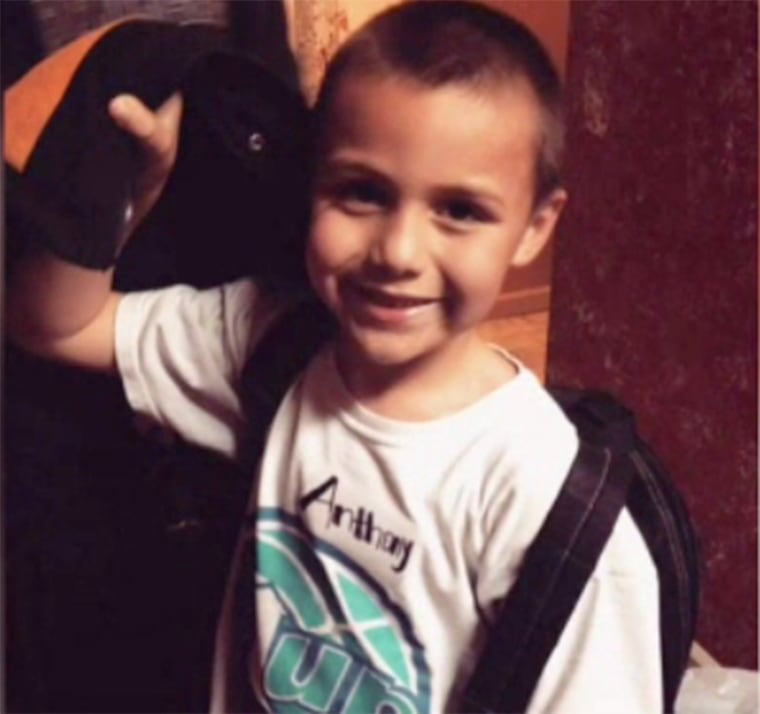 Since February 2013, the child welfare department had received 12 complaints that Anthony was being abused and neglected. Some complaints were substantiated and others were ruled unfounded or inconclusive.
This week, Brian Cagle, the director of the department, said, "In private interviews, Anthony disclosed details consistent with media reports that he was beaten, locked up and not fed." But the agency had not received any calls regarding Anthony in the last two years.
Also on Friday, an attorney representing the boy's family demanded answers from the child welfare department, including whether reports of abuse were properly followed up by caseworkers.
Attorney Brian Claypool said that if caseworkers broke the law, they should be criminally charged. He said he may file a civil rights suit.
"This young boy should have been rescued from this household," Claypool said.
The department did not immediately respond to a request for comment on Friday. Cagle said in a statement on Tuesday that a team "is conducting an in-depth internal review of the case, seeking to answer the critical questions surrounding the senseless death of Anthony Avalos."
The Los Angeles County Board of Supervisors has called for a comprehensive review of why Anthony was not removed from the home despite repeated reports of abuse, NBC Los Angeles reported.