WASHINGTON — Paul Manafort woke up Wednesday in a jail cell, just as he has each morning since a Washington judge revoked his bail in June over witness tampering allegations.
But this particular morning must have felt different. The spartan accommodations may have seemed less like a temporary inconvenience for President Donald Trump's former campaign chairman, and more like a nightmare from which his chances of escaping are narrowing by the day.
Manafort awoke to the realization that his expensive gamble for an acquittal or hung jury in his Virginia trial failed, and that he stands convicted of eight felonies that could send him to federal prison for a decade. He faces another trial next month across the river in Washington — where the evidence is expected to be more voluminous, and the charges promise to be more substantial, the judge less sympathetic, the possible sentence longer.
It's an epic downfall for a political insider who advised five Republican presidential campaigns going back to Gerald Ford's in 1976, and who earned more than $60 million through foreign political consulting – enough to stock his $13 million beachfront Hamptons mansion with $25,000 custom-made suits. But the question that most matters remains difficult to answer: What does Manafort's conviction mean for Trump and the future of the special counsel Robert Mueller's Russia investigation?
A full accounting depends on facts not yet in evidence, as lawyers like to say. The biggest one is whether Manafort, 69, will decide to fold his cards and cut a deal with Mueller, and to tell what, if anything, he knows about any coordination between Trump's campaign and the Russian election interference effort.
But even with that mystery unresolved, the Manafort trial revealed a few things pertinent to the larger effort by the special counsel. One is that Mueller's team passed its first big test in court. Lead prosecutor Greg Andres, who a decade ago was the target of a mafia plot to kill him in front of a Manhattan restaurant, emerged with a victory from a 12-day trial before a judge who had expressed skepticism about the very idea of a special counsel. It wasn't a total victory, but it was enough.
Second, the trial evidence revealed startling new information about Manafort's financial situation when he went to work for the Trump campaign in the summer of 2016. None of the Virginia charges were directly related to alleged Russian collusion, but the evidence painted Manafort as someone who would have been a ripe target for recruitment by a hostile foreign power.
The evidence presented at trial made clear that by the time Manafort went to work for Trump, his finances had cratered, and he was doing everything he could to scrape up cash — including committing fraud. And yet despite his financial problems, evidence showed that Manafort was willing to work for Trump for free, in a job that can pay millions to consultants who are taking a percentage of advertising purchases.
Prosecutors showed that Manafort had lost his golden goose in 2014 when his main client since 2006, former Ukrainian president Viktor Yanukovych, fled into exile in Russia. By 2016, Manafort's consulting firm was losing money and Manafort was scrambling to pay his health insurance bills, one of his accountants testified.
At the same time, according to prosecutors, Manafort was submitting false information to secure $16 million in loans from a Chicago bank, having already defrauded other banks on previous loans. The jury deadlocked on the Chicago bank fraud counts, but the evidence showed Manafort tried to get the chairman of that bank a job in the Trump administration.
Emails that have been made public show that Manafort offered private briefings on the Trump campaign to Oleg Deripaska, a Russian oligarch who loaned him $10 million, according to prosecutors — a loan they said had not been repaid. Manafort denied during the campaign that there were any ties between the Trump team and Russia.
Manafort's longtime associate, Konstantin Kilimnik, was said by Mueller's prosecutors to have had ongoing ties to Russian intelligence.
In one April 2016 email, Manafort discussed the media attention he was drawing as a senior Trump adviser, and asked Kilimnik, "How do we use to get whole?"
The question that all this raises, of course, is what Manafort would have been willing to do, had he been solicited by Russian operatives trying to help the Trump campaign.
Manafort was the only non-Trump-family member to attend that infamous June 2016 meeting with a Russian lawyer in Trump Tower, the one set up on a promise of incriminating information about Hillary Clinton.
Although there is no evidence the Russians conveyed any useful information during that meeting, Mueller would be eager to hear of any other such meetings, or any other efforts by Russians to hand information or emails to the Trump team.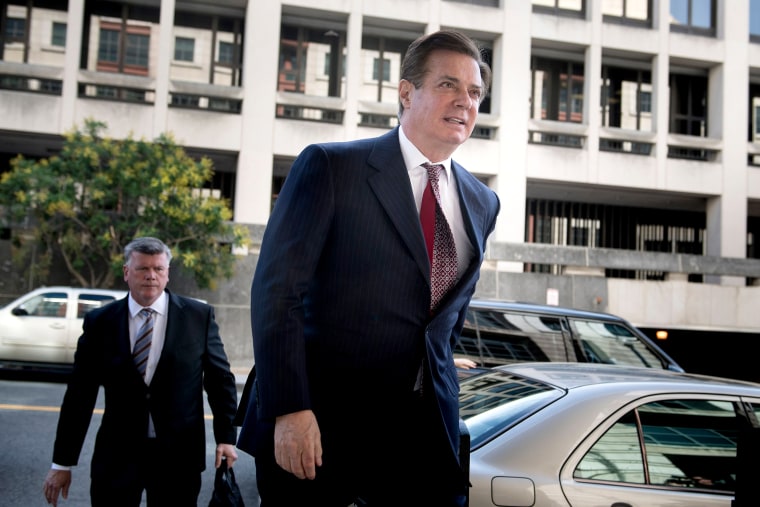 After the verdict Tuesday, Manafort's lawyer, Kevin Downing, said he would consider all his options.
But Manafort's spokesman, Jason Maloni, told NBC News Wednesday his client has no plans to cooperate. Maloni said he expects Manafort to appeal his conviction and soldier on.
Legal experts are skeptical.
"I do not think he's willing to go off and serve that sentence and hope he outlives it," Elie Honig, a former federal prosecutor, said on MSNBC. "So if we assume he's not going to go down that path, he's got two choices: One is cooperate, and two is wait and hope for a pardon."
White House spokeswoman Sarah Sanders said Wednesday that Trump had not discussed a pardon for Manafort, as far as she knew. But in recent days, Trump has said and tweeted positive sentiments about his former employee.
"I feel very badly for Paul Manafort and his wonderful family," Trump tweeted Wednesday. "'Justice' took a 12 year old tax case, among other things, applied tremendous pressure on him and, unlike Michael Cohen, he refused to 'break' — make up stories in order to get a 'deal.' Such respect for a brave man!"