Quick-thinking students jumped on a man who opened fire in a campus building Thursday at Seattle Pacific University, pinning him to the ground before he could reload, shoot and kill more people, police said.
One man was killed and three other people were injured, one of them critically, Seattle police said. A suspect, described as a 26-year-old white male who wasn't a student, was in custody.
The man was identified by police as Aaron Ybarra. Assistant Police Chief Paul McDonagh said the suspect would be booked for investigation of murder.
McDonagh said it appeared that the man — who was armed with a shotgun, a knife and an unspecified number of extra rounds of ammunition — acted alone, but he said officers were following up on the possibility that he may have had an accomplice.
Susan Gregg, a spokeswoman for Harborview Medical Center, said four people were treated. One - a 19-year-old male - later died, while a woman in her 20s was in critical condition following a five-hour surgery, Gregg said. Of the two others treated, one 24-year-old male was in satisfactory condition while a 22-year-old male was treated and released, she added.
The shootings occurred shortly after 3 p.m. (6 p.m. ET) at Otto Miller Hall, the engineering and math building at the private Christian college.
The gunman walked into the lobby and fired multiple gunshots, said police Capt. Chris Fowler, the incident commander. When he stopped to reload, a student security guard subdued the man by pepper-spraying him and taking him to the ground, where he was pinned by other students until authorities arrived, Fowler said.
"But for the terrific response of the people at Seattle Pacific University, this incident might have been much more tragic," McDonagh said. "The actions of the subject here do not reflect the city of Seattle and of the students of Seattle Pacific University."
Washington Gov. Jay Inslee echoed McDonagh's sentiment, praising the "students who put themselves in real danger to protect classmates from further violence and to aid and comfort the victims."
"Those selfless and brave acts should remind us of the indomitable spirit of young people," Inslee said in a statement.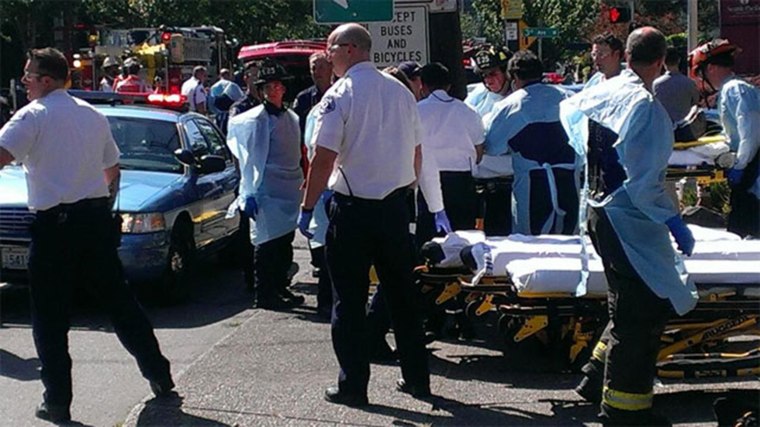 A witness, Kabrina Kidd, said she saw a bleeding woman on the ground. The gunman was standing just 3 or 4 feet away, she said, and "I thought I was going to die."
Chris Howard, a junior mechanical engineering student, was working on a project in the machine shop when a friend "rushes in — obviously frantic and looking behind him — and first thing he says is: 'Close the door behind me. Are the other doors locked?'"
After closing the garage door, "we start ripping the first aid kit off of the wall, because he had a couple of marks on his neck that were bleeding," Howard told NBC station KING of Seattle. "We did some basic first aid with gauze pads on his neck, [and] I left the machine shop to try to find someone with more medical training, because the bleeding's bad."
"Close the door behind me. Are the other doors locked?"
In the hallway, "I see another student kneeling over someone that's lying down. I rush over there, because something fishy is going on, and I see the person who's lying down, their chest is red and appears to have a tourniquet around their arm," Howard said.
It was a woman, and Howard put her head in his lap until help arrived.
Students jumped on the gunman and pinned him to the ground until police arrived.