CRIPPLE CREEK, Colo. — Kelsey Berreth, a Colorado mother who disappeared from her home last Thanksgiving, uttered the words "please stop" as her fiancé, Patrick Frazee, allegedly beat her to death with a baseball bat, Frazee's ex-girlfriend testified.
Krystal Lee, who previously went by the last name Kenney, testified Wednesday during day four of the trial that Frazee told her what Berreth's last words were as the two discussed her murder.
Lee, a nurse from Idaho, was charged with tampering with evidence in connection to Berreth's Nov. 22 disappearance and death. She pleaded guilty in February and agreed to testify against her former boyfriend as part of a plea deal.
Frazee, 33, was arrested in December and charged with two counts of murder and three counts of solicitation to commit murder. He has pleaded not guilty.
Berreth, a 29-year-old mother to a little girl, was last seen with her child and Frazee outside her home Nov. 22. She wasn't reported missing until Dec. 2 by her mother. Her body has not been found.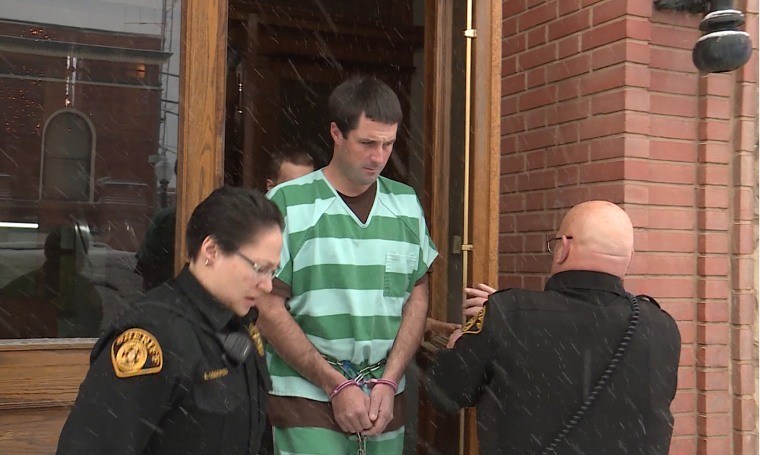 On Thanksgiving, Lee said she received a call from Frazee and he told her that there was a mess at Berreth's home she needed to clean up. Lee testified that when she arrived at Berreth's condo, there was blood covering the living room floor, splattered on the walls, on the carpet in other rooms and behind a couch.
She told the courtroom that she also found blood on the windowsill, on appliances in the kitchen and on stuffed animals. Lee said she began cleaning the home because she did not want Berreth's mom and daughter to know what happened.
"Her mom and that little girl never needed to see what Patrick did to her," Lee testified. "And I didn't know he was capable of that. I didn't think he was capable of what happened."
Lee told the courtroom that it took her four hours to clean the home. What she could not clean — including the stuffed animals and couch pillows — she tossed into a garbage bag. She told the courtroom that she filled six garbage bags with items from the home.
Lee testified that she left little spots of blood around the home on purpose, hoping that investigators would see it.
"I knew when I walked into that house it was trouble. I didn't know what was going to happen to me. ... I left little spots so that somebody would see it and it would raise suspicion about what had happened," she said.
Later that day, Lee met up with Frazee who allegedly opened up about how he killed Berreth. According to Lee's testimony, Frazee said he blindfolded Berreth with a sweater and had her smell candles and guess the scent. He then struck Berreth in the head with a baseball bat.
"He just said he swung away, and that it was really hard," Lee said, telling the courtroom that Frazee said the next time he would "stick to normal weapons."
The two then went back to Frazee's ranch where he set Berreth's body on fire, along with the garbage bags. Lee testified that Frazee wanted it to appear as if Berreth had left so he had Lee take Berreth's cellphone to Idaho, where Lee testified that she burned it.
During the trial, Lee recalled how she fell for Frazee in 2006 when they first met and found out she was pregnant with his child while married to another man. Frazee was not happy about the pregnancy and told Lee to get an abortion, which she did.
Frazee later urged Lee to divorce her husband, she testified. In May 2016 she filed for divorce but lost contact with Frazee. The two didn't reconnect until October 2017.
In August 2018, Frazee told Lee that he was in a relationship and had a child. Lee testified that he soon began telling her that the mother of his child, Berreth, was harming their daughter and he wanted to "take care of" Berreth.
Lee testified that she took that to mean that Frazee wanted to kill Berreth. She told the courtroom that Frazee asked for her three times to kill Berreth, and during one incident suggested Lee poison Berreth's coffee.
During the trial, Lee told the courtroom that she helped Frazee because she feared he would harm her own daughter. She is expected back on the stand Thursday.
Moots reported from Cripple Creek, Burke reported from New York.