WASHINGTON — Paul Manafort was locked up in a Virginia jail Friday night after a federal judge revoked his bail amid allegations of witness tampering.
An inmate database showed that President Donald Trump's former campaign chief was booked into the Northern Neck Regional Jail in Warsaw, Va., at 8:22 p.m. Jail records listed his housing unit as "VIP-1."
He was taken to the 500-bed facility hours after prosecutors working for Special Counsel Robert Mueller convinced Judge Amy Berman Jackson that Manafort couldn't be trusted on house arrest any longer.
"I cannot turn a blind eye to this," Jackson said during a Friday morning hearing in her Washington courtroom.
She explained that she could not just release Manafort with more restrictions after he was charged with obstruction for reaching out to potential witnesses in his case.
"This isn't middle school, I can't take your phone," Jackson said.
Manafort, 69, did not appear to react to Jackson's ruling beyond a nod to his attorney. He gave a quick wave to his wife as he was taken into custody and led out of the courtroom.
He will remain in pretrial detention until a trial in September on charges stemming from his business dealings, including conspiracy and money laundering; he also faces a separate trial in Virginia.
The move drastically ratchets up pressure on Manafort as Mueller continues to investigate whether there was collusion between the Trump campaign and Russians to interfere in the 2016 presidential election. Manafort's ex-business partner, Rick Gates, who was indicted with him in October, has already pleaded guilty and agreed to cooperate.
After Jackson's ruling, Trump tweeted that Manafort got a "tough sentence" — though he hasn't actually been sentenced for anything — and tried to downplay his involvement with the campaign.
"Like Manafort has nothing to do with our campaign," the president told reporters at the White House before the hearing.
"You know, Paul Manafort worked for me for a very short period of time. He worked for Ronald Reagan. He worked for Bob Dole. He worked for John McCain, or his firm did. He worked for many other Republicans. He worked for me, what, 49 days or something. Very short period of time."
In fact, Manafort worked for the Trump campaign for 144 days. He joined the campaign in March 2016, became chair in May and resigned in August 2016.
Before Friday, Manafort had been largely confined to his home, tethered to two GPS ankle monitors while awaiting a trial set for the early fall.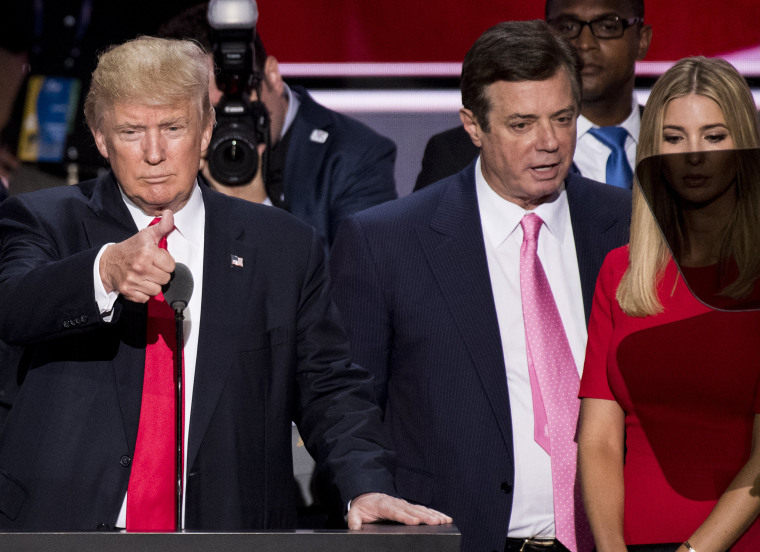 But prosecutors made a new bid to toss him behind bars after uncovering evidence that allegedly shows that he and a Russian associate, Konstantin Kilimnik, used encrypted messages to reach out to two witnesses.
Mueller's team said Manafort wanted the witnesses to back up his claim that prominent Europeans he hired didn't lobby for Ukraine in the U.S., which would be illegal. One of the witnesses felt it was an attempt to "suborn perjury," prosecutors said.
In court filings, defense lawyers accused Mueller's office of "heavy-handed gamesmanship" and argued text messages and an 84-second phone call were "the thinnest of evidence," but they failed to persuade Jackson.
Ruling from the bench, she said she was not revoking Manafort's bail as punishment but because his attempts to contact witnesses constituted a danger to the court's integrity.
"I have no appetite for this," she said.
Manafort attorney Richard Westling asked the court for a stay pending appeal but it was immediately denied by Jackson.
Jackson had previously chastised Manafort about breaking the rules: In December, she warned him that work he did on an op-ed in a Ukrainian newspaper could be viewed as an attempt to circumvent a gag order in the case.
Before the bail ruling, Manafort was arraigned on two obstruction charges tied to the alleged witness-tampering. He pleaded not guilty to both counts. Kilimnik, who has also been charged with obstruction, was not at the hearing.
The obstruction charges were contained in a third superseding indictment filed by Mueller a week ago. Manafort now faces dozens of felony counts in two jurisdictions.
None of the filed charges relate to meddling in the 2016 election, but a guilty plea from Manafort would be an enormous coup for Mueller, who has secured indictments against 20 people — from former national security adviser Michael Flynn to employees of a Russian troll farm.
Charlie Gile reported from Washington, and Tracy Connor from New York.