Police are searching for a man who threw a Molotov cocktail at a New Jersey synagogue early Sunday.
The man threw the flammable device at the front door of Temple Ner Tamid in Bloomfield, a township about 7 miles north of Newark, around 3:19 a.m., Bloomfield police said.
Security video recorded him lighting the device, throwing it at the door and fleeing down the driveway, authorities said, adding that the glass bottle broke but did not damage the building.
Police responded to the synagogue at 9:30 a.m. Sunday after a report of property damage.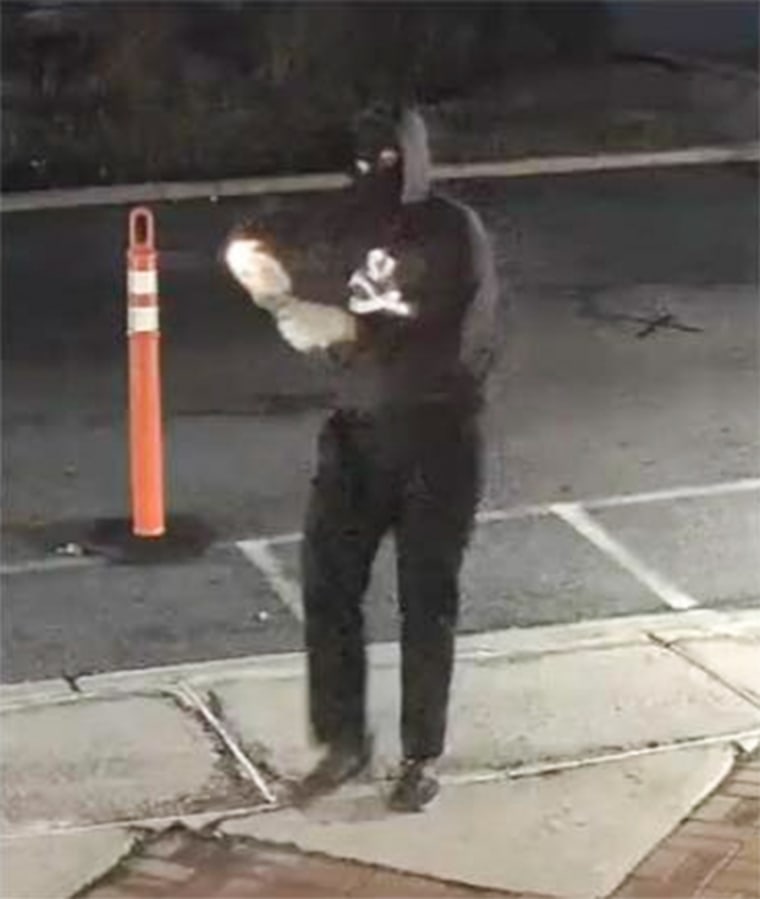 Bloomfield detectives are investigating alongside local prosecutors, the FBI and the Bureau of Alcohol, Tobacco, Firearms and Explosives, authorities said.
Officials at Temple Ner Tamid could not immediately be reached for comment.
According to NBC New York, the synagogue's rabbi, Marc Katz, said in a statement: "We have and will continue to do everything in our power to keep our community safe. Everything worked as it should. Our cameras recorded the incident and our shatter-resistant doors held. But what I cannot do, is convince our community not to grow despondent. There is hate everywhere, and hate wins when we let it penetrate."
Katz told the station that the synagogue recently enhanced its security with a grant from the state's Office of Homeland Security and Preparedness.
Police in Livingston, a township about 15 miles west of Bloomfield, said Sunday they were increasing patrols of local places of worship "and will continue to do so until more information is obtained."
New Jersey Attorney General Matt Platkin said in a statement that his office was aware of both that attempted attack and another one at a church in Monmouth County on Saturday, which they are investigating "as potentially bias-motivated," he said.
It was not immediately clear whether there was any link between the incidents.
"Let me be clear: there is no place for violence or hate in New Jersey and I strongly condemn these acts," Democratic Gov. Phil Murphy tweeted.
Bloomfield Mayor Michael Venezia said on Facebook: "Hate and antisemitism will not be tolerated and have no place in our welcoming community. Our thoughts and prayers are with our entire Jewish community."
The Anti-Defamation League of New York and New Jersey also condemned the attempted attack in a statement, noting that it comes at a time of rising antisemitism and just a few months after the FBI warned about threats to New Jersey synagogues.
The FBI said later that it had identified the source of the threat and that the person no longer poses a danger. The man, Omar Alkattoul, 18, of Sayreville, was arrested and charged with one count of transmitting a threat in interstate and foreign commerce. The charge is punishable by a maximum penalty of five years in prison and a $250,000 fine, officials said.
"We urge our leaders and community partners to speak out against this outrageous act and ask that all communities remain vigilant, though we have not been informed of any particular additional threats to Jewish institutions in New Jersey at this time," the Anti-Defamation League of New York and New Jersey said in its statement.
A study the organization published last spring found a 27% rise in antisemitic propaganda in 2021 compared to 2020. More recently, several companies cut ties with Ye, the rapper formerly known as Kanye West, after he made a string of antisemitic comments.
Ye's comments appeared to inspire other antisemitic incidents, including an antisemitic hate group that hung a banner that said "Kanye was right" over a Los Angeles freeway in October and an attack on an elderly man in New York City's Central Park, which the assailant carried out while saying "Kanye 2024" and antisemitic remarks. Police later identified the suspect in the latter incident as Perin Jacobchuk.