After he was convicted for his role in a string of armed robberies, Quartavious Davis paid dearly: A federal judge in Florida sentenced him to almost 162 years in prison.
Davis was 18 and 19 when the crimes took place in 2010, and had no prior arrests. The sentencing was the last time his mother, Darlene Bell, laid eyes on her son. The judge's punishment still stings her.
"It was tough to hear as his mother. I felt betrayed by the system," she said. "I wanted to die. My son wanted to die."
His lawyer thinks there is a reason for her to have hope. On Tuesday, a federal appeals court based in Atlanta will hear Davis' case — and the outcome could have broad implications for law enforcement and digital privacy in the 21st century.
The lawyer, David Oscar Markus, will argue that police violated Davis' constitutional rights when they obtained the location history data on his cell phone without a warrant and used it to tie him to the robberies. If he wins, Davis, who is now 23 and in a high-security prison in Virginia, could get a new trial, Markus said.
A win would also force police in Florida and the two other states that make up the 11th U.S. Circuit Court of Appeals — Georgia and Alabama — to seek a warrant before obtaining a person's cell phone location history.
Whatever happens, the case can be seen as a bellwether for similar warrantless phone searches — and could eventually require the Supreme Court to sort out the issue, said Ric Simmons, a former prosecutor and professor of criminal law at Ohio State University's Moritz College of Law.
"This is an issue that Circuit Courts are deciding on and it's part of a pivotal debate about whether people have a reasonable expectation of privacy when it comes to information on their phones," Simmons said. "It's an important case."
With the help of his cell phone data, prosecutors were able to link Davis to a three-month crime spree that terrorized Miami-area businesses. He and five men, including two of his high school friends, concealed their faces with T-shirts and brandished three rifles as they stormed stores, authorities said.
According to the prosecutors, they robbed a Little Caesar's in August 2010 and then a gas station three weeks later. The following month, they hit up a Walgreens, an Advance Auto Parts, a beauty salon and a Wendy's.
Later, police said, Davis and a different crew rushed into a jewelry store, pepper-sprayed a security guard and forced employees to the ground. Davis and another man smashed counters with sledgehammers and grabbed Rolex and Cartier watches, Broward County police said.
Davis was accused of firing a gun twice: once at a dog that chased the men as they fled the auto parts store and once to exchange fire with a Wendy's customer who pulled a weapon.
Prosecutors also said he waved a loaded gun in the beauty salon and threatened a man at a neighboring taekwondo studio. He never struck anyone.
The other men cut plea deals and got nine to 20 years in prison. Davis was the only one to go to trial. He was prosecuted under the federal Hobbs Act, which makes it a federal crime to rob or extort a business engaged in interstate commerce.
At trial, federal prosecutors entered 67 days' worth of cell phone location records, obtained from MetroPCS, to show that Davis was in the vicinity of each of the robberies except for the one at the jewelry store.
The cell phone data helped reinforce testimony from co-conspirators Willie Smith, who admitted a role in the first six robberies, and Michael Martin, a suspect in the jewelry store heist.
In court papers, Davis' lawyer said that Smith never mentioned Davis when he first spoke with police, and that Martin never implicated Davis until a detective supplied his full name and a photo.
Davis, who says he was not involved, was convicted of seven counts of possessing a firearm in furtherance of a violent crime. The judge applied mandatory minimum sentencing guidelines and ordered that he serve the sentences one after another —1,941 months in all without parole. (There is no parole in the federal system.)
One of Davis' lawyers wrote in an initial appeal that the sentence was excessive and he was "doomed to die" in prison.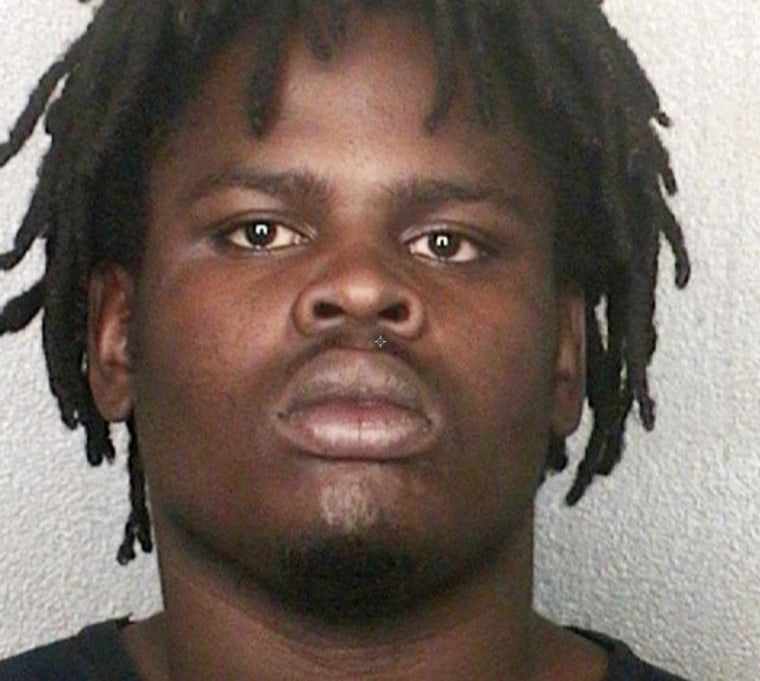 The Supreme Court took up the greater issue of cell phone searches last year when it unanimously ruled that police cannot generally rummage through cell phones without a warrant — likening the devices to "mini-computers" that hold a wealth of private information.
The justices, however, didn't take up the constitutionality of police digging into someone's phone location history. To get that information, authorities must obtain it from the person's wireless carrier, which keeps records on where a cell phone — and presumably the person who owns it — has been based on the closest cell tower that it "pings."
In about a dozen states over the past two years, legislators have passed laws or courts have reached decisions requiring warrants before police can track someone based on cell phone location, according to the American Civil Liberties Union, which has argued against warrantless data collection.
As people become increasingly tethered to electronic devices, the issue of protecting privacy will only become more pressing, said Nathan Freed Wessler, an ACLU lawyer involved in the Davis case.
"It can't be that my only choices are either become a hermit and don't use any technology or expect my information to be available without a warrant," he said.
Davis' case will again be heard in the 11th Circuit. Last June, a three-judge panel of that court sided with Davis and found that rifling through cell phone location history without a warrant infringes on a person's rights.
"While committing a crime is certainly not within a legitimate expectation of privacy, if the cell site location data could place him near those scenes, it could place him near any other scene," the judges wrote. "There is a reasonable privacy interest in being near the home of a lover, or a dispensary of medication, or a place of worship, or a house of ill repute."
The Justice Department, which argued that cell phone location data is a business record, appealed the panel's ruling. A new hearing was scheduled for this month to allow for the entire circuit court to decide.
A similar case was heard in the 4th Circuit in Maryland in December, and the judges' opinion is pending.
Wifredo Ferrer, the U.S. attorney in Florida's Southern District, said in a 2012 statement that the punishment against Davis and the other men ultimately helped to "combat violent crime and serial armed robbers in South Florida." His office declined comment on the appeal.
Another one of Davis' lawyers notes that he was not considered the ringleader in the 2010 robberies. Court papers describe him as having bipolar disorder and a severe learning disability.
Darlene Bell insists that police made her son the fall guy.
Quartavious Davis, the seventh of nine children, moved with her from Florida to Dothan, Alabama, in 2008. He had only returned to the Miami area to buy a car, Bell told NBC News in an interview earlier this month.
He was staying with a sister and had a cell phone, she added, but it had an Alabama area code. The cell phone cited in court documents that police say belonged to Davis had a Palm Beach County number.
"I know he's grown, but he's still just a baby. I wish my baby didn't have to suffer like this."
She said that her son had no reason to rob anyone because he was receiving Social Security disability payments. He was on three types of medication for his bipolar disorder and attention deficit hyperactivity disorder, she added.
"He could have went in any store and bought what he wanted," Bell said. His goal was to return to Alabama, get his GED and learn a trade, she added.
Bell speaks to him by phone as often as she can, but the former school bus driver says she doesn't have the financial means to travel to see him in person.
He's struggling to come to grips with a life behind bars, she added, and she doesn't believe that he's getting the treatment and medication that will make the adjustment any easier.
"I know he's grown, but he's still just a baby," Bell said. "I wish my baby didn't have to suffer like this."
Editor's note: Attorney Nathan Freed Wessler is a brother of NBC News writer Seth Freed Wessler, who was not involved in the reporting of this story.