Maria Butina, the Russian operative who used her NRA activism to illegally infiltrate conservative political circles, says her only crime was not registering as a foreign agent.
Butina, 30, who pleaded guilty to one count of conspiracy, made the comments in an interview with National Public Radio, her first with a U.S. media outlet since she was sentenced to 18 months in federal prison in April.
"I should have registered [as a foreign agent], which I didn't. And this is why the whole this thing got started," Butina said, according to portions released ahead of the Friday broadcast of the interview on All Things Considered.
"But that wouldn't be appropriate to say that this was all one grand giant plan, and I'm a part of some grand giant plan," she said. "There is no proof of that."
Butina, a graduate of American University, pleaded guilty in December to one charge of conspiracy to act as an agent of a foreign official. She was sentenced to 18 months in prison, but the judge gave her credit for nine months of time served.
Federal prosecutors said that Butina acted as an agent of a Russian government official from around 2015 to 2017 and that "she provided key information about Americans who were in a position to influence United States politics and took steps to establish an unofficial line of communication between Russia and these Americans."
That Russian government official fits the description of Alexander Torshin, who was formerly deputy governor of the Central Bank of Russia, NBC News has reported.
In the NPR interview, Butina said that she "never officially worked for anyone" and that she appeared with a a title of special assistant to Torshin one time because she was traveling with him and helping him translate. She said she requested business cards with a title because when booking a room, she had been asked whether they would be staying in the same room.
"This question did offend me a lot because I think I deserve to be treated as a strong and smart intelligent woman, not as a prostitute. ... It was painful for me," Butina told NPR.
"So I called Mr. Torshin and said, 'Look I had enough. Could you please let me make business cards for me where people would see that I have a certain title so they won't view me as your escort agent?'"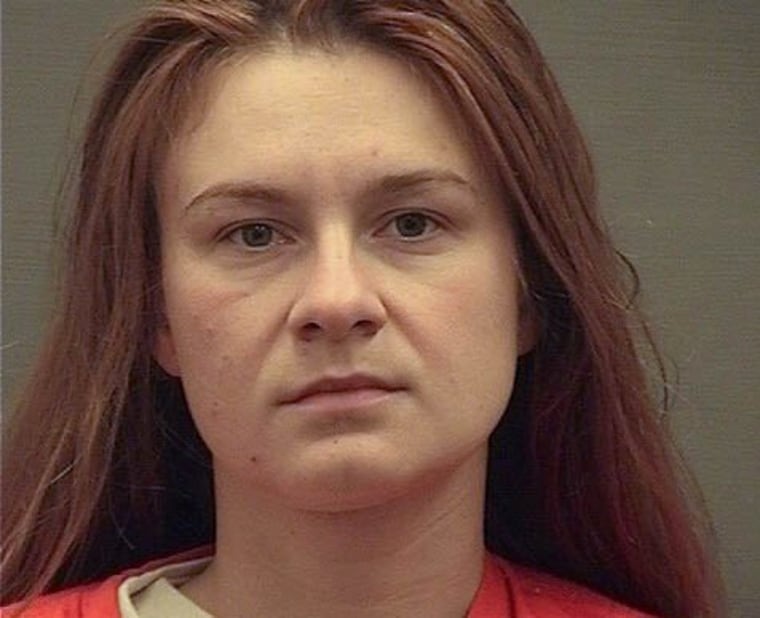 Butina said she is no longer in touch with Torshin. But she did acknowledge that she shared information with him that was then shared with the Russian Ministry of Foreign Affairs, and she knew it would be shared.
"I said that I would be honored because, well, I am a young woman and there you have people in the Ministry of Foreign Affairs would consider my notes, my analysis, as valuable. It was very pleasant for me," Butina told NPR. "So of course I said, of course yes."
When Butina was sentenced, U.S. District Judge Tanya Chutkan didn't buy Butina's tearful claims of innocent ignorance of the law, saying, "She was doing this under the direction of a Russian official ... at a time that Russia was looking to interfere with the U.S. political process."
"This was no simple misunderstanding by an overeager foreign student," Chutkan said.
Butina denied being part of the Russian effort to interfere in the 2016 presidential election, telling NPR: "I don't know anything that was going on with the elections rather than the media reports."
In December 2015, Butina helped orchestrate a Moscow trip by NRA members in which she set up a meeting between the American gun supporters and Russian Foreign Minister Sergey Lavrov, court papers say.
After that meeting, Butina allegedly sent Torshin a message revealing the Russians' true aims. "We should let them express their gratitude now, we will put pressure on them quietly later," the message read, according to prosecutors.
After Butina serves her prison sentence, she will be deported, the Justice Department has said.
Butina, who said she has hopes of being a professor, told NPR that she loves the U.S.
"I do love this country," she said. "I have two attorneys working for me pro bono coming to see me every single day. There are two. One Republican, one Democrat. Completely opposite people that stand for me. How can I hate this country?"
"I do love this country, and I wish you guys the best," she said.
Federal prosecutors have said that Butina took steps to establish an unofficial line of communication between the Russian official and Americans "for the benefit of the Russian Federation" and that "she took these actions without providing the required notifications to the Attorney General that she was in fact acting as an agent of the Russian Federation."
Prosecutors have conceded that "Butina was not a spy in the traditional sense," but said she was still working to the detriment of the United States.