A security guard shot an intruder inside a Fox TV affiliate in Washington, D.C., on Monday afternoon, the station and police said.
The incident happened a little after 3 p.m. at WTTG-TV's building in the Friendship Heights neighborhood.
Police charged 38-year-old George Odemns with second-degree burglary after he broke through at least one set of glass doors that the station says require an ID to swipe for entry.
The security guard first used pepper spray, but then she fired her weapon when the spray didn't slow the man down, police said. The intruder was shot once in the chest.
"He forced his way in by kicking in the door, and the shooting happened in the lobby area of the station," Washington police Cmdr. Melvin Gresham said, adding that the man wasn't armed.
As the man was wheeled into an ambulance, he appeared conscious and was moving his arms, video showed. He was listed as stable at George Washington University Hospital.
Gresham called the suspect "stable, alert and conscious" and said investigators were trying to reach his family.
The suspect has made previous threats against Fox News, as well as law enforcement, and was known to both Fox News executives and local police, according to WTTG. However, it was still unclear whether the threats were aimed at the Fox News network or the affiliate specifically, they said.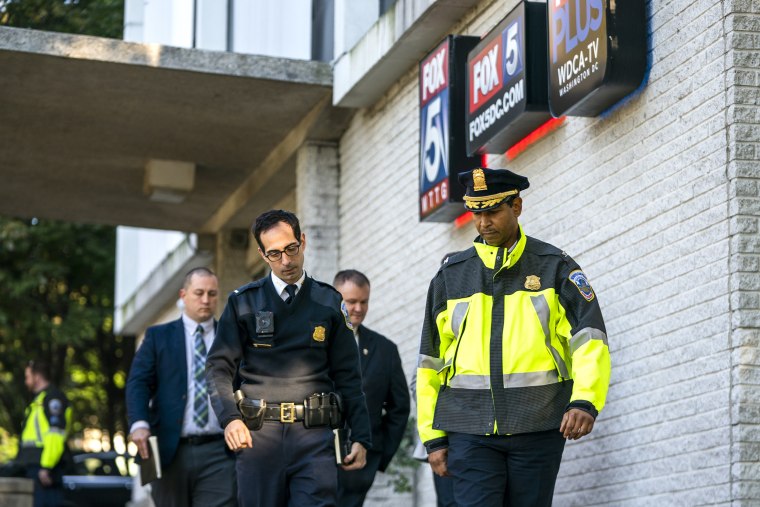 Odemns has been charged with second-degree burglary, according to police.
WTTG reporter Lindsay Watts said she had just pulled into work when colleagues in the parking lot told her that there had been a shooting.
"It's very surreal covering something like this outside our workplace," Watts said.
The incident happened just 35 miles away from the Capital Gazette newspaper in Annapolis, Maryland, where a gunman killed five employees on June 28.