The lawyer celebrated for going after predatory Roman Catholic clergymen in Boston accused the Archdiocese of Newark on Monday of using a blame-the-victim strategy to protect a New Jersey priest who allegedly abused five boys and a girl decades ago.
Mitchell Garabedian, whose efforts were dramatized in the Oscar-winning movie "Spotlight," launched the broadside after announcing that five of the alleged victims of the Rev. Michael "Mitch" Walters had settled their civil lawsuits against the Catholic Church for $400,000. The sixth case against Walters is still in court, he said.
Archdiocesan lawyers cited the "doctrine of contributory negligence" to argue that "these children were at fault when they were sexually abused," Garabedian said at a press conference in West Orange, New Jersey.
"It makes no sense and it's painful for victims to hear such claims," he said. "That claim shows how little the archdiocese cares about priest sexual abuse victims."
Walters was accused of molesting children at the St. Cassian Church and school in Montclair and at the St. John Nepomucene Parish in Guttenberg between 1982 and 1995.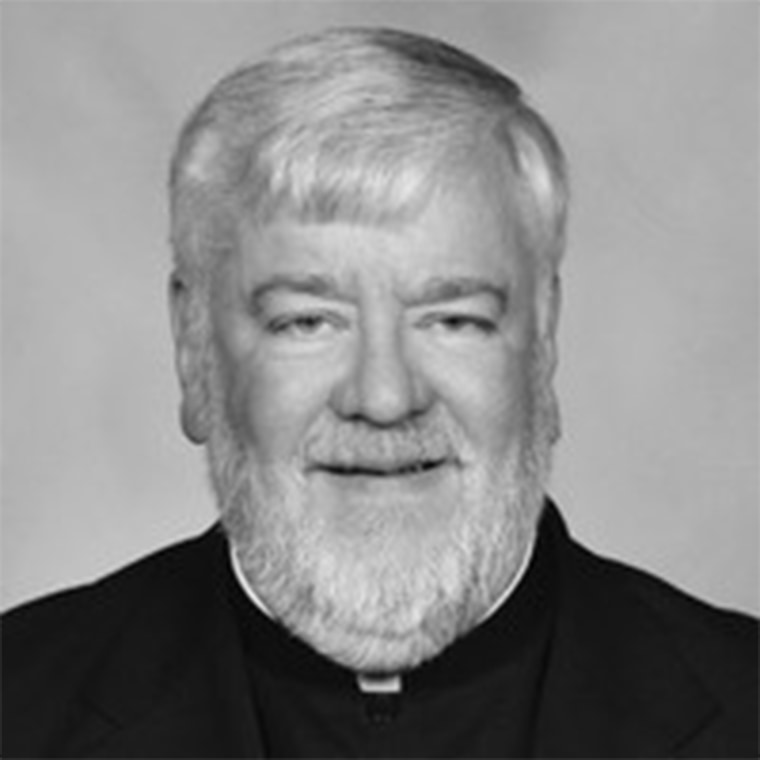 To further buttress his argument, Garabedian introduced by video a female accuser he represented, Danielle Polimen. She is now a high school teacher in Columbus, Ohio, and one of the recipients of the $400,000 settlement.
Polimeni said she was abused twice while Walters was at St. Cassian and that she was the parish's first female altar server. She said the assaults happened back in the 1980s when she was between the ages of 12 and 14.
"A child cannot be complicit in his or her own abuse," Polimeni said. "The diocese is trying to defend the indefensible."
Walters is represented by lawyers hired by the archdiocese.
In response to an inquiry from NBC News, Marian Margiotta, a spokesperson for the Newark Archdiocese, released a statement:
"The legal language filed on behalf of the Archdiocese is a standard response to these types of cases. It is unfortunate and extremely disingenuous for the plaintiff counsel to call out such language and mischaracterize it so as to sensationalize the case for heightened media attention."
NBC legal analyst Danny Cevalos said defense attorneys typically "throw in the kitchen sink" when they go to bat for a client.
"If defense attorneys don't raise defenses in their initial response to the lawsuit, they could lose the defense forever," he said. "The notion of a child negligently causing his or her own abuse is nonsensical. But, the rules encourage the defense to list every conceivable defense, which results in some inconceivable ones."
Garabedian disagreed, saying, "I cannot assume, in representing my client, that those defenses were added as just part of a laundry list." He said the Boston Archdiocese also tried to blame victims for their abuse.
"To add those defenses to the laundry list is not an excuse for causing additional pain to clergy sexual abuse victims," he said. "Clergy sexual abuse cases are traumatic for victims and what is stated in court papers should be taken into consideration."
Walters' last assignment was at the Our Lady of Sorrows Church in South Orange, New Jersey. The now 63-year-old priest was there from 2011 to 2016, according to available church records.
"I understand Father Walters has been placed on leave but not sure where he is now," Garabedian said. "But wherever he is, he should be watched."
NBC asked Margiotta where Walters is right now and whether he has access to children. She said she could not stray from her earlier statement.
Walters was removed from his last known assignment after the first sex abuse allegations were leveled at him. He denied any wrongdoing and records indicate he may now live at a retirement home for priests in Rutherford, New Jersey.