The 26-year-old man accused of killing a student and shooting three others at a Seattle college researched on other mass shootings — specifically the Columbine massacre, sources familiar with the investigation told NBC News.
There's no evidence, however, indicating that the suspect, Aaron Rey Ybarra, had actually visited the Colorado community where two armed high school students slaughtered 12 classmates and a teacher in 1999, sources said.
Police said Ybarra opened fire at Seattle Pacific University shortly after 3 p.m. (6 p.m. ET) Thursday, walking into a lobby of the engineering and math hall, and then firing multiple shots.
A 19-year-old man died at Harborview Medical Center. Seattle Mayor Ed Murray identified him Friday as Paul Lee, a student at the university.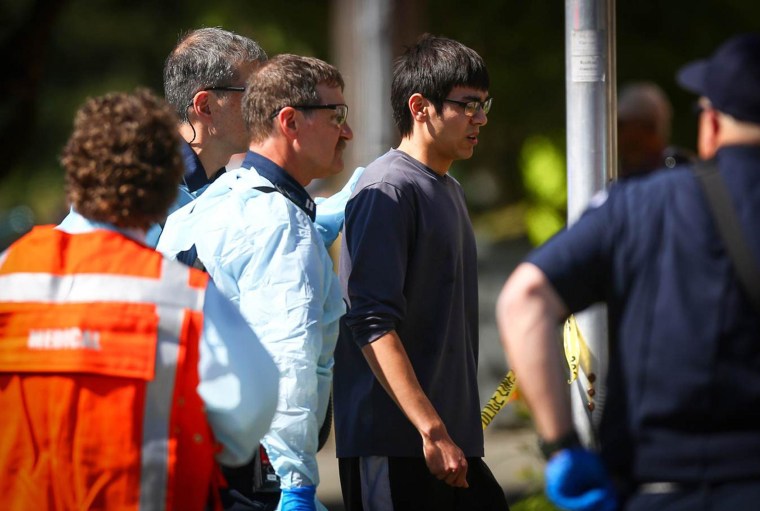 Sarah Williams, 19, remained in intensive care Friday following five hours in surgery, while a 24-year-old man remained in satisfactory condition, Harborview Medical Center of Seattle said.
The fourth victim, a 22-year-old man, was treated and released.
The gunman was stopped when a student identified as Jon Meis — working as a desk lobby monitor at the time — subdued him with pepper spray. Police said the suspect had stopped to reload — giving Meis a moment to put a chokehold on the shooter and force him to the ground.
Police records in Mountlake Terrace, a suburb north of Seattle where Ybarra lived with his parents, show that he at one time worked at a gun range and was twice involuntary committed for mental health evaluations after incidents.
In October 2010, Ybarra called 911 and said he wanted to hurt himself and other people, according to an incident report. He was involuntary committed for evaluation after he said he "had a rage inside him" and "has had previous suicidal thoughts," the report says.
Two years later, in October 2012, Ybarra was discovered lying in the middle of a street "very intoxicated," according to a separate report, which says Ybarra told officers "he wanted [the] SWAT team to get him and make him famous" because "no one cares about him."
Assistant Mountlake Terrace Police Chief Pete Caw told NBC News on Friday that it wasn't known what happened after Ybarra was sent to a hospital for mental evaluations in either case.
Police said Ybarra was armed with a shotgun, a knife and extra rounds of ammunition. He wasn't a student at the school, and investigators are trying to determine why he targeted Seattle Pacific, a private Christian college, some 12 miles from his home.
His decision to attack appeared to have be planned in advance, sources told NBC News.
Sources said Ybarra made a private purchase of a shotgun two years go. He was also described as being angry, anti-social and disaffected.
A bail hearing is scheduled for Friday afternoon. Ybarra was booked into the King County Jail on homicide charges.
Sarah Ford and Andrew Blankstein of NBC News contributed to this report.