A 16-year-old boy in Colorado whom authorities accuse of fatally shooting a teenage girl who had tried to break up with him weeks earlier has been charged with murder.
On June 16, Jovanni Sirio-Cardona broke into Lily Silva-Lopez's trailer home through a bedroom window and shot her several times, the Weld County District Attorney's Office alleged in a statement on Facebook. Authorities later learned that the pair had dated for about six months and that Lily had tried to end their relationship about four weeks before the shooting, according to the DA's office.
NBC News does not normally name minors accused of crimes, but Sirio-Cardona has been charged as an adult, the DA's office said. In addition to being charged with first- and second-degree murder, he is charged with first-degree burglary, aggravated robbery and possession of a handgun by a juvenile, it said.
It was not immediately clear Tuesday whether he has an attorney who can speak on his behalf or whether he has entered a plea.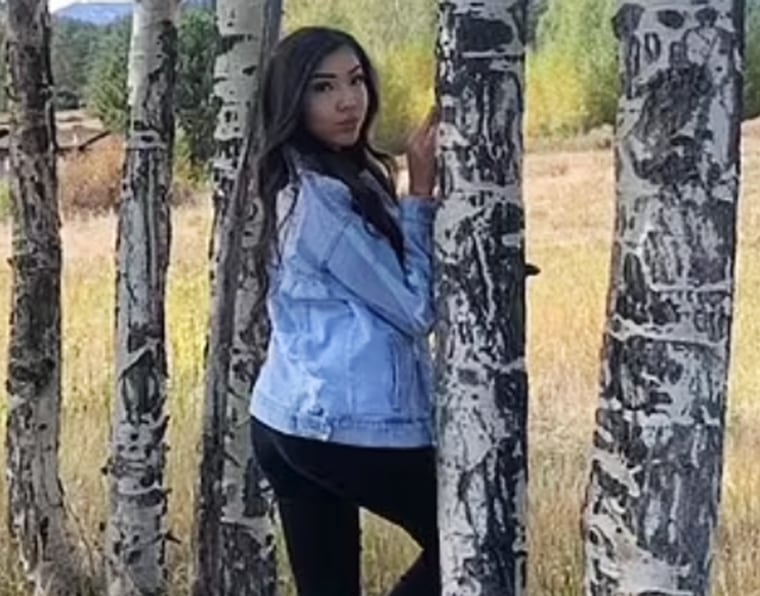 Police said in an arrest affidavit obtained by NBC affiliate KUSA of Denver, Lily told her 13-year-old brother to run when she saw Sirio-Cardona entering through her bedroom window. Sirio-Cardona found Lily in the hallway outside her room, shot her several times and then demanded her brother hand over his phone, the affidavit claims.
Lily's brother later went to a neighbor and said that his sister had been shot and that Sirio-Cardona ran away afterward, KUSA reported, and the neighbor called 911.
When police arrived at Sirio-Cardona's home, he told his grandmother that "he did what he had to do and he shot someone," the affidavit alleges, according to KUSA.
Lily was pronounced dead at the scene, the DA's office said. Her obituary says she was 15 years old and had just finished her sophomore year at Northridge High School.
"She enjoyed shopping, clothes, makeup and dancing," the obituary says, adding that she also "loved to eat" and "loved animals."
"She was a loving and caring friend with lots of spice," the obituary adds.
Lily's parents could not immediately be reached for comment Tuesday.
Sirio-Cardona is due in Weld County court on Aug. 3 for a status conference, the DA's office said. He is being held on $2 million bond, it said. It was not immediately clear where he is being held.
Representatives for the court, the DA's office and the Greeley Police Department could not immediately be reached for comment.
KUSA reported that the affidavit says Lily's brother told police that Sirio-Cardona had been caught on camera walking by their home earlier in the week and that her mother told police that Sirio-Cardona put a gun in Lily's mouth and demanded she tell him she loved him when she tried to break up with him about a month before the shooting.
And less than a week before the killing, police responded to Lily's home after a report alleged that Sirio-Cardona had punched her in the face and hurt her arm, according to the affidavit, KUSA reported.
According to the Centers for Disease Control and Prevention, teen dating violence can include physical or sexual violence, stalking and psychological abuse. About 1 in 12 high school students experience physical or sexual dating violence, with female students experiencing higher rates than boys and LGBTQ young people experiencing higher rates than heterosexual students, the CDC says.
Intimate partner violence affects nearly half of people in the U.S., with about 1 in 2 women reporting having experienced sexual or physical violence or stalking by an intimate partner at some point in their lives, according to the CDC's most recent report on intimate partner and sexual violence. About 44% of men report the same, according to the CDC.
Data from U.S. crime reports suggests about 1 in 5 homicide victims are killed by intimate partners and that more than half of female homicide victims are killed by current or former male intimate partners, according to the CDC.
The Teen Line provides peer-based support from trained teenagers who are available every evening to field calls and texts. Call 310-855-HOPE (4673), or toll-free at 800-TLC-TEEN from 3 p.m. to 7 p.m. ET, or text TEEN to 839863 from 3 and 6 p.m. ET. Teen Line also responds to emails and has a message board.
If you or someone you know is experiencing domestic violence or the threat of domestic violence, call the National Domestic Violence Hotline for help at 1-800-799-SAFE (7233), or go to www.thehotline.org for anonymous, confidential online chats, available in English and Spanish. Individual states often have their own domestic violence hotlines as well.
Advocates at the National Domestic Violence Hotline field calls from both survivors of domestic violence as well as individuals who are concerned that they may be abusive toward their partners.