A bipartisan group of Texas state senators urged Gov. Greg Abbott on Friday to grant a reprieve to death row inmate Rodney Reed, whose case has become a cause célèbre as his Nov. 20 execution date nears.
Reed, whose case has been touted by Kim Kardashian West, Rihanna and Meek Mill, was convicted in the 1996 rape and murder of 20-year-old Stacey Stites after his DNA was connected to her.
He initially told authorities he did not know the victim. He told NBC News recently, "It was the worst mistake I ever could have made."
He now says he had a consensual relationship with her, a claim backed by several people, according to his defense team, and had nothing to do with her demise.
Friday's request by eight Republicans and eight Democrats serving in the Texas senate argues that moving forward with the execution amid new, possibly exculpatory evidence would erode public trust "not only in capital punishment, but in Texas justice itself."
The 16 senators said in a letter to Abbott and to the Texas Board of Pardons and Paroles that the new information, including "compelling new witness statements and forensic evidence" should be weighed.
A spokesman for Abbott did not immediately respond to a request for comment.
Reed said he kept the relationship secret because he's African American and she was white — and because she was dating a police officer.
"We're in the South," Reed, 51, said. "There's still a lot of racism going on."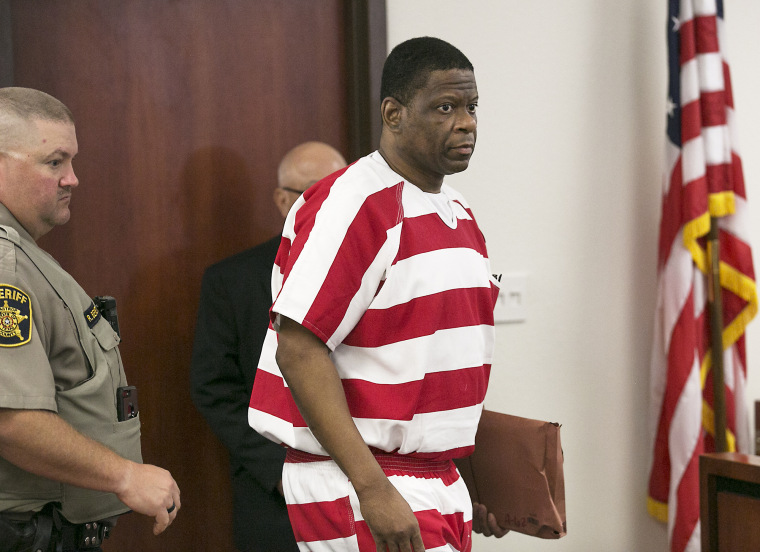 The nonprofit Innocence Project has taken up his case. Defense attorney Bryce Benjet said the state's case is based on the false concept that "a young black man like Rodney Reed would not be dating Stacey Stites."
At the time, Stites was engaged to law officer Jimmy Fennell, who Reed claims is the real killer. His defense team has found witnesses who say Fennell expressed anger and threats over his suspicions that she was seeing a black man behind his back.
Fennell later served 10 years in prison for kidnapping and improper sexual activity with a woman he had taken into custody when he was an officer with the Georgetown Police Department in Texas, according to The Austin Chronicle.
An inmate who served time with Fennell said in an affidavit that he had confessed to Stites' murder, according to Reed's legal team.
Stites' family denies Fennell killed her and believes Reed is being rightly punished.