Thousands filled a church in Harris County, Texas, for an emotional funeral on Friday to remember a sheriff's deputy whose "execution-style" killing last week shocked his community.
Deputy Darren Goforth was shot in the back of the head last Friday night at a Cypress gas station after filling up his police cruiser. A prosecutor said earlier this week that the suspect, Shannon Miles, then stood over Goforth and unloaded his entire clip, shooting him 15 times.
RELATED: Prosecutors Say Texas Deputy Darren Goforth Was Shot 15 Times
Rows of uniformed police officers from all over the country filled the Second Baptist Church in Harris County, as well as hundreds of other mourners.
Goforth, 47, was a 10-year veteran of the force. Miles, 30, has been charged with capital murder for his killing and although investigators aren't sure what motivated the shooting, Harris County Sheriff Ron Hickman said over the weekend that "our assumption is he was a target because he wore a uniform."
Rod Carroll, assistant chief of the Jefferson County Sheriff's Office about 70 miles east of Houston, was one of the visiting law enforcement officers.
"We're here to honor the family. We're to honor Deputy Goforth's wife and children," he told NBC News. "She lost a spouse. The children lost a father that was supposed to be around to give wisdom and knowledge."
Earlier, members of the public gathered along the concrete path outside the church's entrance.
Libby Hodges, a 54 year-old Houston-area property manager, held a sign that read: "Our hearts are bleeding blue."
"My husband was a police officer for 30 years," Hodges said. "He's retired now. I know what it's like to kiss somebody every day or every night and send them out, not knowing what they are going to encounter."
The ceremony was followed by a flyover of law enforcement helicopters and a 21-gun salute. After leaving the church, law enforcement officers took up guard at a fountain outside the church to solemnly await the arrival of Goforth's casket, which was then transported to an area cemetery for burial.
President Obama said earlier in the week that he had called Goforth's widow, Kathleen Goforth, to offer his condolences.
"I also promised that I would continue to highlight the uncommon bravery that police officers show in our communities every single day. They put their lives on the line for our safety. Targeting police officers is completely unacceptable — an affront to civilized society," Obama said in a statement Monday.
Two deputies folded a flag that draped Goforth's casket before Hickman presented it to Kathleen Goforth. As the hearse drove off with Goforth's casket, the skies over Houston, which had been bright and hot a day earlier, opened briefly with rain.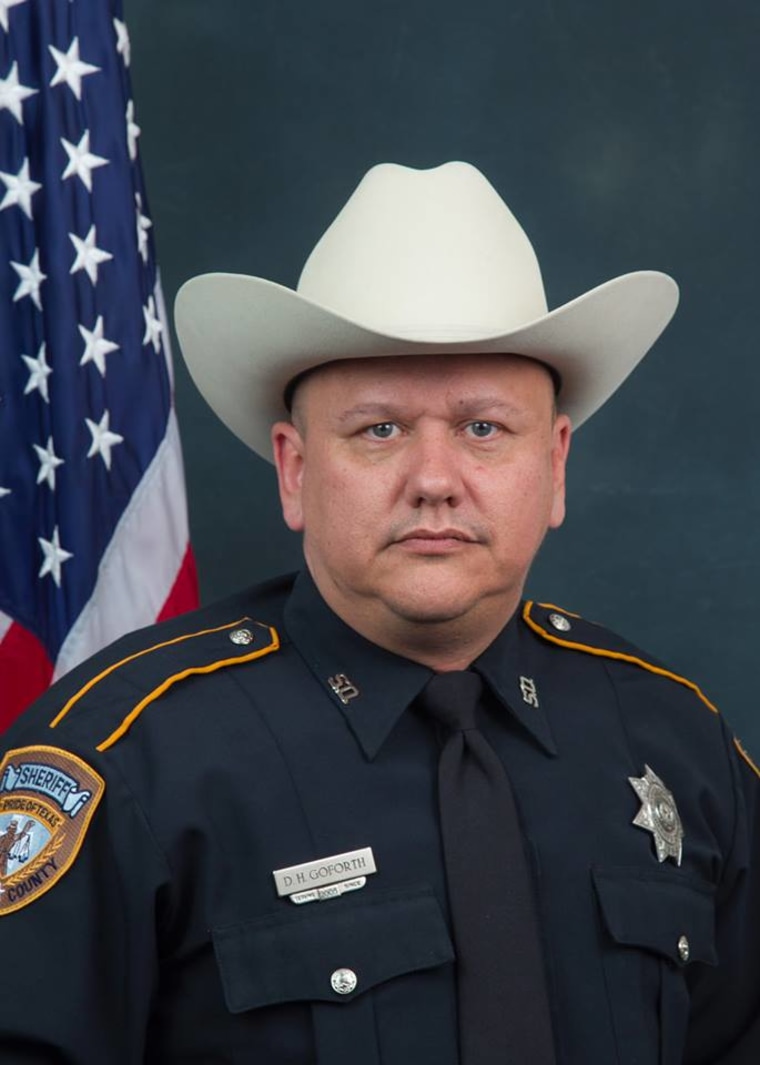 The deputy leaves behind two children. An online fundraiser for the family has raised nearly $250,000.
RELATED: Suspect Shannon Miles Charged in Killing of Darren Goforth
More than 1,000 people on Sunday flocked to the gas station where Goforth was gunned down, bringing flowers, balloons, and cards in his honor. An earlier vigil for him drew hundreds to the gas station, many of whom said they were there to support police.
Some questioned whether the "black lives matter" movement had resulted in an increased hostility against officers, even those who weren't unfairly targeting black people.
At a press conference over the weekend, a visibly angry Sheriff Hickman told reporters that "dangerous rhetoric" against law enforcement had "gotten out of control."
"We've heard black lives matter — all lives matter," he said. "Well, cops' lives matter, too."