A 2-year-old boy was recovering from cuts on his hand and parents were on edge as police Tuesday tried to figure out who glued about a dozen razor blades to playground equipment in a park in western Illinois.
The razor blades were found attached with white putty to monkey bars and other equipment Monday afternoon after the boy, who wasn't identified, and his father took officers to Millennium Park in East Moline, police said. The boy's cuts weren't serious, and he was treated at home.
Police said there have been other incidents of vandalism at city parks and asked residents to be on the lookout for suspicious activities.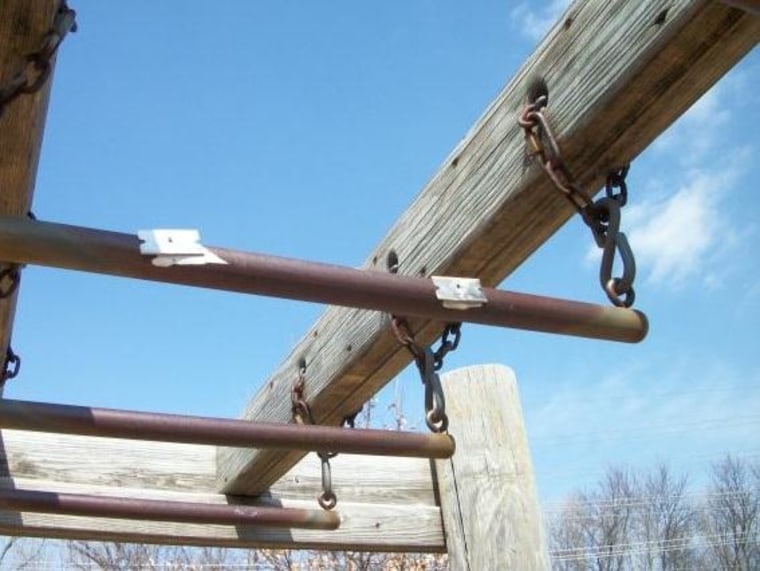 "I've seen a lot of things, but not razor blades glued to equipment at a park," East Moline police Lt. Brian Foltz told NBC station KWQC of Davenport.
"East Moline parks are safe, but it's just a bad situation," Foltz said. "Maybe a group of kids ... figured this would be a fun prank to do."
Ty Langley, a parent in East Moline, told KWQC he was worried because "You don't really think about razor blades."
"We just kind of think about them swinging on the swing set or, you know, climbing the monkey bars," Langley said. "It's something I can look out for now." Police checked all city parks late Wednesday and "have not found anything else in any of the parks," Foltz said.
The parks department posted a message saying it was "very sad that this happened":