A white officer with the New York Police Department should be fired after he was sentenced last month for breaking into a black woman's home and threatening her, said activists who gathered in Lower Manhattan on New Year's Day.
Officer Michael J. Reynolds, 26, who is on modified-duty status subject to an investigation, pleaded no contest to multiple counts of assault with fear of bodily injury and aggravated criminal trespass, according to criminal court records in Davidson County, Tennessee, which say he barged into a woman's home.
Reynolds was in Tennessee with two other police officers, who haven't been identified, in July 2018 for a bachelor party.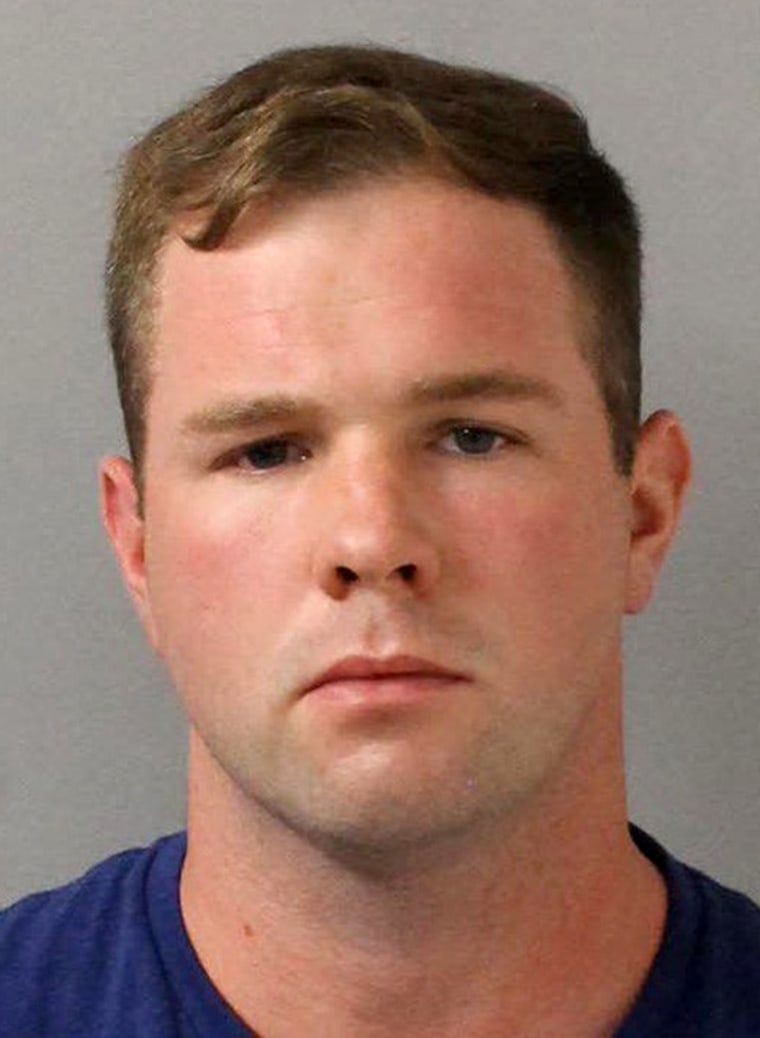 Reynolds forced his way into the home — next to the Airbnb accommodations that he and several other men, including the two other officers, had rented — where Conese Halliburton lived with her children, according to the court documents. He can be heard on surveillance video threatening Halliburton, saying he'd "break every f------ bone in your f------ neck" and using racial slurs, investigators said. Reynolds left only after Halliburton said police were nearby, according to court documents.
Reynolds said in court that he didn't remember what he said.
During his sentencing, he said he'd had no intention of getting as drunk as he did that night, court transcripts show.
"I'm truly sorry for everything that has happened to you and your family within the last year and a half and for everything to come in the future. It was honestly an accident. I had no intention of getting that intoxicated that night. If I could take it back, I definitely would have never came to that bachelor party," he said, according to court records.
In court transcripts, 20th District Criminal Court Judge Mark J. Fishburn excoriated Reynolds and sentenced him to 15 days in jail for the break-in, along with assessing court fees of more than $1,000. Reynolds will be on unsupervised probation for nearly three years.
"Michael Reynolds is a violent and dangerous racist who has no business carrying either a badge or a gun," Daniel Horwitz, Halliburton's attorney, said in an email to NBC News on Wednesday. "Ms. Halliburton wants the NYPD to fire him immediately so that he can't hurt anyone else, and we are all frankly dumbfounded that that has not happened already."
Download the NBC News app for breaking news
Horwitz added that Halliburton was encouraged that "the process to terminate Officer Reynolds is now finally underway, and we look forward to the conclusion of that process and any investigation that New York City's Civilian Complaint Review Board undertakes regarding this matter."
New York police declined to provide a statement on the record. Reynolds' attorney didn't immediately respond to a request for comment.
Since news of the attack broke, more than 11,700 people have signed a petition advocating that Reynolds be fired. On Wednesday, a group of protesters and activists gathered in New York.
"We are still in the fight because injustice persists. As long as injustice persists, the people must be equally persistent," Tamika Mallory, former executive director of the National Action Network, the civil rights advocacy group founded by MSNBC host Al Sharpton, said at a news conference.
Kirsten John Foy, head of the National Action Network's Brooklyn chapter, said he believed Reynolds should face domestic terrorism charges.
"We see no charges related to domestic terrorism. He broke into their home while they were in bed. Threatened them. Held them captive in their own bed," Foy said. "Our presence here today is to demand answers from the NYPD about why Michael Reynolds is still employed as an NYPD officer."
Foy said the news conference was held on New Year's Day to set a tone of accountability for the coming year.
Addressing New York Mayor Bill de Blasio and Police Commissioner Dermot Shea, Foy said: "You have an opportunity to start the year off right. To make a declaration that New York City police officers are not allowed to break into homes, to engage in hate crimes, to engage in felonious acts."
The Rev. Johnnie Green, senior pastor of Mount Neboh Baptist Church of Harlem, said he hadn't anticipated having to challenge the city and its mayor to "simply do the right thing" on the first day of the new year. He said that the activists weren't anti-police but that they simply wanted accountability.
"To be pro-people, pro-community does not equal anti-police. We all need the police. We all know the role that the police play," Green said.
"I think it has been stated already the unacceptable behavior of Mike Reynolds and the two unnamed officers," he said. "I think their behavior and actions are domestic terrorism."
Horwitz, Halliburton's attorney, said his client was grateful for the activists and supporters who have called for Reynolds' firing.
"Ms. Halliburton deeply appreciates the outpouring of support that she has received from people across the country who agree that Michael Reynolds needs to be fired and should no longer be able to work as a police officer," Horwitz said.