Boston gangster James "Whitey" Bulger was stricken with severe chest pains when a Florida prison nurse conducted a series of tests and determined he needed to see an outside heart doctor.
Bulger refused, according to an account by the prison warden. Then, he barked a threat at the nurse, setting in motion his doomed transfer to a West Virginia prison where he was murdered within hours of his arrival.
"Quite frankly, I think he wanted to die," Charles Lockett, the Florida penitentiary's former warden, told NBC News in an exclusive interview.
"I think whatever issues he had, he had come to peace with them."
Bulger, 89, was found beaten to death inside his cell at the Hazelton federal prison in Bruceton Mills, West Virginia, on Oct. 30, 2018.
The wheelchair-bound ex-mob boss was struck repeatedly with a lock stuffed inside a sock, law enforcement officials have said. The attack was carried out when the inmates in his housing unit were making their way to the dining hall for breakfast after the morning lockdown was lifted, according to Hazelton staffers.
The official cause of death was "blunt force injuries of the head," his death certificate said.
Bulger had been placed in his cell at 9:53 p.m., prison records show, after arriving on a transfer from the Coleman II penitentiary in Sumterville, Florida. Hazelton staffers discovered him, mortally wounded, at 8:21 a.m. the following morning, and he was pronounced dead at 9:04 a.m., the death certificate says.
Almost six months later, no one has been charged in Bulger's killing.
The murder of the former crime boss and FBI snitch has led several federal prison staffers — both current and former — to question why an elderly, marked man like Bulger would be placed in a general population unit in a prison plagued by violence.
But speaking out for the first time, Lockett said he doesn't think any federal prison officials are to blame.
"It's a tragedy, but I don't think anyone was deficient in their duty," said the former Coleman warden, who retired in late December.
In a statement, the Bureau of Prisons said Bulger was "originally initiated for transfer from USP Coleman due to a direct serious threat made by him against a staff member at that facility."
"His designation to USP Hazelton was made in accordance with BOP policy, which includes a review of various factors related to transfer, including whether inmates known to be a threat are located at a proposed facility," the statement said.
One of Bulger's brothers said he still doesn't understand how his elder sibling ended up in a penitentiary like Hazelton.
"There are a lot of things that are kind of suspicious," John Bulger told NBC News. "He was supposed to go to a medical center and all of a sudden, he gets transferred to an institution in West Virginia and no one seems to know why he went there."
In his interview, Lockett provided an extensive account of the circumstances that led to Bulger's transfer. The former warden also described his personal feelings toward Bulger.
"He killed a lot of people, but he wasn't a bad old guy," Lockett said. "Every Friday, I would walk that entire penitentiary and I would see him and he would speak to me. He was a nice, respectable guy, the murderer that he was."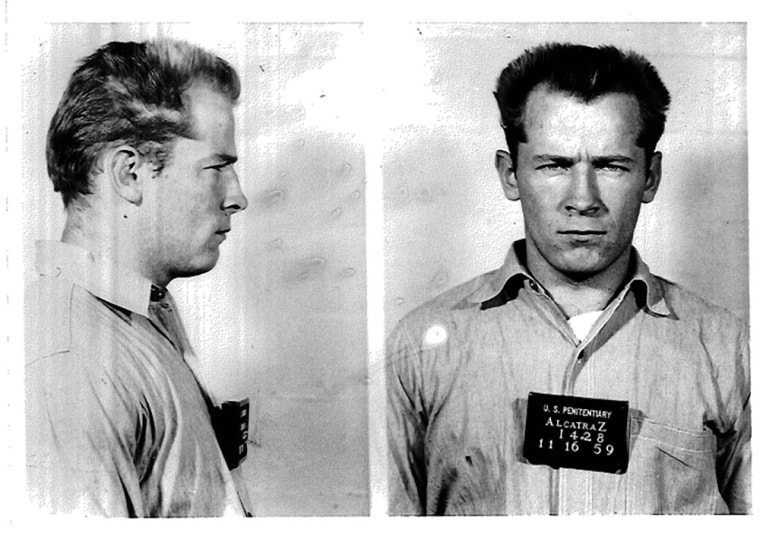 Renowned for his platinum hair and ruthless reputation, Bulger terrorized South Boston for almost three decades. The Irish-American mob boss, who served as the inspiration for Jack Nicholson's diabolical gangster in the film, "The Departed," secretly worked as an FBI informant, exchanging tips with the feds that landed many of his rivals in handcuffs and allowed him to stay one step ahead of law enforcement.
Following 16 years on the run, he was sentenced to two life terms in 2013 after he was convicted for his role in an avalanche of crimes: 11 murders, drug dealing, money laundering and extortion.
Bulger arrived at Coleman II from a federal prison in Tucson, Arizona, in 2014. Both penitentiaries are outliers in the federal prison system, known for providing a safe haven of sorts for police informants, gang dropouts and other high-profile inmates such as Bulger who have targets on their backs.
Bulger largely stayed out of trouble during his four years at Coleman, Lockett said. But the geriatric mobster was cited for masturbating in front of a staffer in 2015.
It was three years later, in February 2018, when he had his run-in with the nursing supervisor.
Citing prison records, NBC News and other outlets previously reported that Bulger threatened a nurse at the Florida penitentiary.
The confrontation was sparked by Bulger's heart issues, according to Lockett's account.
After medical personnel were alerted to his chest pains, the supervisor concluded that Bulger should be removed from the prison and taken to a local hospital to be seen by a heart specialist.
Bulger immediately lashed out, Lockett said.
"She pressed him to go see the doctor, and he got mad about it," Lockett said. "He told her point blank, 'I know people. I still have connections back home.'"
The prison staffers' hands were tied. Lockett said they're barred from forcing inmates to receive medical treatment.
Instead, they closely monitored Bulger, and his chest pains eventually subsided.
But the threat was troubling, Lockett said, and required action.
"If you know Whitey Bulger, he does have connections," the retired warden said. "We were in fear for her safety."
So Bulger was placed in solitary confinement.
Citing prison records, the New York Times reported in December that Bulger saw the incident differently. He said prison workers started arguing with him, triggering a cardiac event. ''She gave me a heart attack due to yelling at me," Bulger said after the incident, according to the prison records obtained by the Times. "It was all blown out of proportion. I didn't threaten her.''
Two months later, in April 2018, Coleman II officials tried to transfer him to a prison hospital but the request was denied, prison records show.
Then something strange happened, according to current and former prison workers familiar with the case.
His medical care level was changed to a designation indicating his health had improved, according to documents obtained by NBC News. Bulger was 89 and suffering from aortic stenosis, high blood pressure and prostate bladder issues, the documents show.
Federal prison workers with knowledge of the classification system said there was no way his care level should have been altered in that way. The change, the current and former staffers said, would have made it easier for Coleman II officials to get the green light to transfer Bulger to a different penitentiary.
But Lockett rejected the claim that there was anything nefarious about Bulger's medical classification.
The change was made, Lockett said, because of his refusal to see a specialist.
"They couldn't make a decision whether he was sick or not," Lockett said. "He didn't want any medical care whatsoever, which is sad."
"If he would have agreed to go see a specialist, he probably would have gone to another medical facility," Lockett added. "But the fact that he refused to see a medical specialist is what created these issues."
By then, the warden had already decided Bulger had to leave Coleman II because of the threat.
Prison staff put in another transfer request and, this time, it was granted, Lockett said.
At that point, Lockett said, the matter was out of his hands. The decision on where to send inmates is largely made by Bureau of Prisons officials at an office in Grand Prairie, Texas.
"The institutions don't determine where he's going," Lockett said.
By the time the wheelchair-bound Bulger rolled off the bus at Hazelton, the facility was grappling with two inmate killings in the previous six months. Prison workers were complaining of dangerous staffing shortages. And the Department of Justice inspector general was already reviewing "conditions affecting safety and security," Michael Horowitz said in a letter to Democratic Rep. Eleanor Holmes Norton of the District of Columbia.
A spokesman for the inspector general's office declined comment when asked if it had launched an investigation into Bulger's transfer.
The U.S. Attorney's Office in the Northern District of West Virginia is investigating Bulger's murder along with the FBI. Both declined to comment.
Bulger, who had spent most of the past eight months in solitary confinement, agreed to be placed with the general population at Hazelton, according to law enforcement sources.
Lockett said he was also told that Bulger asked to be in a housing unit with the other inmates rather than being placed in protective custody.
"He demanded to be out in general population," Lockett, who retired after 31 years with the Bureau of Prisons, said.
But the former warden said if he were running Hazelton, he would have likely refused to grant Bulger's wish.
"I probably would have rejected his [request to be in general population] and said you're not going," Lockett said.
In the end, Bulger didn't get the chance to experience life in an open prison setting. He didn't even make it to breakfast.