Jeffrey Epstein, the millionaire financier, registered sex offender and acquaintance of presidents of both parties, appeared in federal court in New York on Monday on charges related to federal sex trafficking.
Epstein, 66, of Palm Beach, Florida, was being held in the Metropolitan Correctional Center in Manhattan after he was arrested Saturday in Teterboro, New Jersey, in a joint investigation by the FBI and the New York police. The arrest stems from incidents spanning from 2002 to 2005.
During Epstein's arraignment, Reid Weingarten, one of his attorneys, argued the the latest indictment is "essentially a do-over" and "this is old stuff."
Epstein has been in the news for more than a decade since he pleaded guilty in 2008 to procuring a person under 18 for prostitution and felony solicitation of prostitution, according to his plea agreement on charges brought in Florida.
Epstein is registered as a sex offender in Florida under a non-prosecution agreement he signed with the office of the U.S. attorney for Miami, which was then headed by Alex Acosta, now the U.S. secretary of labor.
The following is a history of the allegations against Epstein:
Who is Jeffrey Epstein?
Epstein went to work for as an options trader for Bear Stearns Cos. in 1976, advising rich clients on tax strategies. He was immensely successful, so much so that by 1980, he was a partner, and by 1982, he was able to break out with his company, J. Epstein & Co., later called Financial Trust Co.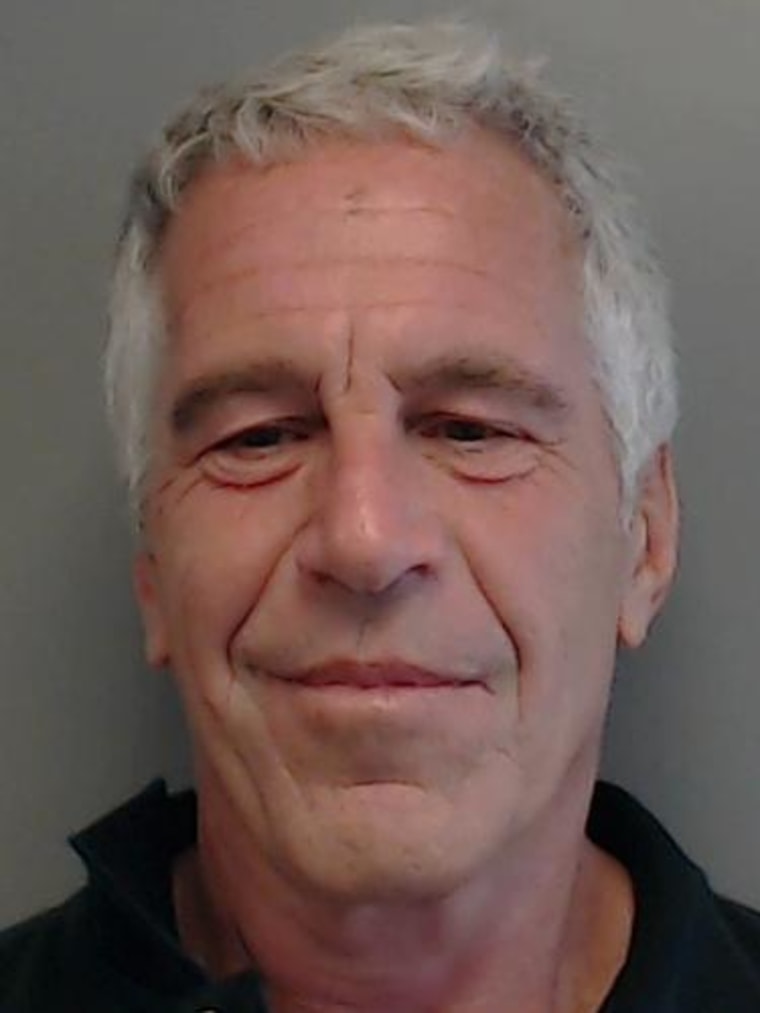 One of his routes to success, according to a long profile in Vanity Fair in 2003, was being the primary investor and money manager for Leslie Wexner, the founder of Limited Brands, now called L Brands Inc., the owner of names such as Victoria's Secret, PINK and Bath & Body Works.
Epstein, whose fortune is estimated in the hundreds of millions of dollars, parlayed his wealth and success into establishing political and social contacts around the world, among them President Donald Trump and former President Bill Clinton.
"I've known Jeff for 15 years. Terrific guy," Trump said in a 2002 interview with New York magazine, adding: "He's a lot of fun to be with. It is even said that he likes beautiful women as much as I do, and many of them are on the younger side. No doubt about it — Jeffrey enjoys his social life."
Clinton, meanwhile, flew on one of Epstein's planes on several occasions, according to flight records reviewed by NBC News.
Florida court records show that Epstein maintains addresses on his own island in St. Thomas in the U.S. Virgin Islands and on the Upper East Side of Manhattan, as well as in Paris, New Mexico and Palm Beach. Among the vehicles owned by or registered in his name are a Rolls Royce, a Bentley, nine Mercedes-Benz vehicles and several Harley-Davidson motorcycles, according to law enforcement records.
What is Epstein accused of?
Epstein came under investigation by Palm Beach police on March 15, 2005. According to a police case file obtained through a public records request, investigators sought to charge Epstein and two assistants with crimes tied to his sexual behavior with underage females at his home. Palm Beach investigators interviewed five alleged victims and 17 witnesses, according to the police files.
The investigative files alleged Epstein brought the girls to his house under the guise that they would give him massages, which police said would turn sexual. Some of the girls told police Epstein would use sex toys on them while he got a "massage." In another instance, one said she was paid to have sex with one of Epstein's female assistants, and several girls reported that Epstein touched their vaginas while he masturbated.
Epstein paid the girls $200 to $1,000 per "massage" in his residence, where he'd had several covert cameras installed in clocks, according to the investigative files. A former housekeeper told investigators that Epstein would receive three "massages" a day, while another witness said that at the direction of Epstein, he had a dozen roses sent to the local high school for one of the girls who he said had given Epstein a massage, according to the documents.
Palm Beach police sought to have Epstein arrested and charged with four counts of unlawful sexual activity with a minor and lewd and lascivious molestation in spring 2006.
But in May, as he was presenting probable cause affidavits for the arrests of Epstein and his two assistants, Palm Beach Police Chief Michael Reiter wrote to Barry Krischer, then the state attorney for Palm Beach County, to declare that "I must renew my prior observation to you that I continue to find your office's treatment of these cases highly unusual."
Meanwhile, federal prosecutors and the FBI in Miami were investigating; most details of that investigation have yet to be made public.
Epstein eventually pleaded guilty in 2008 to state charges of procuring a person under 18 for prostitution and felony solicitation of prostitution. He served 13 months, most of it on work release in a private wing of a county jail.
A copy of Epstein's non-prosecution agreement with Acosta's office was made public in a civil lawsuit filed by other women. It says the FBI and the U.S. attorney's office found that from 2001 to September 2007, Epstein conspired with others to knowingly persuade or entice minor females to engage in prostitution, conspired with others to transport minor females across state lines for the purposes of engaging in illicit sexual conduct, and knowingly recruited or enticed a minor across state lines or across countries so the person would engage in a commercial sex act, among other similar charges.
Given the agreement, why is Epstein being prosecuted now?
Epstein's non-prosecution agreement with the U.S. attorney's office for the Southern District of Florida includes this paragraph:
"Therefore, on authority of R. Alexander Acosta, United States Attorney for the Southern District of Florida, prosecution in this District for these offenses shall be deferred in favor of prosecution by the State of Florida, provided that Epstein abides by the following conditions and the requirements of this Agreement set forth below."
This paragraph, which is common in such agreements, limits the scope of the agreement to only the Miami area, including Palm Beach.
If Epstein is alleged to have committed illegal acts in other parts of the country, the agreement would no longer protect him.
What has Acosta said?
In February, the Justice Department opened an investigation into how federal lawyers handled Epstein's case after Sen. Ben Sasse, R-Neb., wrote a series of letters to the department demanding to know why the government cut what he called a "sweetheart deal" with Epstein.
A spokeswoman for the Labor Department said at the time that Acosta welcomed the review by the Office of Professional Responsibility.
According to the spokeswoman, the Justice Department "has continued to defend the Southern District of Florida's actions across three administrations and several attorneys general on the grounds that the actions taken were in accordance with Department practices, procedures, and the law."
Acosta has previously said the case against Epstein became stronger after the state conviction because more victims began speaking out.
"The bottom line is this: Mr. Jeffrey Epstein, a billionaire, served time in jail and is now a registered sex offender," he said. "He has been required to pay his victims restitution, though restitution clearly cannot compensate for the crime."
What are the latest charges?
Federal prosecutors in New York allege that from at least 2002 through 2005, Epstein paid girls as young as 14 hundreds of dollars in cash for sex at either his Manhattan townhouse or his estate in Palm Beach. Prosecutors said the acts began as massages, but turned sexual, and that he would pay his victims to recruit additional girls.
Epstein is being charged with one count of sex trafficking conspiracy and one count of sex trafficking, and faces up to 45 years in prison if found guilty.
In addition, prosecutors said, investigators found a "vast trove of lewd photographs" of young-looking women or girls during a search Saturday of his Manhattan home.
This article was originally published on July 7, 2019, 7:52 PM ET